Soothing Shea & Coconut scented soap will make every shower special! This lovely soap is a best seller!

Our handmade goat milk soap is made courtesy of June, one of our resident Oberhasli dairy goats! Goat milk is wonderful for soap making. It has a pH very similar to our own skin and contains alpha-hydroxy acid which is known for softening and rejuvenating skin. It also contains emollients, vitamins, and tricglycerides that moisturize skin.

Our soap is made with natural vegetable oils. Coconut oil is known for producing a superb lather, palm oil is conditioning and helps form a hard bar, and olive oil has wonderful moisturizing and conditioning properties! This soap has a wonderfully creamy and silky lather.

And yes, there is lye used to make Purl & June soap. You can't make soap without lye. But no worries! The lye reacts with the fats to make soap in a process called saponification. When you combine the proper ratio of fat and lye, all of the lye is used. In order to make extra sure our lye is saponified, we superfat our soaps. This means our soap contains an extra 5% oil in each batch to make sure it is completely saponified. We also age our bars for 4-6 weeks to make a wonderfully mild bar.

To get the most out of your bars and ensure they last as long as possible, let your soap dry out between uses. Storing them on a tray or rack where air can circulate under them is a great way to keep them. If your soap is left sitting in water, or under the stream of the shower, it will "melt" away. Please allow the soap to breathe, and do not store it in an airtight container.


INGREDIENTS: Olive oil, goat milk, coconut oil, palm oil, castor oil, lye, fragrance

Our soap is handmade and hand cut, so there will be slight differences in weight. Each bar weighs a minimum of 4 oz.

Please contact me for prices if you're interested in international shipping.
Learn more about the shop and process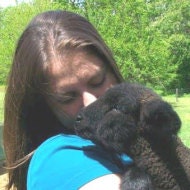 Katie Starr
Shea & Coconut Goat Milk Soap
---
Shop similar items from sellers around the world