It was a crisp, sunny winter morn. Diamonds danced on the new fallen snow. The sweet smell of cinnamon and gingerbread lingered in the air...
"Mommy can we have a tea party?" broke through the reverie.
"Of course you can. Let's see, cups, water in gravy boat with a spout, a strainer, oh a sieve, can't live without the sieve, raisins and a tray."
" Mommy can I have the thing with a bulb on it? The thing that goes like this- squosh, squish, slup." Sounds and hand motions combined of course.
"Do you mean this?" Head nods affirmative. "Yes you may have the turkey baster and your Rose Bibock. Let's have a picnic in the living room Sweet Heart."

This sleeveless Bibock with Lapkin matches our Vintage Wedding Apronafore with Spring Violet Rose Buds Bibock for a beautiful mother and child combination.

* Lapkins promote good manners, cover the lap, and are removable to wash little hands and faces after a repast. Our children have actually learned to to use them like a napkin and will wipe their hands on them during the meal instead of their pants or shirt.

* Patent Pending # 29/429,326 Attorney #TLR-5354D

Bibocks with Lapkins, It's a bib. It's a smock. It's a eco conscious Bibock!
Meet
the

owner

of

Bibocks Learn more about the shop and process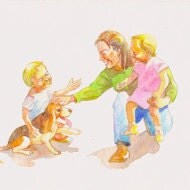 Sheila Andreana