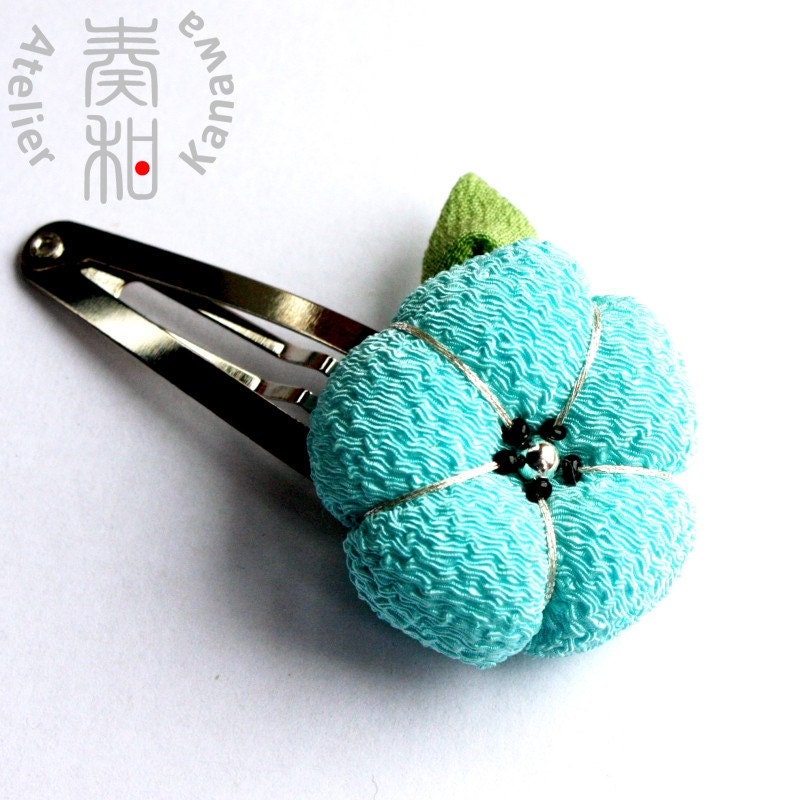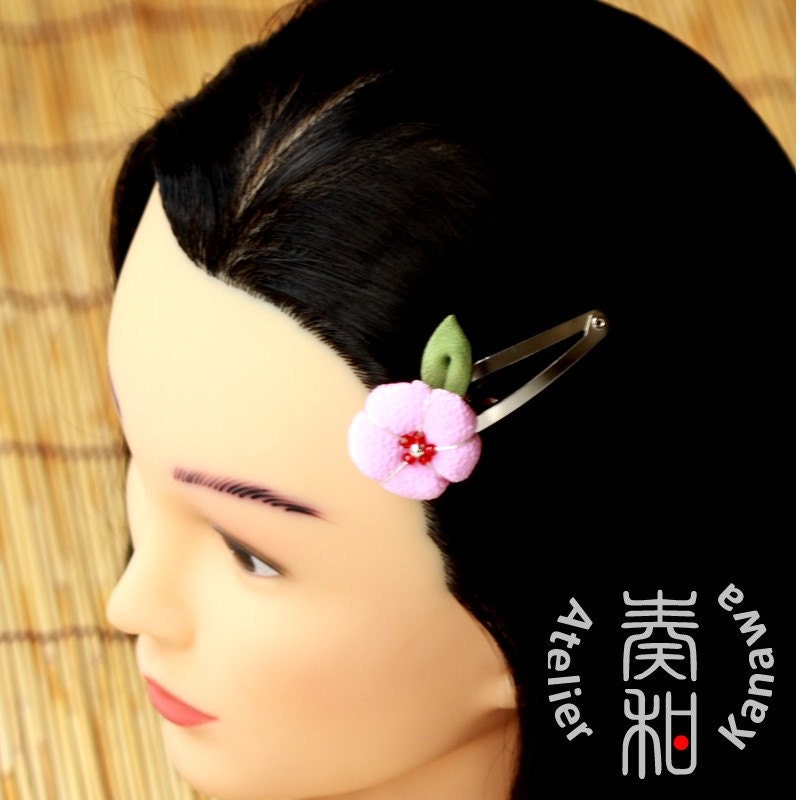 ©2007 Atelier Kanawa
This is designed by Atelier Kanawa.
The duplication of this design is strictly prohibited.
[COLOR]
Aqua, Black, Green, Silver
[SIZE]
* Flower size:diameter of approximately 1.25inches=3cm
* Entire size:approximately 2.25inches=6cm long
[DESIGN]
* Kimono Ume (Plum Blossom) Tsumami Kanzashi Plump Snap Hair Clip
* The second photo shows a different color Ume snap clip as a model.
[ATELIER KANAWA'S TSUMAMI KANZASHI CAREER]
Atelier Kanawa has been making both traditional & modern Tsumami Kanzashi since 2004. She was accepted as a private pupil in the summer 2007 and was professionally trained by one of the ONLY 5 acknowledged Tsumami Kanzashi artisans in Japan.
Tsumami Kanzashi is the historical Japanese handcraft carried by refined skillful artisans. Therefore it absolutely cannot be acquired in short period of time, especially without proper training. While you may see many imitation Tsumami Kanzashi made by non classically trained hobby crafter online, you can surely find the truly authentic Tsumami Kanzashi with traditional expertise at Atelier Kanawa.
[ABOUT EDO TSUMAMI KANZASHI]
The history of Kanzashi (ornamental hairpin) goes back as far as the history of Japan 3000 years ago. In the prehistorical Joumon era (approximately. 1000 B.C. to 300 A.D.), it was believed that a supernatural power inhabited this thin stick. People wore it as a charm against evil and this became the beginning of Kanzashi.
The derivation of Kanzashi is "Kami-zashi" meaning "hair stick". There is another theory that Kanzashi derived from "Ka-zashi" meaning "flower stick". 
It was during the Edo period (1603-1867) that current styles of Kanzashi had been formed. Among varieties of Kanzashi in this period, Edo Tsumami Kanzashi was made for mainly maidens to wear for occasional celebrations of the beauty of the seasons. Girls wore Ume(plum) blossom for New Year, Sakura (cherry) blossom for spring, and Kiku (chrysanthemum) for autumn.
Tsumami (pinching) is the technique to pinch/pick up a two dimensional piece of silk fabric to construct a three dimensional object. This technique was traditionally utilized by maidservants in the imperial court since the middle of the Edo period. Eventually, the style spread all over Japan. Tsumami Kanzashi was often depicted in Ukiyoe pictures.
Traditionally, Japanese use Habutae silk to make Tsumami Kanzashi but there is an artisan who uses Chirimen silk instead. Atelier Kanawa uses both, other vintage silk Kimono fabrics, and rayon Chirimen silk and so on.
In the Edo era, there are five major styles of Kanzashi: Hana-Kanzashi, Mimikaki-Kanzashi, Matsuba-Kanzashi, Tama-Kanzashi, and Hirauchi-Kanzashi. Edo-Tsumami Kanzashi belongs to the Hana-Kanzashi category. Hana-Kanzashi was derived from a centuries old "Ka (flower) - zashi" flower stick, and is the most gorgeous style.
Today, there are only 5 acknowledged Tsumami Kanzashi artisans in Japan. Most of them do not have successors to carry out this beautiful traditional art, therefore the traditional skills are rapidly and certainly dying out. I am strongly eager to preserve and pass this art on to the future generation. IT MEANS A LOT TO ME TO HAVE YOUR PURCHASE because YOU ARE SUPPORTING JAPANESE CULTURE and YOUR PURCHASE COULD BE A VERY PRECIOUS CULTURAL HERITAGE.
[ABOUT RAYON CHIRIMEN]
Rayon Chirimen is produced to resemble silk Chirimen.
Chirimen, the silk crepe became popular from 17th to 18th century in Japan. Its distinctive technique involves twisting the threads during weaving.It has a slightly textured surface, so it is heavier and stronger than an ordinary plain weave.
[ABOUT GEISHA, GEIKO, MAIKO, OIRAN]
Please read my profile page for their information.
http://www.etsy.com/people/AtelierKanawa
Learn more about the shop and process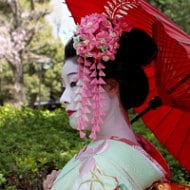 Kuniko Kanawa
Kimono Ume (Plum Blossom) Tsumami Kanzashi Plump Snap Hair Clip
---
Overview
Handmade item
Materials:

thread, polyester chirimen, snap clip, metallic cord, beads, silver fill beads, vintage kimono, chirimen silk

Ships worldwide from

United States

Feedback: 1119 reviews
Favorited by: 13 people