This item sold on October 24, 2012.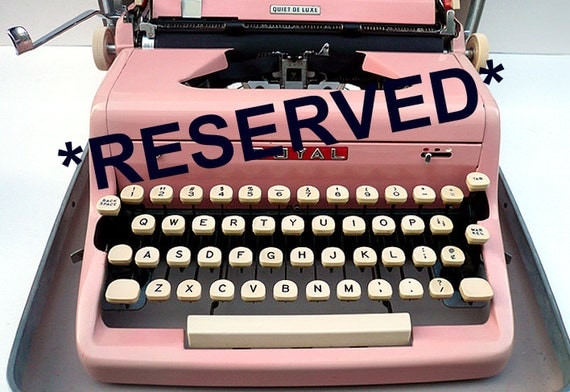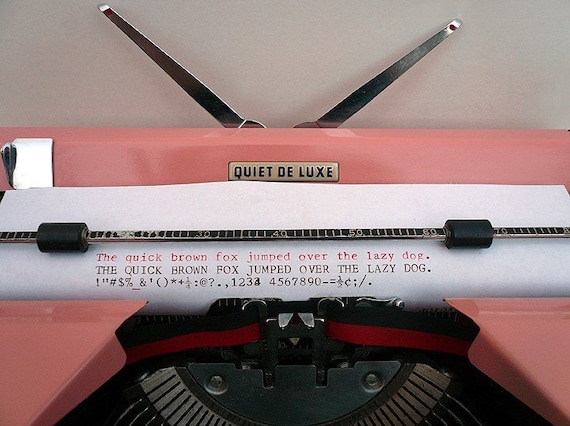 Type Type Type Ding ....... Every girl should have a pink typewriter! On a scale of 1-10 its a 9.5!

Three month layaway

650.00
50.00 shipping
------------------------
$700.00 Total


$325 Down payment Sept. 1st PAID
$200 Pd October 1st
$175 Due November 1st

Fabulous PINK 1955 Royal Quiet Deluxe portable manual typewriter with red ROYAL logo in original condition.

Includes carry case and color xerox copy of owners manual.

Restored and 9.5 condition

Buy With Confidence! We have been collecting, servicing and selling typewriters for many years with 100% Feedback.

All of our typewriters, including this one, have been PROFESSIONALLY SERVICED and have new platen installed, guaranteed to work flawlessly! 99% of these vintage Royal Quiet De Luxe have rock hard rubber platens which wear down the metal striker/letters over time if not replaced; to our knowledge we are the only etsy shop that replaces the platens.

Typewriters can be shined up and oiled but like a car but they need more then a car wash and lube job to work properly...

Each machine we sell has been restored to the original factory specifications by our service technician who has over 45yrs experience in the typewriter industry. Typewriters are precision instruments and need to be cleaned, aligned, calibrated and lubricated to work properly, additionally many of the rubber parts have dried out over the years. The outside physical condition is impeccable with only tiny chip in paint under space bar, buffed and polished so it will keep its beauty for many years to come. A new red/black ribbon has also been installed so you are ready to go right out of the box. Spare ribbons can be ordered for an additional $12.00.

Packing Is Priority! Rest assured we will take the utmost care in packing your purchase to very specific guidelines ensuring a safe and prompt delivery via FedEx Ground to your door. We ship daily to lots of happy customers worldwide.

Music, Film & TV Prop Rentals! Located here in beautiful Southern California we have rented our typewriters and props for many period films and television shows you may recognize including Mad Men and many others.

Discounts offered when payment is made through money order.

We ship internationally, just ask for quote.

Thanks for looking.
Reserved-judymow PINK 1950s Royal Typewriter with Case
---