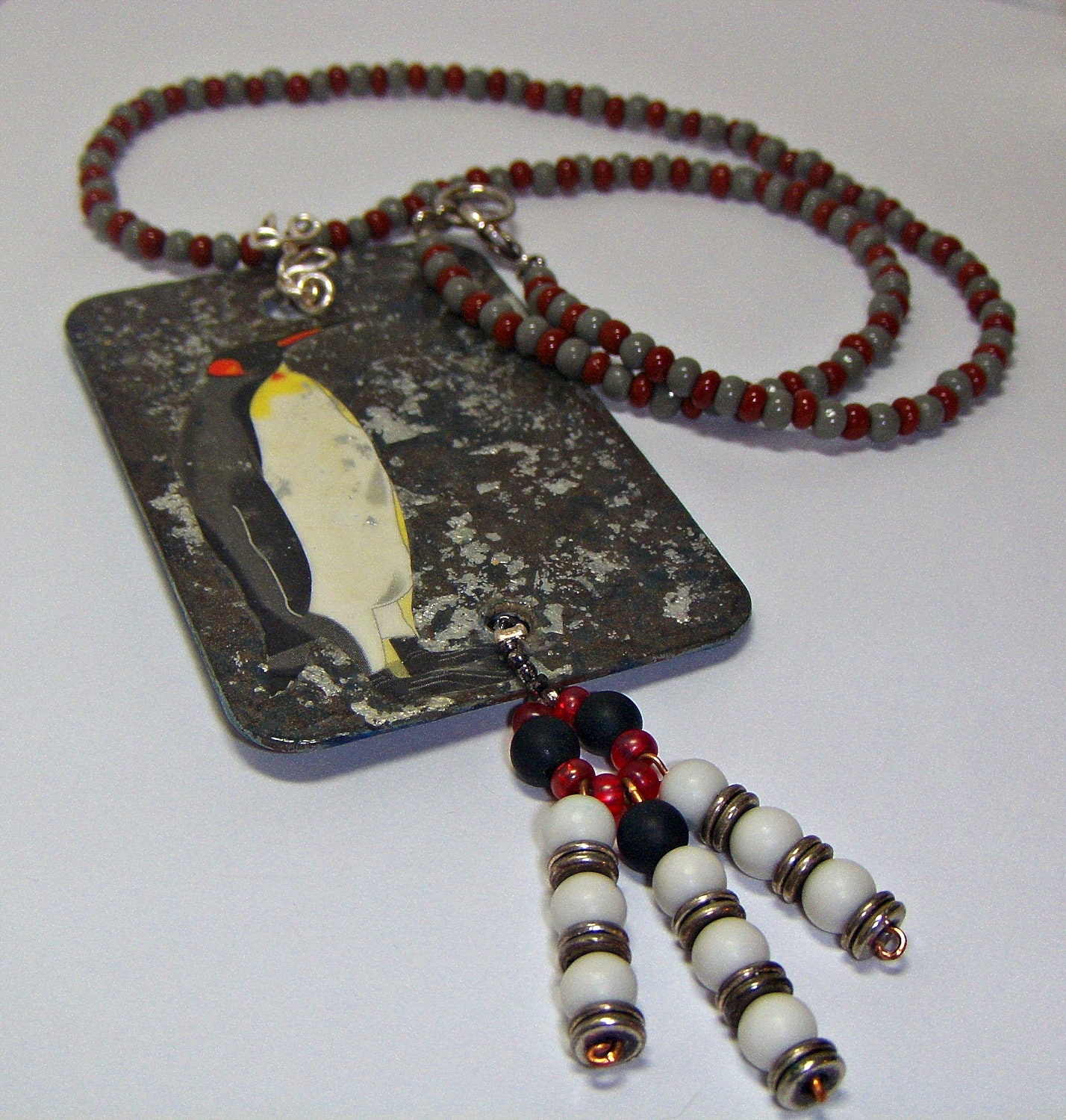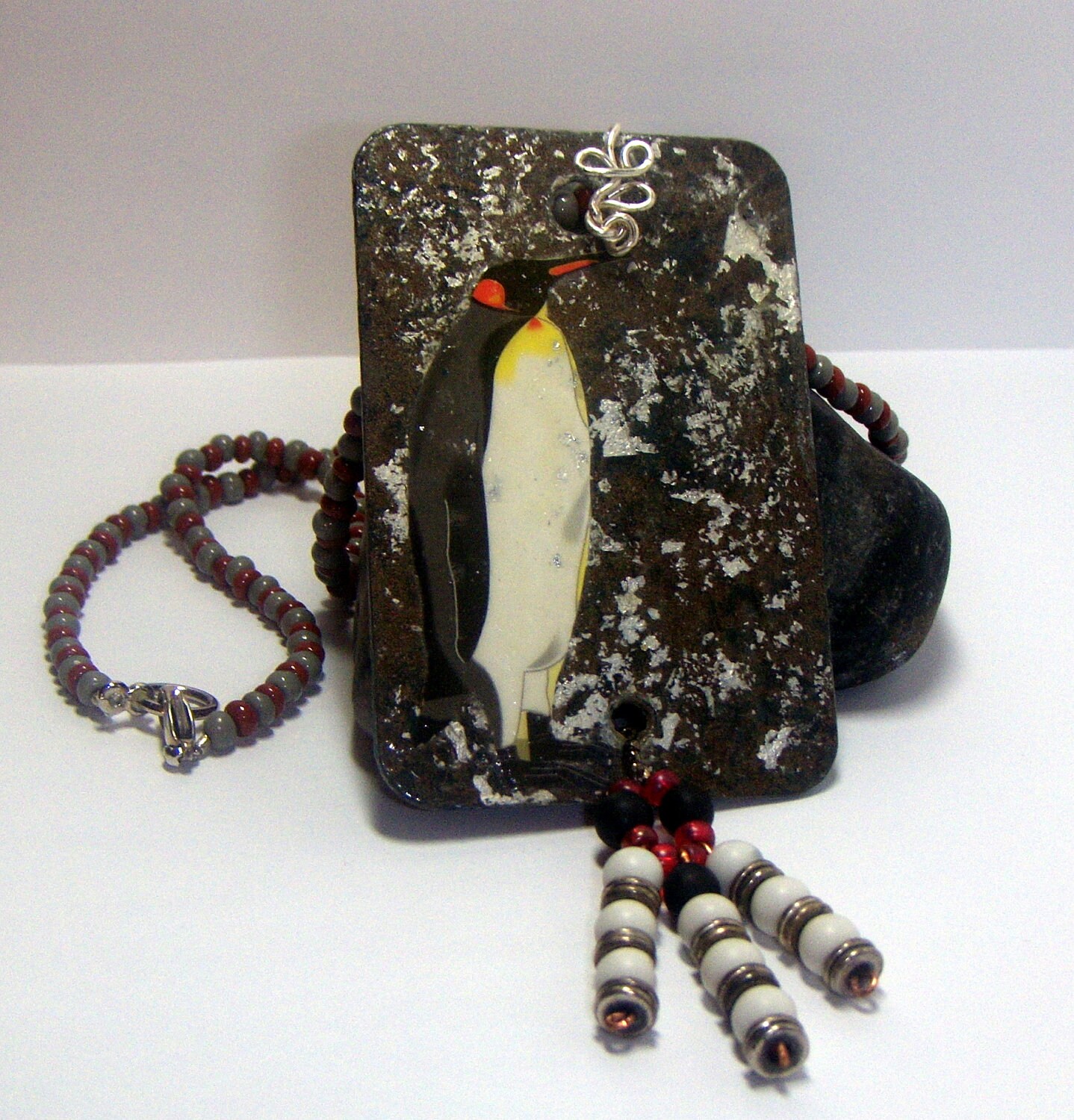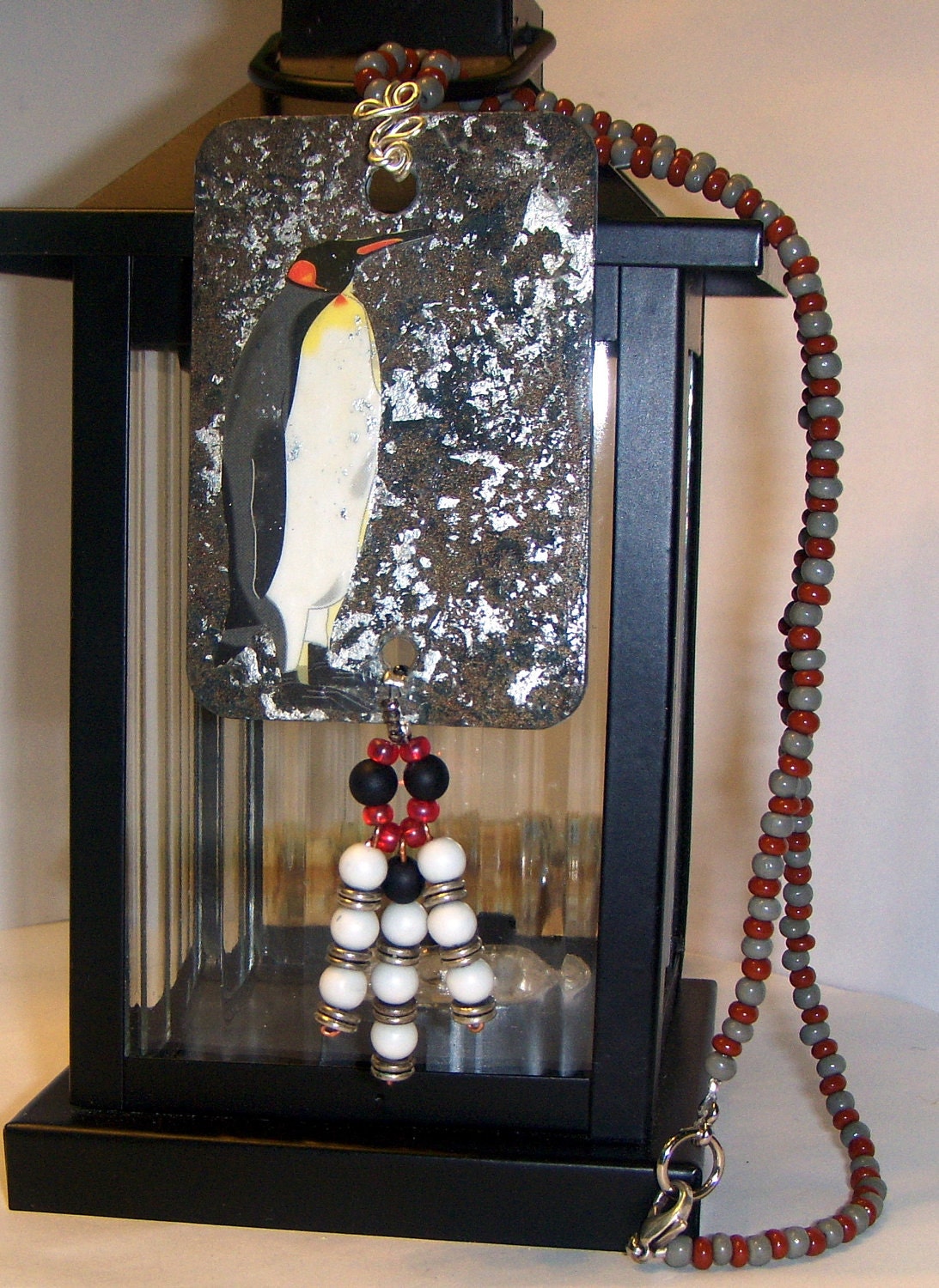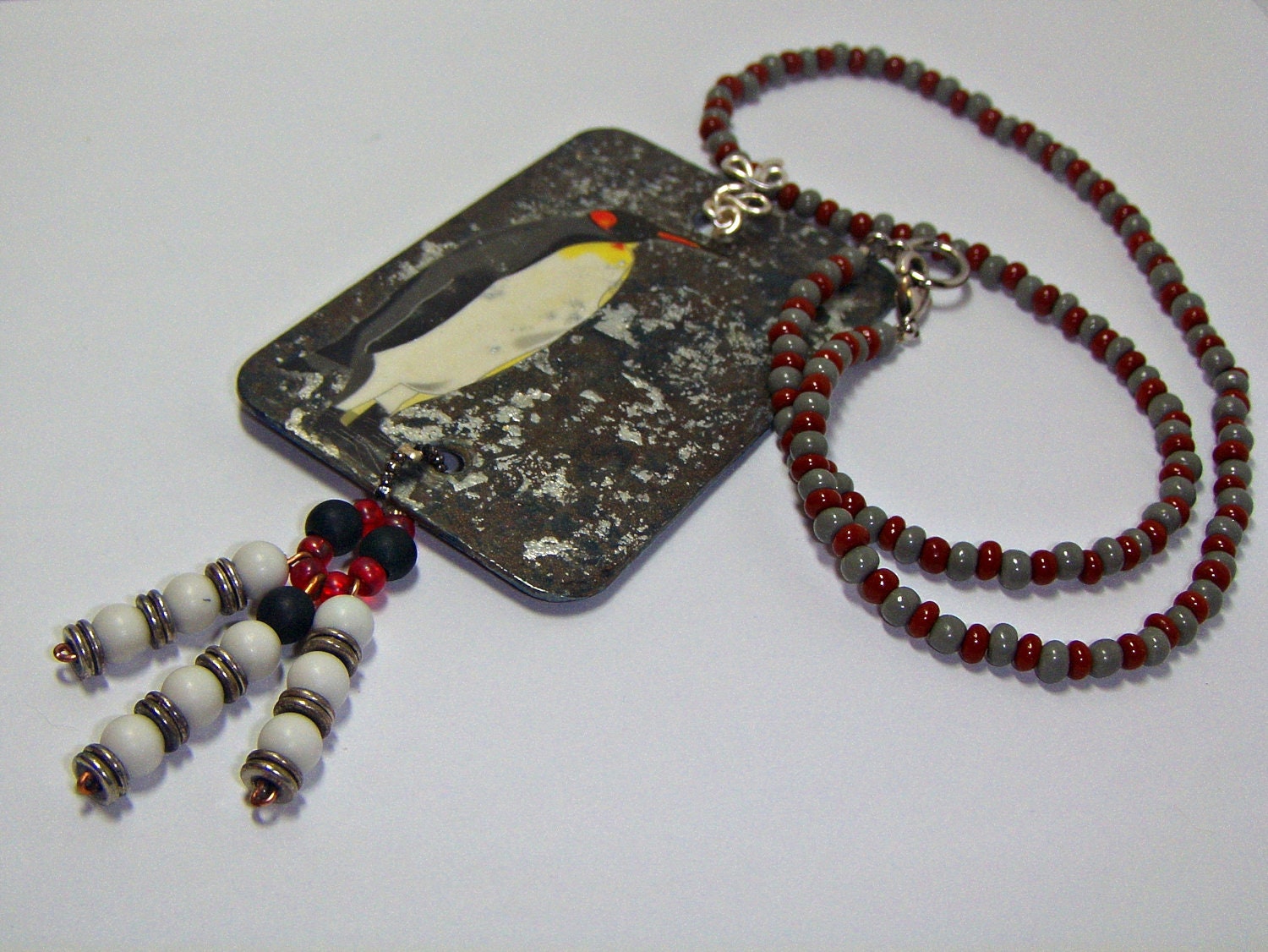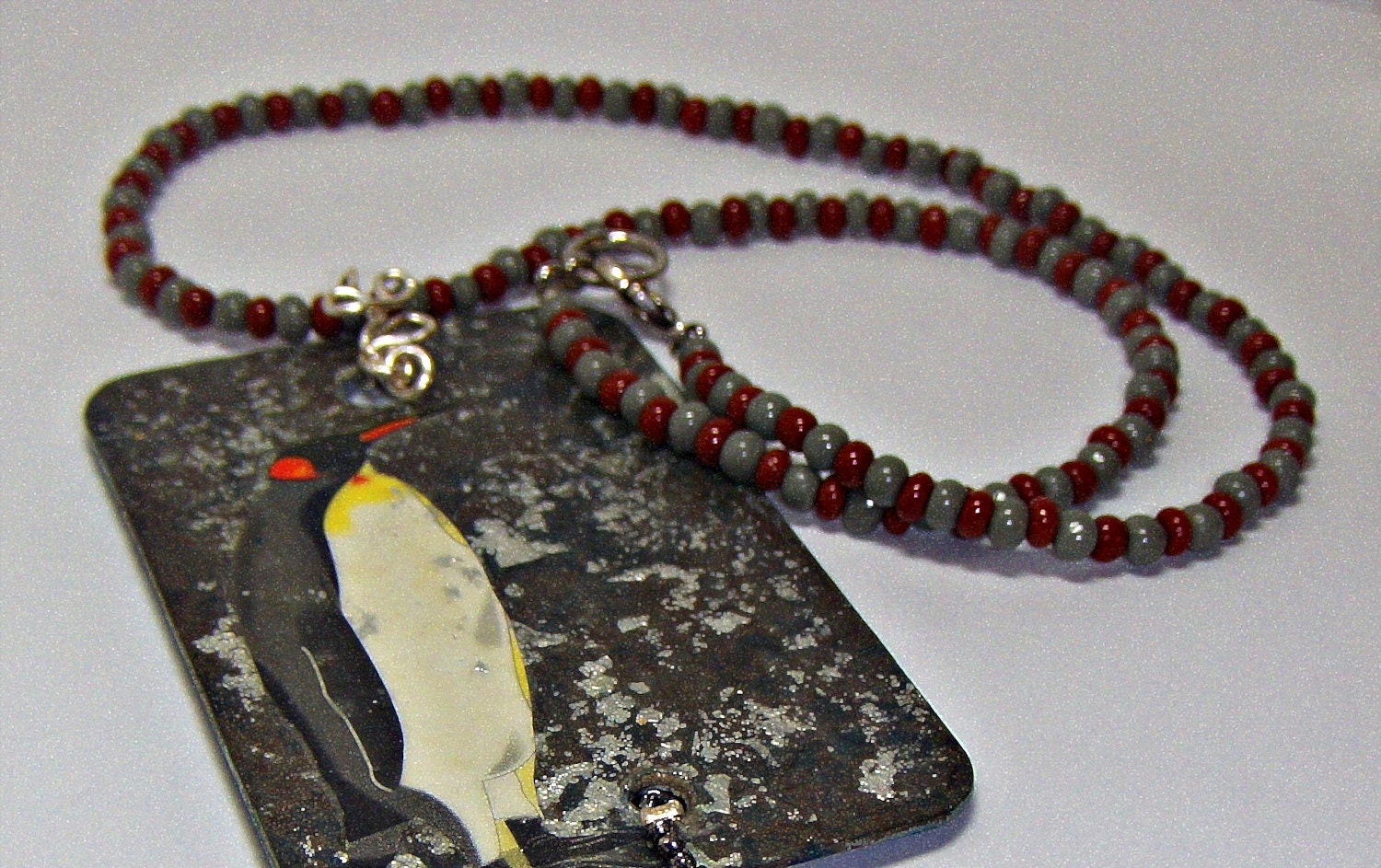 Handmade by MovableArt
This is from my line, Season Art Impressions. The owner of this Pendant will have the only one of its kind. (OOAK)
Welcome this attractive Penquin known as a King Penguin, enjoying the bliss of an Antarctic snowfall. The King penguin is the same kind that was in movie March Of The Penguins, Happy Feet :)
I made this pendant with love an attention to detail out of a wood swatch... I was looking at this one night and decided to fashion a pendant from it. The canvas was interesting to work on. I am very pleased how it turned out. The pendant was formed by decoupage, finishing it with silver leafing. When you wear your pendant your movement will cause the Penguin to be covered in snow as if it were snowing in the Antarctic.
King penguins are the second largest of the penguin species, on average they are around 15kg (33lb) and 95cm (3.1ft) high. Like many penguins, fully grown but unfledged chicks can appear to be larger than the adult birds, they were sometimes known as "woolly penguins" by the early explorers as the thick brown down of the juveniles looks like wool on sheep. Some even thought they were a separate species!
King penguins have colourful feathers around their necks and heads, with they are the brightest of all the species of penguin and there is an estimated world population of 2 million breeding pairs (some estimates up to 3.2 million).
King penguins live on sub-Antarctic islands dotted around the continent from about 46° to 55° South where they form huge colonies on slopes with a nearby beach for access to the sea. King penguin colonies are occupied all the year round either by the chicks or the adults. Non-breeding birds may be found far from their home colony, particularly in the region of the Antarctic convergence and other places of upwelling where there are good concentrations of fish and squid to be found that they feed upon.
This is from my line, Season Art Impressions. The owner of this Pendant will have the only one of its kind. (OOAK)
Necklace Length is 18 Inches OR 47 Cm
Just Length of pendant is 5 Inches OR 13 Cm
Width of pendant is 2 Inches OR 5 Cm
Necklace with pendant attached drops at 14 1/2 inches OR 47 Cm
Ladies the necklace falls comfortably between your breasts
We are all created for greatness so our jewelry we wear should reflect that... wear Movableart all year round.
♥ Want to remember this item for later? Click on the heart that says "Add item to favorites" over on the right. You'll be able to see this item again by clicking the blue "Favorites" link on the right side at the top of any etsy page.
♥ Want to own it? Click the green "Add to cart" my items are one of a kind so if you really want it, I respectfully suggest that you add it to your cart now before another shopper beats you to it.
♥ Questions about how to buy?
http://www.etsy.com/help_guide_checkout.php
♥ Do you have a question for me? Click the blue link "Contact me the owner" just below the shipping rates a bit further down this page on the left side.
♥ Have you reached my Boutique through a showcase or clicking on one of our items from some other place on etsy?
Do you want to see more of what's in my Boutique? Just click the blue "Shop" link just below the "Add to cart" link on the right side of the page.
♥ If you like my Boutique, click on the link "Add shop to favorites" to quickly get to our shop any time you want. You'll find the blue link on the right side of this page (under "MORE FROM THIS SHOP"). Check back often for I am always adding gorgeous items to my inventory. Tell your friends, family, co-workers and church members about me :)
♥ Want to review my Boutique policies and shipping details? Click the link "View shop policies" just below my shipping rates a bit further down this page on the left side.
Thank you for investing your time shopping at MovableArt Boutique. I appreciate you and thanks for looking :)
Blessings
Peace
Prosperity
>>)))>
Learn more about the shop and process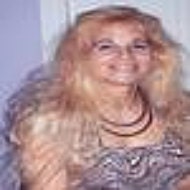 Renee Lockhart
Christmasinjuly, Sale, Penguin Art Necklace Pendant - Animal Necklace - Mixed media w beaded dangle
---
Shop similar items from sellers around the world