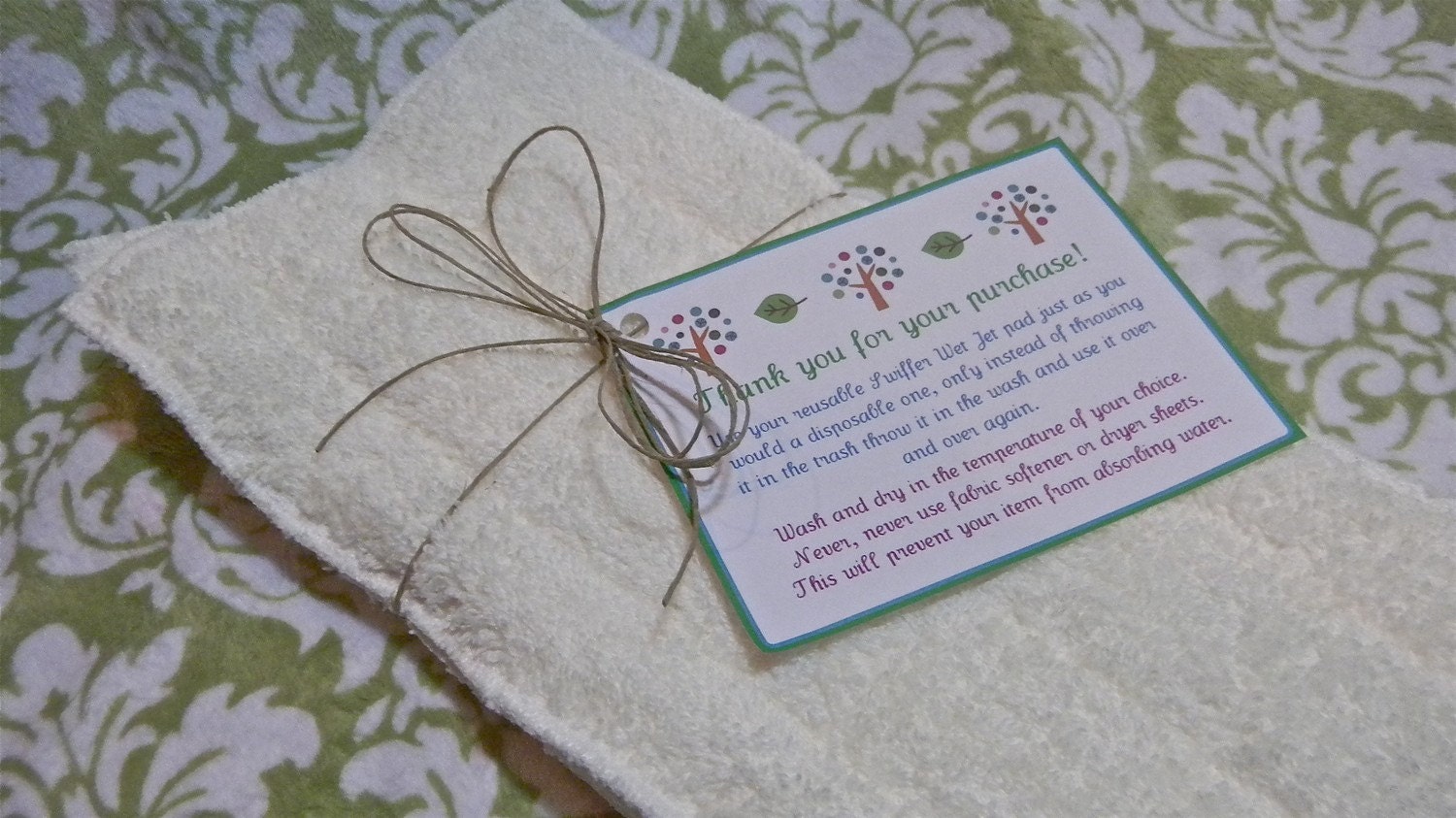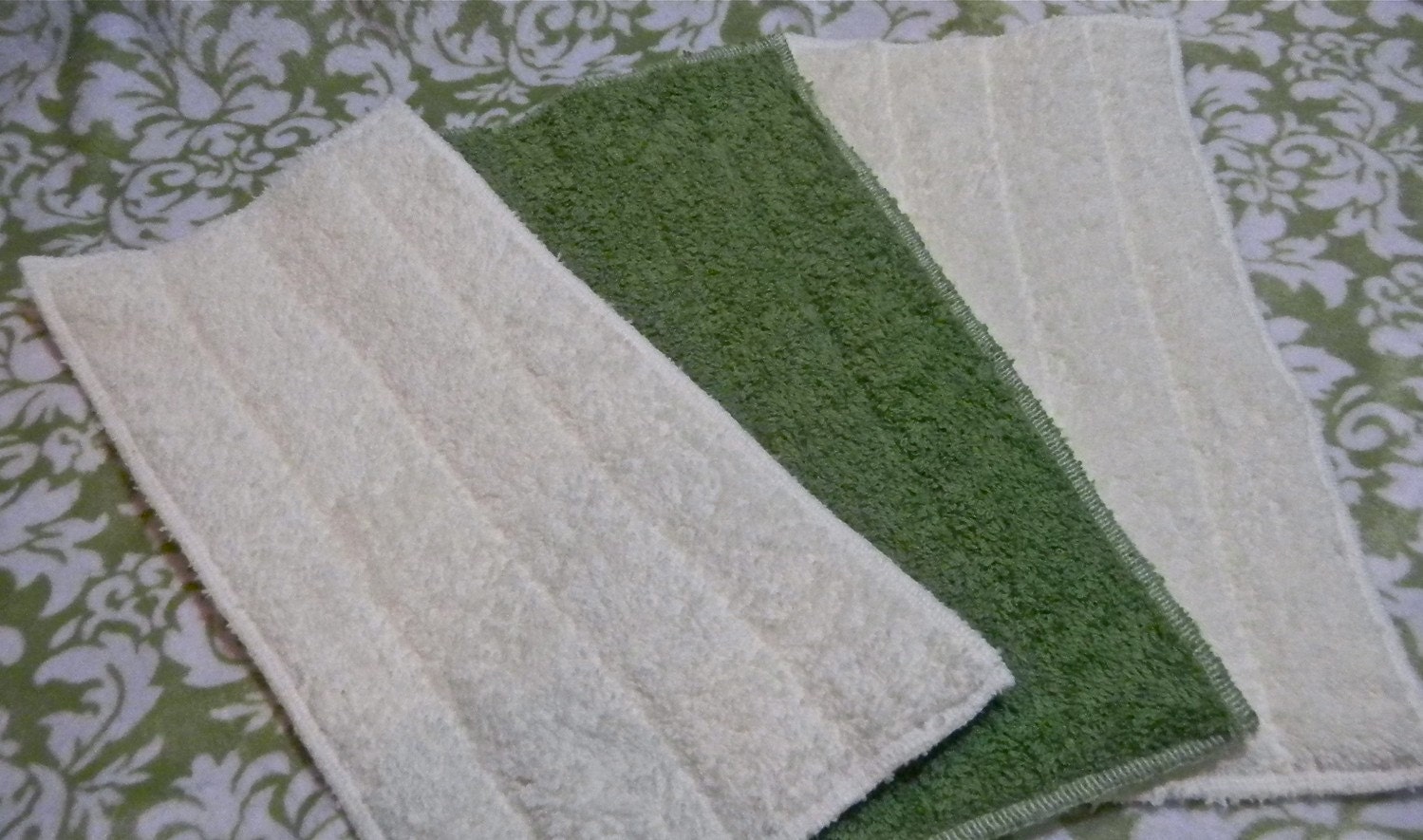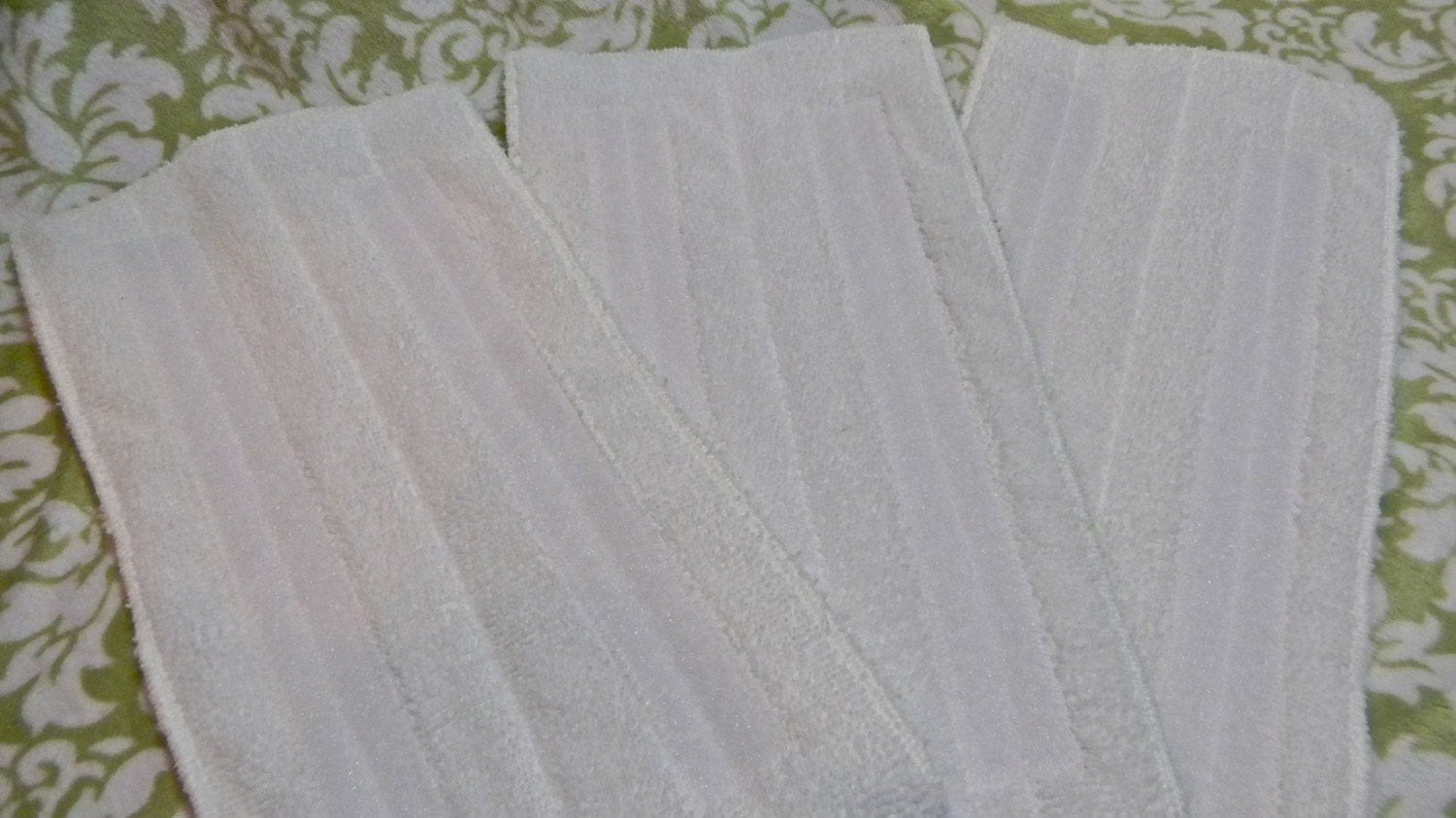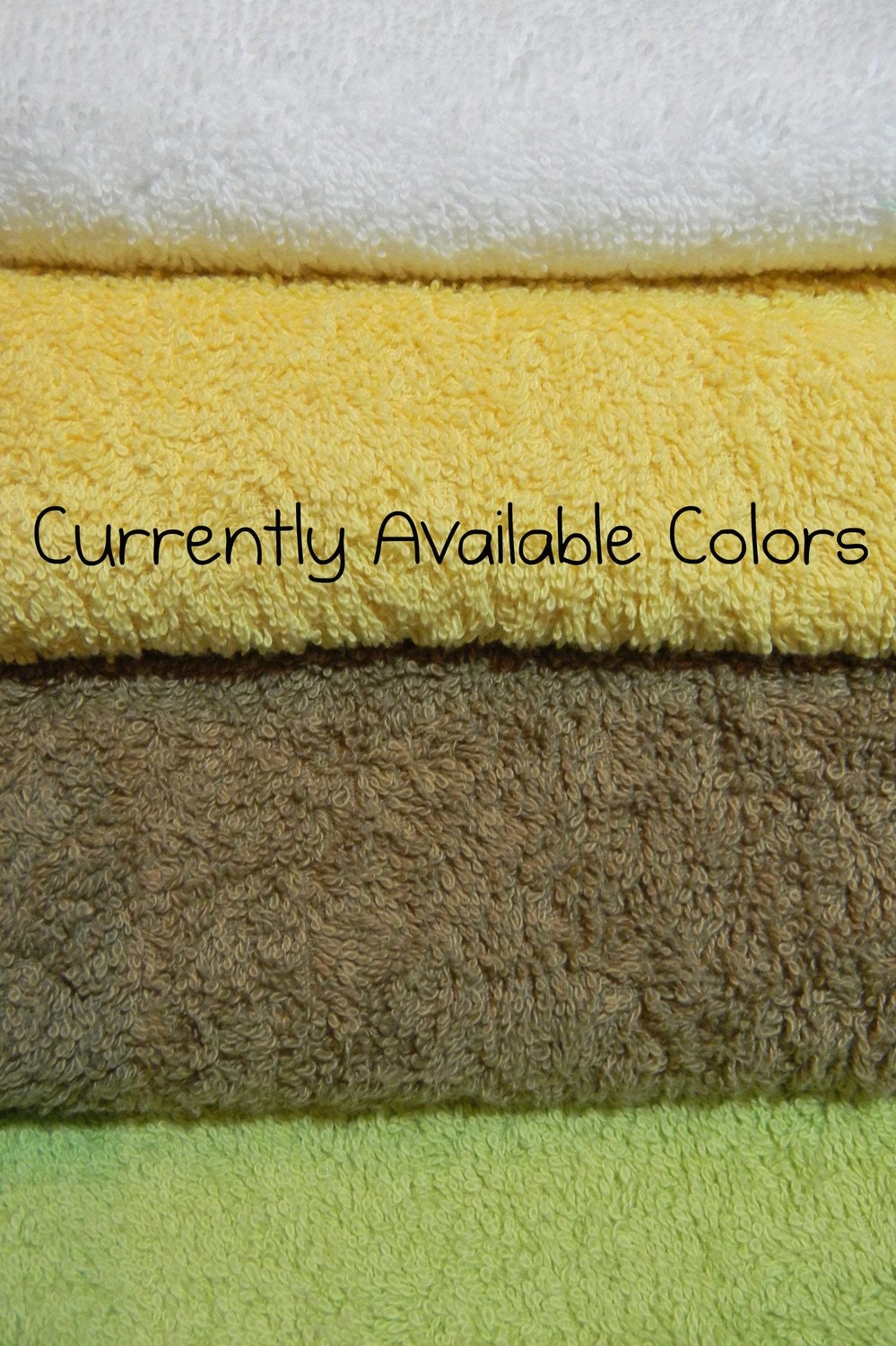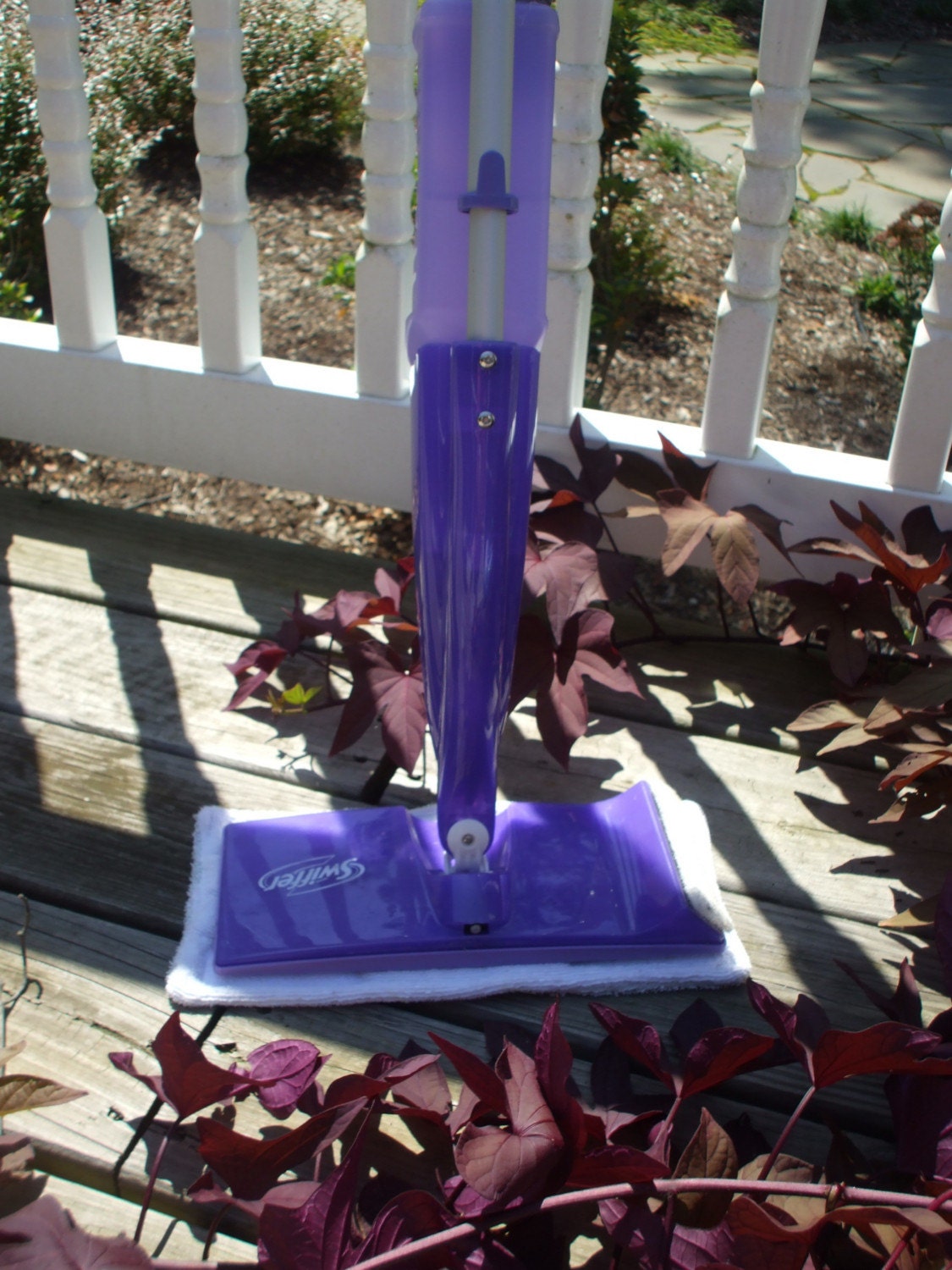 This listing is for Laura. You will receive 4 white, reusable Swiffer Wet Jet Pads.

Thanks!!!






Ever wanted to do a good thing that was good for you too??

Now is your chance! Save the planet and save your money too. I LOVE my Swiffer Wet Jet (with a toddler and 4 pets it is a must) but I don't love spending money on the cleaning pads and just throwing them away. The cost of the disposable pads kept me from using my Swiffer as often as I would like to, so I made my own!

These are made from microfiber and terry cloth. The core layer is made from super absorbant microfiber, so that like the disposable pads, the dirty water is "locked" away, getting your floors cleaner. The outer cleaning layer is made from scrubbing terry cloth to help release dirt. The edges are all professionally serged to prevent fraying and then quilted to prevent bunching while cleaning. They attach to the Wet Jet with velcro so it WILL NOT come off when you are cleaning.

These can be washed in the washing machine and dryed in the dryer but should never, never have fabric softener or dryer sheets/balls used on them (if these items are used your pads will not absorb anything!!) These clean just as good, if not better, than the expensive disposables.

You will receive 4 pads and instructions for converting your disposable Swiffer solution bottle to a reusable/refillable one!!! Save money and cut out those harsh chemical if you want to by refilling with simple, safe products that you already have in your kitchen!!

The instructions for the solution bottle will be sent as a PDF file to your email on file with Paypal (if you want it to go to a different email just let me know in the notes to seller at checkout). If you do not receive this file within 48 hours, check your spam folder and if is still is not there please do not hesitate to contact me and I will resend it. PDF files can be opened with Adobe Reader, if you do not already have this program it is available for free at http://www.adobe.com/downloads/. I have decided to send the instructions in PDF to save trees, but if you want a hard copy sent with your cloths I will be be more than happy to send it free of charge, just let me know you want it sent at checkout.

Terry cloth color will vary depending on what I have available. You may receive on color or different colored pads. Current colors include WHITE AND BROWN.
Custom Listing for Laura: 4 White Reusable Swiffer Wet Jet Pads
---