Details
Hang-Over's total experience is designed to put a smile on everyone faces :) no matter age, size, weight or occupation.It's a hammock and a swing. You can sit in it up straight, or swing in it down low.
You can hang it up high, in your house, or outside in the garden.
Wherever you do, once in it, your body will switch to relax mode and stress goes out the window.


WEATHERPROOF:
The Hang-over is outdoor friendly. Thanks to its robust material the Hangover is easy to clean and lightfast.
We use Innovative All-weather waterproof and UV protected fabric that dries quickly after rain.


EASY HANGING:
- Once yours, it takes 5 minutes flat to set it up. (Yes five. You heard right).
- The Hangover can be hanged of a tree branch or overhead beam on your porch, patio or deck.
- Inside your home it can be hanged from your ceiling with an hook.
- There are 2 kinds of hooks : hook for concrete ceiling and hook for wood ceiling beam.
- Simply drill the hook into the ceiling.
- Knot the extra rope (included) to the hook and easily hang the chair to it using the 10mm/0.4inch carabiner (included).


INCLUDED:
- Protective cardboard packing box
- 10mm / 0.4" carabiner - you can easily hang or remove the hanging chair whenever you want
- 2.2m / 7.2 ft. high quality extra rope
- Assembly instructions

- Does not include hook for ceiling or stand.


HOW ITS MADE:
High quality solid wood bar.
Innovative All-weather waterproof and UV protected fabric
High quality 8mm polyester rope.
High density foam.


HANG SOLO Vs. HANG BASIC MODEL
They are both made with the same high-quality materials.
Hang Solo has Special Features:
- 3 adjustable sitting positions
- Side Pockets
- Removable & washable fabric


HANGING DIMENSIONS:
- Optimal hanging length from floor: About 1 ft. / 35cm
- Minimum ceiling height: About 7.2 ft. / 2.2m
- Minimum distance of hanging point from side walls: 90cm / 3ft.


PRODUCT SPEC:
- Capacity: 264 lbs / 120 kg.
- Age: for age six and above and it is intended for one person only.
For younger kids we have the Hang Mini Model , please check it out at our shop.
- Chair Dimensions: : About 140cm / 4.6ft. L x About 55cm / 1.8 ft. W x About 48cm / 1.6 ft. D
- Product Weight: 10 lbs / 4.5 Kg

See it in action here : https://www.youtube.com/watch?v=FFXSTG3oud8
Hang-Over's total experience is designed to put a smile on everyone faces :) no matter age, size, weight or occupation.It's a hammock and a swing. You can sit in it up straight, or swing in it down low.
You can hang it up high, in your house, or outside in the garden.
Wherever you do, once in it, your body will switch to relax mode and stress goes out the window.


WEATHERPROOF:
The Hang-over is outdoor friendly. Thanks to its robust material the Hangover is easy to clean and lightfast.
We use Innovative All-weather waterproof and UV protected fabric that dries quickly after rain.


EASY HANGING:
- Once yours, it takes 5 minutes flat to set it up. (Yes five. You heard right).
- The Hangover can be hanged of a tree branch or overhead beam on your porch, patio or deck.
- Inside your home it can be hanged from your ceiling with an hook.
- There are 2 kinds of hooks : hook for concrete ceiling and hook for wood ceiling beam.
- Simply drill the hook into the ceiling.
- Knot the extra rope (included) to the hook and easily hang the chair to it using the 10mm/0.4inch carabiner (included).


INCLUDED:
- Protective cardboard packing box
- 10mm / 0.4" carabiner - you can easily hang or remove the hanging chair whenever you want
- 2.2m / 7.2 ft. high quality extra rope
- Assembly instructions

- Does not include hook for ceiling or stand.


HOW ITS MADE:
High quality solid wood bar.
Innovative All-weather waterproof and UV protected fabric
High quality 8mm polyester rope.
High density foam.


HANG SOLO Vs. HANG BASIC MODEL
They are both made with the same high-quality materials.
Hang Solo has Special Features:
- 3 adjustable sitting positions
- Side Pockets
- Removable & washable fabric


HANGING DIMENSIONS:
- Optimal hanging length from floor: About 1 ft. / 35cm
- Minimum ceiling height: About 7.2 ft. / 2.2m
- Minimum distance of hanging point from side walls: 90cm / 3ft.


PRODUCT SPEC:
- Capacity: 264 lbs / 120 kg.
- Age: for age six and above and it is intended for one person only.
For younger kids we have the Hang Mini Model , please check it out at our shop.
- Chair Dimensions: : About 140cm / 4.6ft. L x About 55cm / 1.8 ft. W x About 48cm / 1.6 ft. D
- Product Weight: 10 lbs / 4.5 Kg

See it in action here : https://www.youtube.com/watch?v=FFXSTG3oud8
Shipping
Ready to ship in
1 - 2 business days
We stock all the items we sell and normally ship up to 3 business days after receiving cleared payment.

We ship worldwide by register mail only you can track.

If you have a specific deadline you need an item (if it is a gift, etc), feel free to contact us so we can move fast with the order to ensure we make your deadline.
Payments
Secure options
Etsy keeps your payment information secure. Etsy shops never receive your credit card information.
We accept PayPal only at this time.

PayPal allows you to pay with a credit card, bank account, and many other options.
Setting up a PayPal account is easy at www.paypal.com.
Returns & exchanges
It rarely happens, since people enjoy our hanging chair :)
but in case of returns / exchange - 100% of the purchase price excluding tax and shipping will be refunded if item is returned in original condition within 20 days of date of purchase.
The buyer is responsible for return shipping costs.

All our products are guaranteed to be free of defects in materials and workmanship for up to one year from the date of purchase. Normal wear and tear, including prolonged exposure to rain, snow and heavy humidity, is not covered by our warranty, nor is rot, mold, mildew or damage from improper storage, maintenance or installation.

Additional policies
Please contact me through ETSY for wholesale information.
Learn more about the shop and process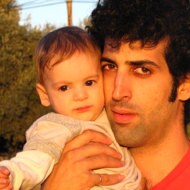 Sagi Ahiel
Special patent hanging chair / hammock chair / porch swing / indoor swing / outdoor patio furniture / Lounge / Color Red (Hang Solo Model)
---