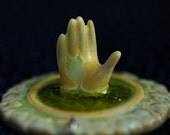 Sorry, this item sold.
Moss Green Porcelain Sinking Fairy Tale Pendant
Item details

Reviews:

Shipping & Policies
This sculptural pendant is made of porcelain and measures 2x2.5 inches at its base and comes with a silver loop. This piece does not come with a chain. The Hand in this listing is a right hand with palm facing up as shown. Each sculptural pendant in this series is original, as they are individually hand-assembled and the glazes all vary in their results, depending on application and firing. I created these pendants after my sculpture series which was created while thinking about fading childhood memories, and the pressure to leave your imagination behind and grow up. I created this work as a reminder to save my fading inner fairy tale, and to hold on to my imagination and dreams.