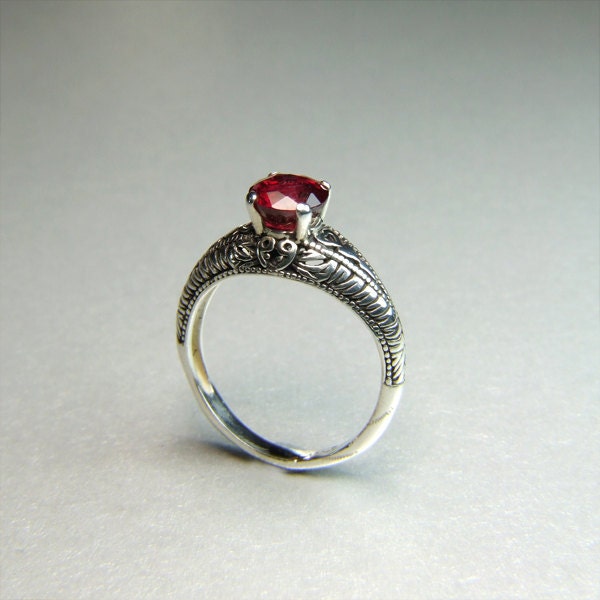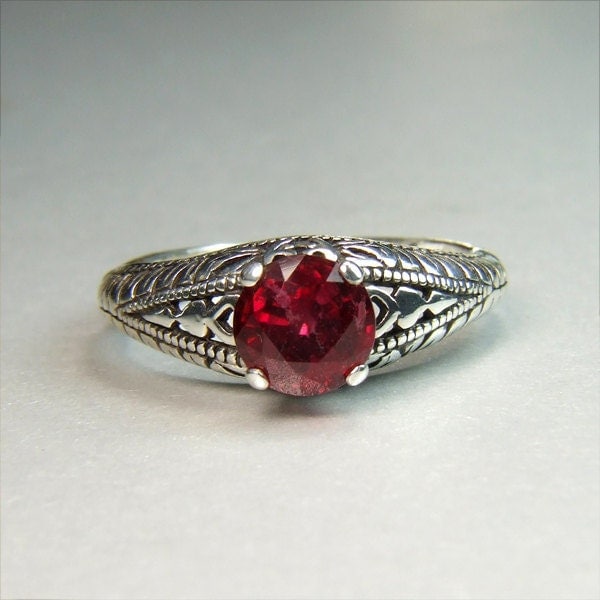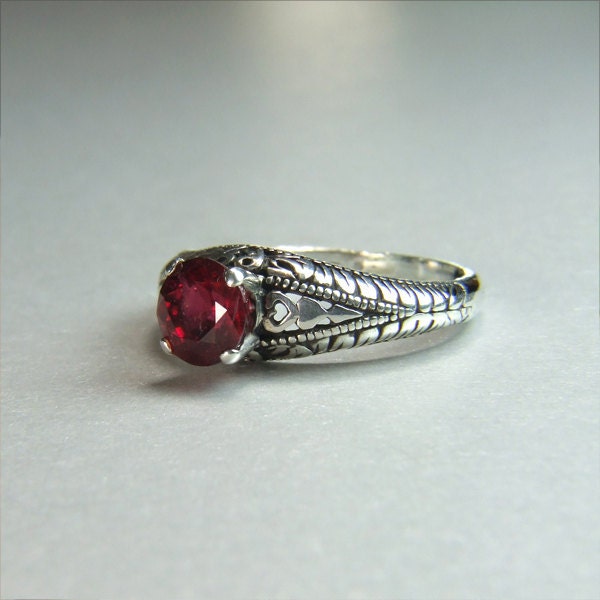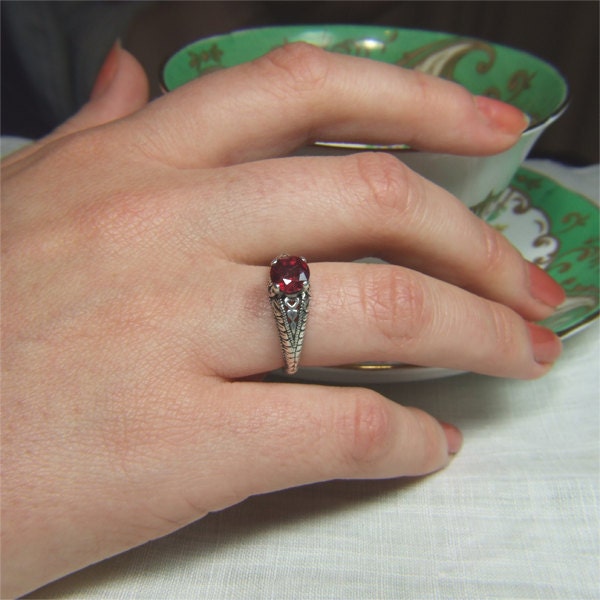 This larger dress ring features a big genuine earth-mined ruby gem set in an Art Deco revival-style sterling silver band.

The ruby measures 6.8mm diameter x 1.84 carats. It was naturally earth-mined in Mozambique and heat-treated* at the mine to purify its clarity and enhance its colour. It's a well cut stone too, showing neat facet proportions and symmetry, and clean surfaces (no cracks, pits or polish marks). Technically speaking this ruby would be graded 'SI' for clarity. 'SI' stands for 'Slight Inclusions' which means that the gem contains microscopic internal imperfections (tiny spots and flecks). However, because of the deep well-saturated crimson red colour of the gem these microscopic spots can't be seen from a distance of an 1" or so, so they don't diminish the gem's overall beauty at all. It has pretty good luster for a dark brooding ruby too - a nice play of vermillion and scarlet sparks the fire away from deep within the stone.

The sterling band is one of my favourite 'cast' designs - a richly engraved and oxidized American Art Deco revival style. I think the dark oxide tones well with the deep red of the stone and gives it quite a personality. All up the ring weighs a solid 3.0 grams and measures 8mm wide at the crown, tapering down to 2.5mm wide at the base.

As with all Salon Petite rings, both the prong tips and band edges have been micro-polished to limit the chances of the metalwork catching in hair or on clothing, and to assure the ring slips easily on and off the finger.

Sizing ...
The inside diameter of this ring is 17mm which translates to the following sizes :
Size 7 (US)
Size 14 (China and Japan)
Size N 1/2 (United Kingdom)

Resizing ...
If you like this ring but it's not the size you want I'll gladly recreate it to any size you specify at no additional charge. Just let me know at the checkout by specifying the size you require and whether the measurement system you use is [US] or [China and Japan] or [United Kingdom]. It usually only takes me a day or two to rebuild a ring - much of which is time spent tumble-polishing the piece back to a super shiny finish - so please allow a little extra time for delivery in this case.


- - - - - - - - - - - - - - - - - - - - - - - - - - - - - - - - - - - - - - - - - - - - - - - - - - - - - - - - - - - - - - - - - - - -

* ... specifically, an industry-standard enhancement process known as 'lead glass fill', whereby micro fissures and cavities within the natural ruby are infused with tiny amounts of molten crystal chandelier glass under high temperature. All gem grade rubies selling for less than around $1000/carat enjoy this enhancement process these days. As well as improving the clarity of the ruby this cosmetic process also lowers their investment value, which is why I'm able to offer them here at Salon Petite at such attractive prices.
Learn more about the shop and process
Graham
Ruby (6.8mm Natural Ruby), 6.8mm x 1.84 Carats Round Cut, Sterling Silver Ring
---
Shop similar items from sellers around the world