This item sold on June 26, 2012.
Earth Elemental Gnome or Fairy Miniature and Enchanted Crystal Ball Situated in Real Acorn Ideal for Dollhouse Scale Original Design
A Little Knowledge Goes a Long Way…
An elemental is a mythological being first appearing in the alchemical works of Paracelsus. The basic concept of an elemental refers to the ancient idea of elements as fundamental building blocks of nature. Paracelsus identified four types of beings associated with each of the four elements of water, fire, air, and earth. These are the spirits that govern all nature, the "forces of life".
The Earth Elemental is the Gnome. Gnomes are the spiritual beings who inhabit the spirit realm of the elements. As spirits of energy they are commonly invisible to the average person, only those that possess second sight can see them clearly. However being on the first level of the spirit realm, they are close enough to the physical realm in order to easily inter-react with it.
Gnomes are most frequently seen is the brownie, or elf, a mischievous and grotesque little creature from twelve to eighteen inches high, usually dressed in green or russet brown. Most of them appear as very aged, often with long white beards, and their figures are inclined to rotundity. They can be seen scampering out of holes in the stumps of trees and sometimes they vanish by actually dissolving into the tree itself. (Per Paracelsus)
They are concerned with the products and treasures of the earth. Being of the earth, Gnomes usually live in the soil, rocks, beneath the ground, and under the tree roots. Gnomes will only help humans if they have been considerate of nature and treat it well. They are very helpful of those who have established a connection with them through prior acts of kindness. When working with humans, Gnomes are most helpful with healing the bones.
The subgroups of the Earth Gnomes consist of Brownies, Dryads, Durdalis, Earth Spirits, Elves, Hamadryads, Pans, Pygmies, Sylvestres, and Satyrs.
Elementals are governed by the Archangels.
Many believe Elementals are from a different realm, coming and going between our realm and theirs at their leisure. According to Quantum Physics, there are parallel universes much like our own, but in some of them animals who are extinct here, still exist there. Unicorns run and graze freely. Elementals live in the realms where they are accepted and they can live freely and they easily travel between the universes where there is an overlap of the two universes. You can say, like a portal.
(This information was gathered from various online sources dealing with Quantum Physics, The Elements, and Elementals.)
"The Details"...
A clear crystal ball, which has a pinkish cast, is situated in a real Oak acorn. It is "hidden" by faux grasses.
This enchanting nature crystal ball is designed to represent what a crystal ball belonging to an earth elemental, a gnome, or fairy might look like. It seems natural that they would use something from nature as a base and then use grasses to hide it from outsiders.
The crystal ball and the acorn measure 4/6"high. The grasses, which extend upwards to "hide" the crystal ball, at their highest point, are about 1". The glue used is non toxic and it comes from a smoke free home. It is not a toy, thus, it is inappropriate for small children. It is one of a kind.
Your fairy or elemental would love this, as would your miniature wizard or witch. This would look great in an inside fairy garden or in a fairy house.
*This creation may not be copied, reproduced, republished, edited, downloaded, displayed, modified, transmitted, licensed, transferred, sold, distributed or uploaded in any way without my written permission. My work does not belong to the public domain.
Please Note: This is a fantasy creation. Nothing on it has any magical powers or abilities.
*************************************************
**Treasury Feature**
Name: "Where's Barney?"
By: PhotosPastfromPhotosPast
Here is the link:
http://www.etsy.com/treasury/MTQ4MTY3MzR8MjcyMjkwMTgyMA/wheres-barney
****************************************************
**Do read my "Policies" for all the key details on payment, shipping, combined shipping, packing, etc. (http://www.etsy.com/shop/Enchanticals/policy)
Payment is due when you buy the item… once you hit: "Commit to Buy", you need to proceed to PayPal and pay.
~~~~~~~~~~~~~~~~~~~~~~~~~~~~~~~~~
International Buyers: Austria, Australia, Belgium, Canada, England, Finland, France, Germany, Ireland, Italy, Japan, New Zealand, Scotland, Singapore, Spain, Switzerland, and Wales…
Please convo me PRIOR to paying for an item or items for the shipping costs. The listing will show no shipping cost for your country.
~~~~~~~~~~~~~~~~~~~~~~~~~~~~~~~~~
* I do combined shipping. On all shipments, if you should pay too much for shipping, I will refund your shipping overage via your PayPal account.
Please note: Insurance is optional. However, whether you choose to add insurance or not, once the box leaves my hands and is handed over to the USPS, I am not responsible for any damage or loss or non delivery. If you have insurance, you can file a claim with the USPS.
If you wish insurance, please convo me before payment and the invoice will be adjusted to add the cost for insurance.
If you chose not to buy insurance on 1st Class USPS mail, Delivery Confirmation is required and included in the shipping cost. Without any proof, except my receipt from the USPS, there is no way to tract your item. I am certain you understand. It is a safety precaution for both of us, especially you. I want you to get your creation!
*********************************************
***Remember repeat buyers get a discount. Please note that in the comments section of the invoice for me, while I update my buyers' list. Details are in my Policies.
(http://www.etsy.com/shop/Enchanticals/policy)
*********************************************
Please join and follow my blog, Enchanticals. Here is its magical link:
www.Enchanticals.blogspot.com
******************************************
For more enchanted creations please see…
Home Page> Enchanticals
http://www.etsy.com/shop/enchanticals
******************************************
Thank you for being here. I look forward to your next visit.
Until then…Be Enchanted Always, Marsha
Learn more about the shop and process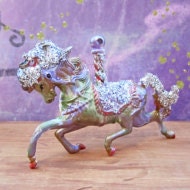 Enchanticals
Earth Elemental Gnome or Fairy Miniature Enchanted Crystal Ball Situated in Acorn Dollhouse Scale Original Design Treasury Feature
---
Overview
Handmade item
Materials:

glass, acorn, faux grasses, non toxic glue, wood

Only ships within

United States

.
Feedback: 222 reviews
Favorited by: 12 people