Meet Claude, The Toastie Monster. He is a little rascal! As if you couldn't tell the crazy look in his eye. Claude is the runt of the Toastie monster litter, and what he may lack in height, he makes up for in personality. He loves Japanese movies, especially Godzilla, apples, and wearing human hats, even though they don't fit. He would make a perfect match for a child or teen that has a lot of personality and a free spirit, or an adult that wants a smaller Toastie Monster.
What better way to cure a aches and pains than with heat and laughter??!!! These little guys have so much personality. They love helping, so give them a chance!
[I will admit these are my most favorite items to make, I am giggling like a little school girl the entire time I am sewing, cutting, and stuffing.]
The secret recipe for these Organic Toastie heating pads has been passed on from my great aunt, Hon, to me, and now to you.
These are one of the most helpful and useful little beauties ever! No plug-in chords, so you are free to use it anywhere. I have found multiple uses for them, and still continue to find new ones. Everyone that has one, loves it!
This Toastie Monster posses a multicolored fabric of blue and white, with white strings (convenient for neck use).
** Since fabric is from recyclable materials, colors are limited and constantly changing, please check back for new and updated patterns!**
USES:
* Helps to relieve aches and pains, especially menstrual cramps, knee, back, and the handles are convenient to help with neck pains.
* Put at the bottom of your bed under the sheets on a cold night to heat up your entire bed!
* Also, my pets love them, we heat them up and they snuggle with them, and it helps with older animals arthritis.
* The lavender in the heating pad is a natural relaxant, use on migraines, or on your neck after a long hard day at work.
Dimensions: approximately 14" long x 4" wide (He is a runt, remember :P)
DIRECTIONS:
Place heating pad in microwave for 1-2 minutes (50 seconds if use on animals). For bed use, microwave for a minute and 30 seconds (and it will last up to 1 hour plus!
Do not place directly on skin! Place a towel underneath or use on top of clothing
Place heater on sore spot, in bed, or next to animal.
Heat should last up to 45+ minutes [I've even found that body heat will stimulate the rice to continue heating, just keep flipping the Monster.]
MATERIALS:
You know how I love the environment, well these Organic Toastie Monsters are made of recycled flannel, fabrics, scraps from clothing companies, leftover fabrics from others projects, shoe laces, sweatshirt strings, long grain rice, and lavender! ALSO, the left over scraps go to filling my organic pillows! "Functional Beauty"
**WARNING**
DO NOT PLACE MONSTERS ON METAL OR METAL RACK IN MICROWAVE! They will burn the fabric.
Lavender comes from: Popko shop:
http://www.etsy.com/shop/PoPkO
To more Toastie updates, here stories, share picture please check out the Toastie Fan page on Facebook:
http://www.facebook.com/pages/Toastie-Monsters/190528711008562?sk=wall
* This product is not intended to cure chronic injuries or pains, please consult a doctor for severe or chronic pain issues.*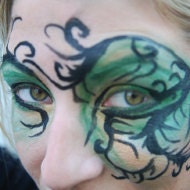 Liz Krov
Toastie Monster-Meet "Claude" All Natural Heating Pads Made With Recyclable Materials, Organic Rice, and Lavendar
---
Overview
Handmade item
Materials:

upcycled flannel fabric, long grain rice, lavender, yarn, string, recycled materials

Ships worldwide from

United States

Feedback: 18 reviews
Favorited by: 12 people
Shop similar items from sellers around the world