🍃 🍄 Perfect fairy door accessory kit for any garden large or small. Small trees are perfect to place these little doors approximately 1-2 feet across. To continue to add the magic, you can expand the look of your fairy garden as you grow with the experience by adding further fairy garden accessories such as; fairy pathways, pavers, pots, flowers pots, trellis and small fences, with postal boxes and wire bridges to create a fairy wonderland, you will find all of these in my store to complete the magic in your garden.

They make great gifts for everyone from small children to adults as a gardener's gift or birthdays. All of my items are weatherproof with added waterproofing and UV protection.


🍃 🍄

Painted in rich and vibrant colours, a lot to choose from. The fairy doors in the photo are just suggestions.
The Wee little door's dimensions are: 3.25" Long x 2.25" Wide. The weight is approximately 3.0zs.

History of the Turning Door. You will see lots of this little door everywhere. This door signifies the "Turning". When young Faes go out into the world for the very first time. Old enough to be let from the leaf bindings and let free. Once free, they start to look for their own place among the fae world, looking for a place to settle. To encourage them to stay within your garden, this door is helpful for the young fae to return to until a more permanent site is found.


🍃 🍄 🍃 🍄 🍃 🍄 🍃 🍄 🍃 🍄 🍃 🍄 🍃 🍄 🍃 🍄 🍃 🍄 🍃 🍄 🍃 🍄

This is a very basic kit; fairy door, stones and mushrooms

Your Fairy Door Kit will include the following magical items;
Gift boxed in pillow boxes and Glitter Bows.
Small Fairy Door with nail (or without) for hanging
Bag of Magical pebbles

Packed in a little gift bag;
2 small mushrooms with stakes for easy positioning into the ground.
Care card and

🍃 🍄 🍃 🍄 🍃 🍄 🍃 🍄 🍃 🍄 🍃 🍄 🍃 🍄 🍃 🍄 🍃 🍄 🍃 🍄 🍃 🍄




🎁🎁🎁 Gift Option

If you are sending as a gift, the listing will prompt you to choose between Gift for someone or Gift for yourself. Either way you will receive a Pretty "Care card" and a little designed label for your package. Each parcel has been thought out for a magical experience - so when you open up your box it is all displayed with the utmost care and attention. If you are sending as a gift, the main package will be left open so the item can be seen by the Purchaser and can be easily rewrapped with the label provided. Please do not forget to include the Care Card with the package.

Every piece is cast in my workshop where I work on a couple of benches and have tons of shelving filled to the brim with stock and future pieces that I look forward to painting. Some pieces sit for months while I have to wait for that piece to speak to me in order to choose the right colours. Other pieces I just know which colours will work best for that piece.

I am very particular about bringing out all the details in my creations which convey the care and attention I put into them. Everything has to pass my scrutiny before it is placed into a box for posting, because you are entrusting me to provide a quality gift for someone or yourself.

☔️ ⛄️ 🌞 ☔️ ⛄️ 🌞 ☔️ ⛄️ 🌞 ☔️ ⛄️ 🌞 ☔️ ⛄️ 🌞 ☔️ ⛄️ 🌞 ☔️

My castings are made from an ultra durable, long life, eco-friendly construction offering a high performance mixture with ultimate strength. Although I use a professional grade waterproofing, to keep your item in good shape, it is beneficial to reseal it every 3-4 years depending on the severity of your weather. I do recommend bringing in your Fairy door/garden item if the Winter is especially hard. Once the Winter Fairies have returned to the North and South Poles and the weather starts to get brighter, place the item back outside for when the Spring Fairies return.



🍃 🍄 🍃 🍄 🍃 🍄 🍃 🍄 🍃 🍄 🍃 🍄 🍃 🍄 🍃 🍄 🍃 🍄 🍃 🍄 🍃 🍄

What Makes a Fairy Garden

The Faerie experience for the Garden, is a mysterious if not magical one.
To place one of these doors strategically hidden amongst the flowers or around the base of any tree, (especially if you suspect one is living there), will give them the freedom they deserve to come and go as they please.

Faeries in the garden are helpful and very protective. Unfortunately, also very elusive and remain well hidden from our very eyes.

So invest in a Magical Fairy Door and watch your garden come alive.
BUT
Be careful not to tread on them.

🍃 🍄 🍃 🍄 🍃 🍄 🍃 🍄 🍃 🍄 🍃 🍄 🍃 🍄 🍃 🍄 🍃 🍄 🍃 🍄 🍃 🍄

All stories are © for Fairy behind the Door and cannot be copied without prior permission of this store's owner.

All photos are © for Fairy behind the Door and cannot be copied without prior permission of this Store's owner.
Learn more about the shop and process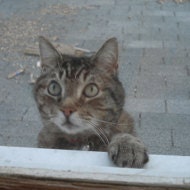 Jassmond Masters-Bell
Fairy door, Fairy garden kit, gifts for mom, Gardener's gift, fairy garden decor, fairy garden accessories, gnome garden, fairy garden, 303
Overview
Handmade item
Materials:

Product number 303, Concrete Mix, waterproof sealer, outside paints, Fairy hugs

Made to order
Only ships within

United States

.
Feedback: 330 reviews
Favorited by: 445 people
Listed on Aug 25, 2016
5109 views