✮ The CLEAR POLYPRO ✮
Ready to take your Hooping to the next level? Polypro is the newest advanced Hoop tubing to hit the market and will CoMpLeTeLy transform your Hooping practice! Polypro is the ultimate upgrade to your hoop collection allowing for the cleanest breaks, sweetest isolations, highest tosses & the most controlled off-body work you have EVER experienced! Poly is the MOST responsive tubing available and WILL improve your practice. In fact, you may never go back to black tubing AGAIN!
We guarantee an Expertly-Crafted Hoop! We also NOW USE Polycarb connectors. Polycarbonate is the strongest insert material out there.
✔AVAILABLE IN Standard 3/4" OD Poly AND in 5/8" OD Polypro! .
✔OUR Polys come with a Secure Push-button Connection for easy Collapsing.
Disconnect, Coil Down & Go!
✔We'll Sand your Hoop For FREE!
We also InCLuDe FREE SANDPAPER with your order in case you ever need to add More Grip!
✔Want to add Inside Grip Tape? (See last Picture, above) Find It HERE >
www.etsy.com/listing/105244383
✔See Our Colored Polypro Line (Second to Last picture, above) HERE >
www.etsy.com/listing/123280802
✮ChOoSe YoUr SiZe and TuBinG~
~ 3/4" OD Available in Sizes 28" - 38".
~ 5/8" OD Super THIN Available in Sizes 28" - 35".
~We recommend that your first Poly Pro be in 3/4" OD Standard and in a size anywhere from 2" above your current hoop size to 2" smaller. When in doubt, go bigger, as Poly is quicker and more responsive!
✮ChOoSe YoUr SaNdiNg StyLe~
~No Sanded
~Inside Only Sanded
~Inside AND Outside Sanded
*FREE Sandpaper is included with all three choices!
✮100% Satisfaction Guarantee~Best Selection of Pro Hoops on Etsy!
✮Locals may use code FREEPICKUP to eliminate shipping charges. Hoops may then be picked up at in Lawrence, KS when complete.
✮Your Polypro will be shipped in a Box; please be sure to Recycle!
✮Happy Hooping from Hoop Mamas!
All images & descriptions Copyright 2011 © Hoop Mamas, LLC.
Learn more about the shop and process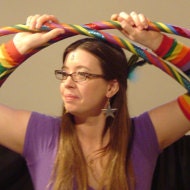 Hoop Mama Ali
BesT PRiCE on Etsy - CLeAR Poly Pro Hoop - Available in 3/4" OD and 5/8" OD THiN! Free Sanding/Sandpaper. Over 30,000 Hoops Sold.
---