Aggravation game board TEXAS STYLE

You know everything is bigger in Texas and this game is no exception. This game is made to order as I don't think a lot of folks want A game that is this BIG.....

Hello Folks,

Thank you for looking; this listing is for a custom made game board for YOU.

This "IS" the largest game board found anywhere on the internet and undoubtedly one of the nicest. Wheel this big boy out and there will only be one word that can describe it. WOW!!!! This is one mighty big game. Did I mention it is HEAVY! Yes it is.

Your game will look like this one and can be modified IF you would like something else on the game other than the state of Texas. The game in the picture was made for a new friend and I figured perhaps others would like a similar game.

THIS IS THE BIGGEST Aggravation GAME on the internet. Did I mention it is Nice... Yes it is.

This ULTRA MASSIVE 30 inch x 30 inch x .75 dual sided 4 and 6 player Aggravation board game that includes marbles and dice. This hand made game is similar to Parcheesi, Sorry, and Ludo. 100% Hand made in USA.

GAME INCLUDES:

24 1 inch marbles. They look small on this HUGE GAME BOARD.
6 matching color dice.
1 Hand sewn drawstring bag.
Printed Game instructions.

From time of order until completion this game will take approximately 14 days to complete plus 3-5 days shipping time.

The state of Texas is engraved on the 4 player side and is hand painted for dramatic effect. The war birds in the 4 corners are engraved into the wood on the 4 player side as well as the 6 player side.

As shown this Aggravation game board has a FANCY Roman Ogee edge profile routered into the sides of the game which is hand painted black. The marble holes are also hand painted as shown. The 6 player side has a nice oval pattern engraved into the wood in the center of the game.

Please be aware that this Game is INTENDED for people OVER the age of 14 as the 1 inch marbles pose a risk of swallowing if used by younger Children unsupervised.

This hand made game is also stamped, signed, and dated by me the craftsman who personally made it. If you would like a different style Game I will be posting many more in the upcoming days.

Thanks for looking.

==========================================================
SHIPPING POLICY - I CHARGE ONLY ACTUAL SHIPPING COSTS…and I WILL issue a refund if you overpay for shipping.

CUSTOM WOODWORKING – I also make custom designed WOOD SIGNS. If you have something that you would like made please convo me for a quote.
Learn more about the shop and process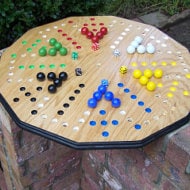 Mike
Aggravation game the biggest nicest available dual sided 4 and 6 player game
Listed on Nov 30, 2016
782 views