The Bibliophile's first foreign language listing! This edition of Goethe's Gedichte is a collection of poetry completely in German in gothic script (possibly Fraktur). Goethe is considered to be the best writer in modern German literature, but he is also famous for his work on natural science.

Title: Goethe's Gedichte
Author: Unknown editor
Publisher: Berlin (I can't read the publisher's name in the font used)
Publication Year: 1879
Pages: 524
Size: 12.6 cm x 17.8 cm

The boards of this book are brown, with black and gilt illustration and lettering on the front, back and spine. The front cover bears the title "Goethe's Gedichte" in gilt illustrative script. The top, bottom and edges of the spine are frayed with small tears on either side of the top of the spine.

Inside the spine is fairly secure, however pages 289 to 304 have come away from the spine. They are still in the book and are themselves still bound together, they have simply come away from the primary binding. The pages are clean with the occasional pencilled note along the edges, and there are many black and white illustrations to highlight the scenes of the poems.

The text is entirely in German in blackface gothic script, there is NO English translation or any kind of English introduction in this book.

There is an inked dedication on the second page which appears to read; "To Constance Selvin (?) with much love from Mrs Gordon Weimar November 20th 1882". This book was clearly a gift from one English woman living in Germany to a friend, or possible relation. Since "Mrs Gordon" was living in Weimar at the time it is safe to assume that this book was printed and purchased in Germany, however my German is very poor and I am unable to read or translate the publisher's name at the bottom of the title page.

This book would be an excellent gift for a student of the German language, a German friend, or a fan of European literature! However as I have stated several times; please be aware that the whole book is in German!
Learn more about the shop and process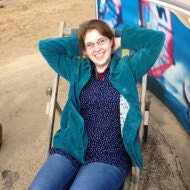 Katie
Goethe's Gedichte- 1879 edition
Listed on Feb 5, 2013
152 views