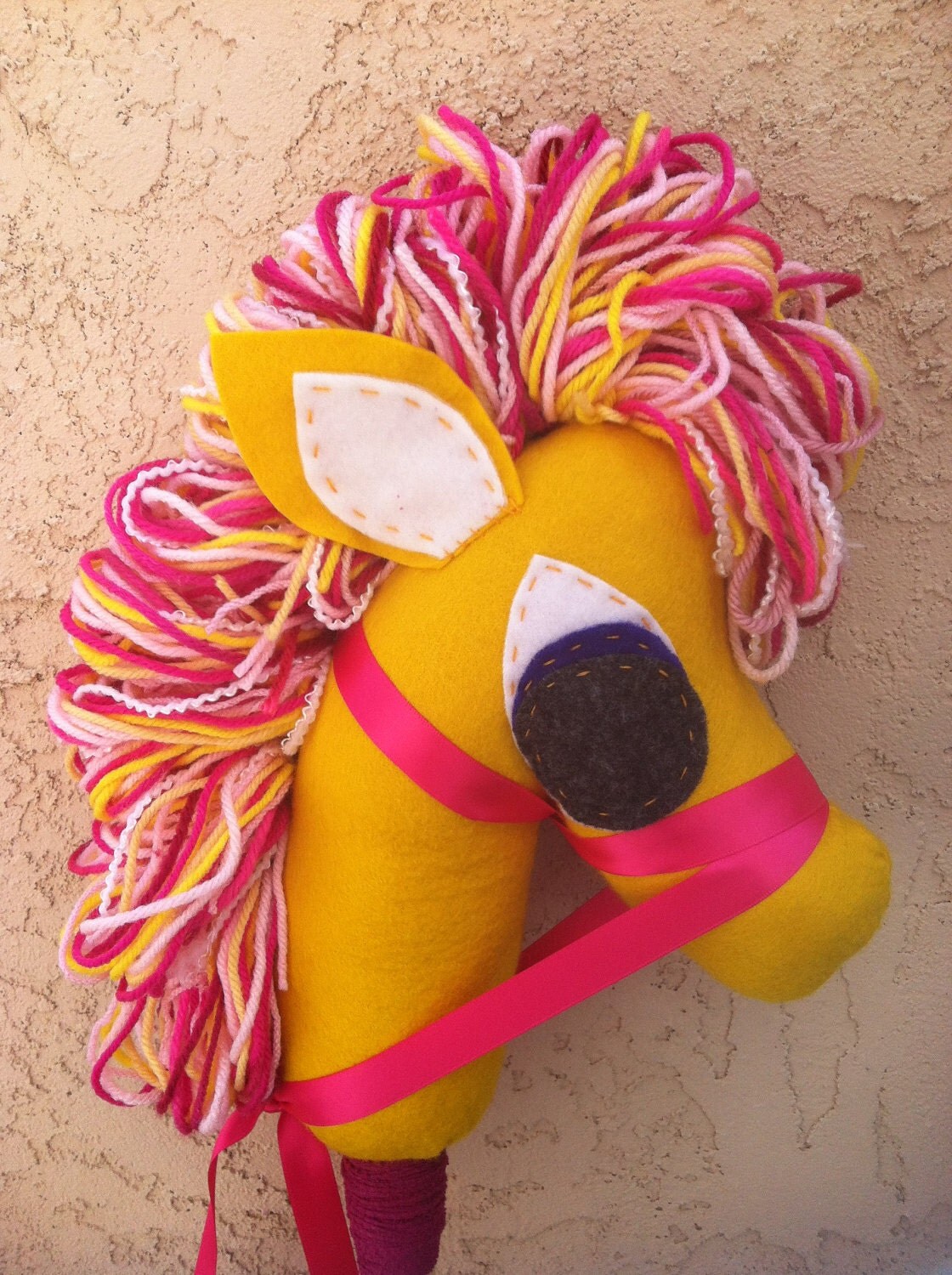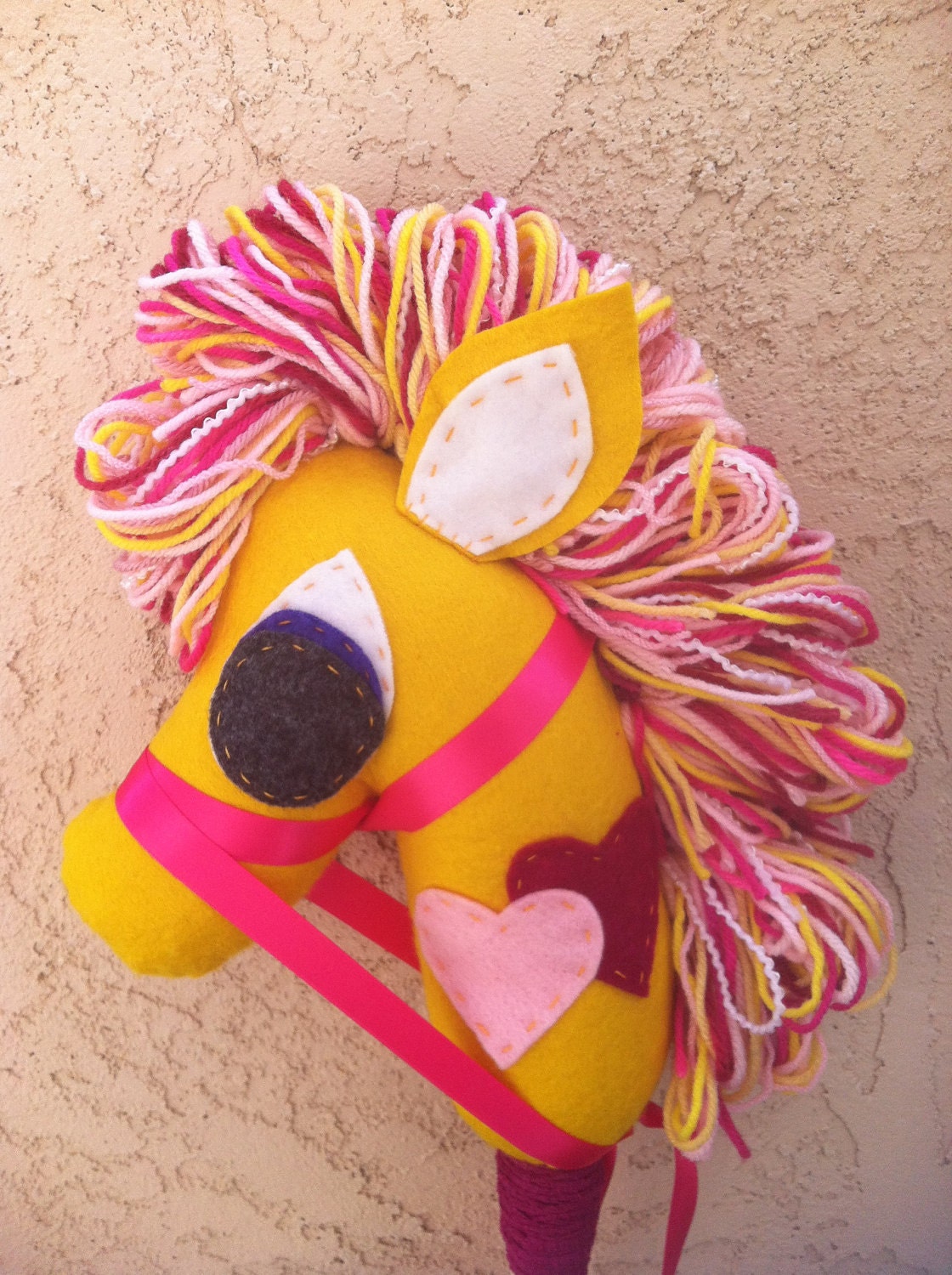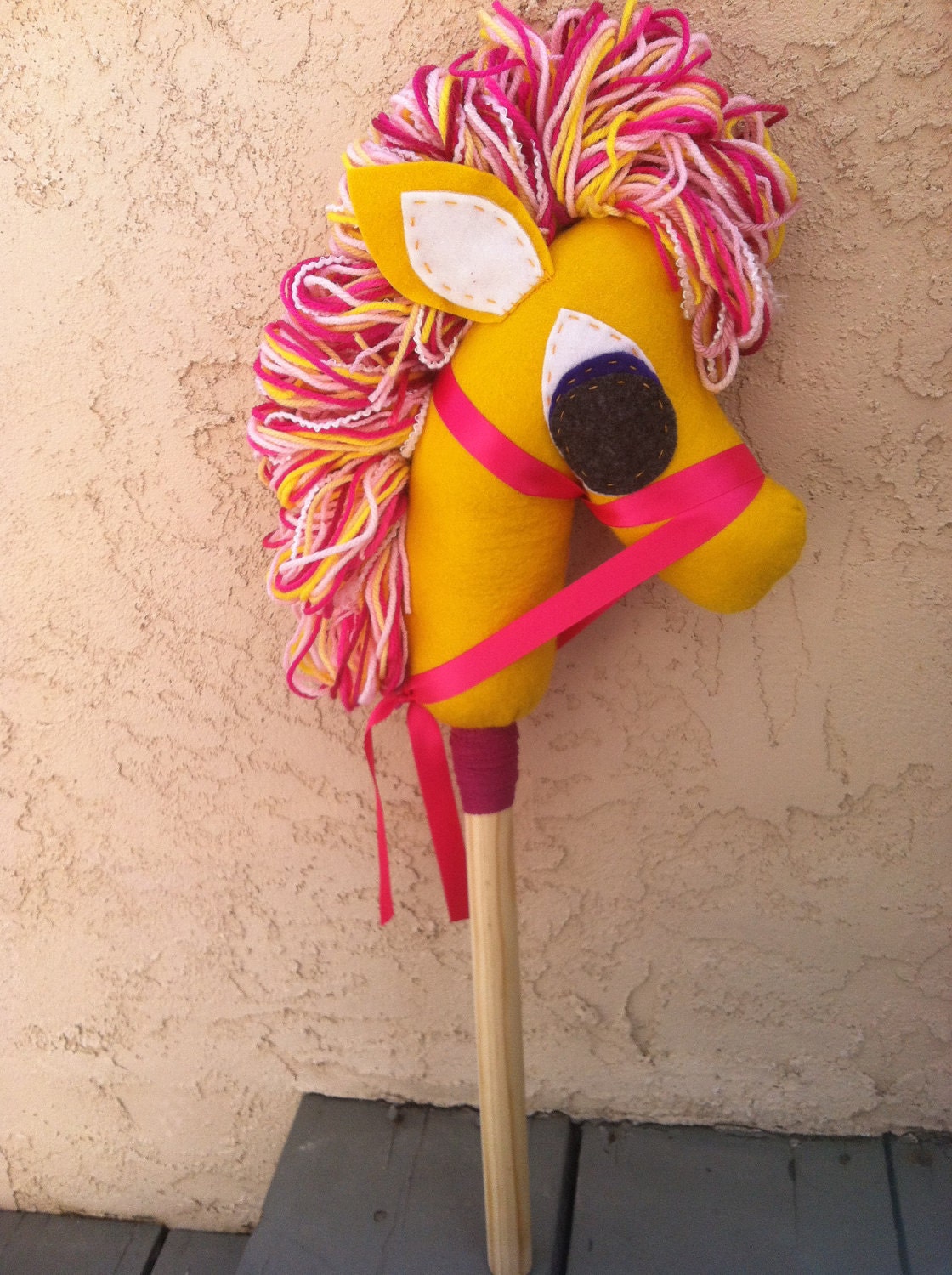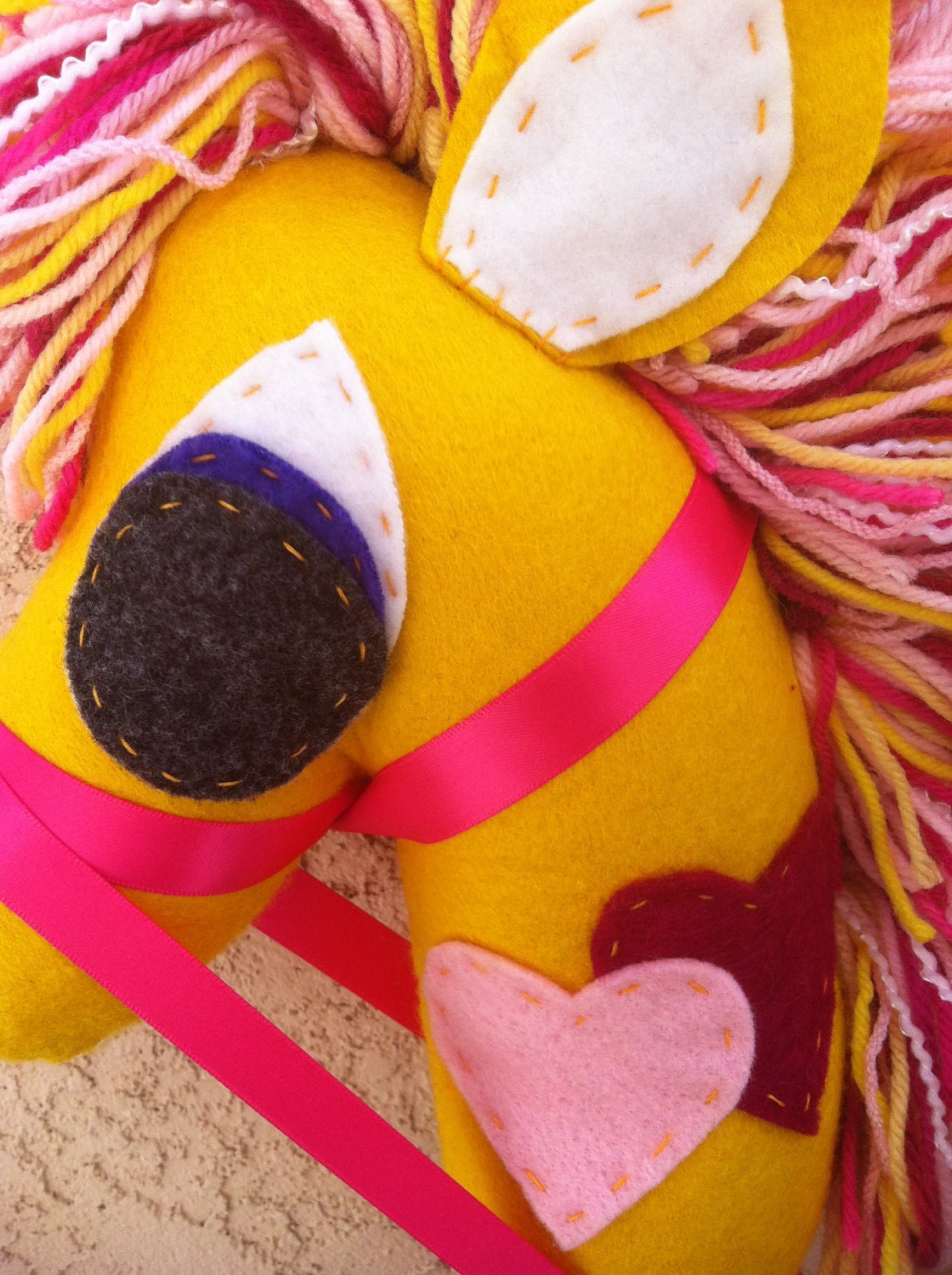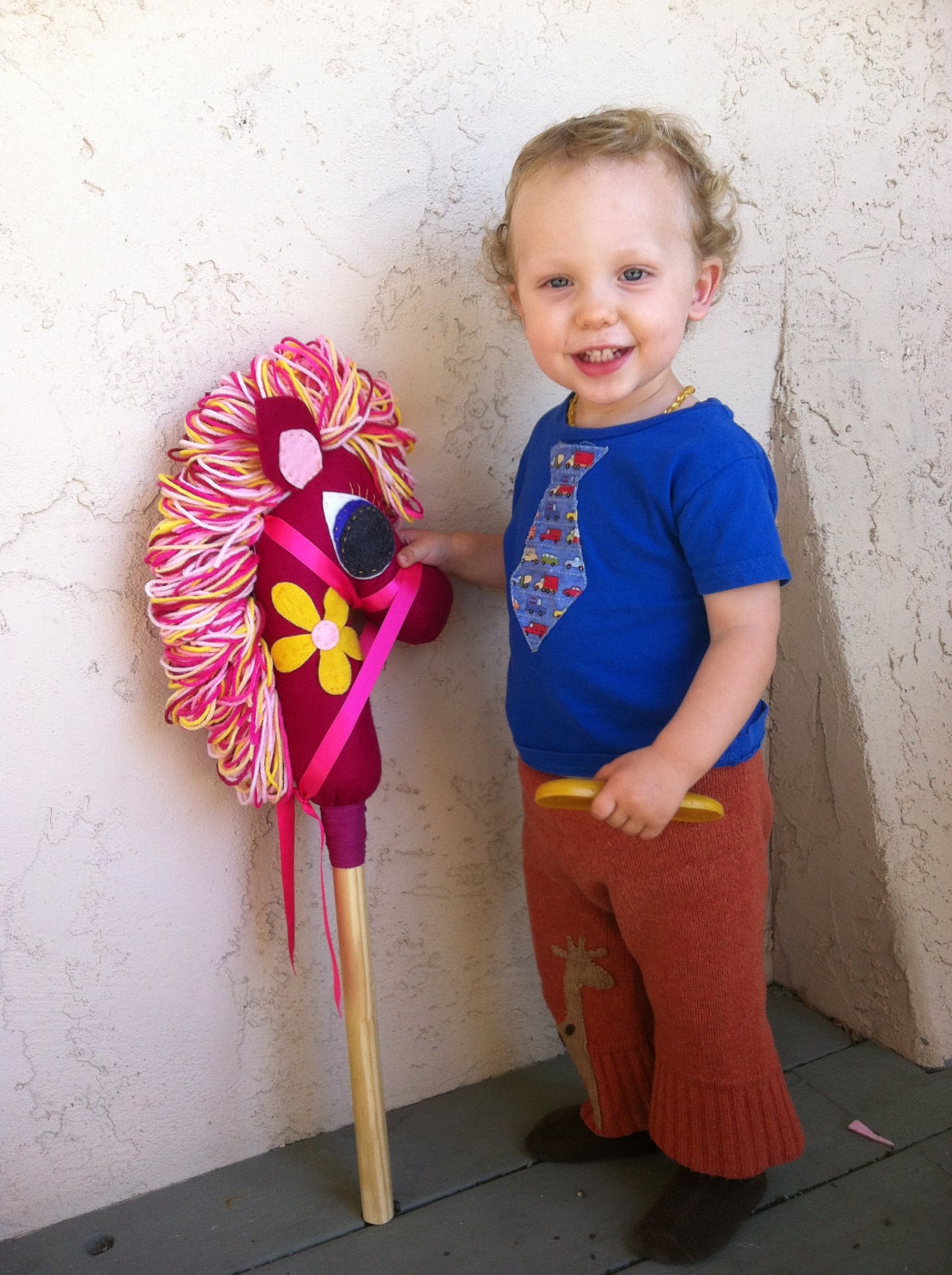 Love and Hearts Horse (hobby horse stick pony puppet imaginative play). Love and Hearts Horse (Stick Pony, Puppet, Pretend, Upcycled, Recycled) will make a great friend for your child's dramatic play. Love and Hearts Horse features all recycled fabrics and is unique and adorable. The head is of yellow felt (please see photos). The eyes are very detailed charcoal grey felt with royal purple fleece and white felt. The reins are of hot pink ribbon and are purely decorative. The mane is of acrylic yarn in shades of pink and yellow. Love and Hearts Horse is the perfect pony to accompany your child on her/his adventures. These are excellent for new walkers (with supervision). See a similar horse pictured above with my 18mo old.

Love and Hearts Horse (and all hobby horses) is composed of freshly laundered upcycled fabrics. All horses are sewn BY HAND and part of the beauty of the creations are the visible threads in the sewing. My home is smoke free and striving to be as "green" as possible. As of yet, I have been unable to find appropriate reusable dowels for these horses and the dowels for these horses are the only "new" part of the horses (untreated pine). I have a small dog who is not around the sewing.

Horses are for play only under adult supervision. Not recommended for children who still mouth their toys. All parts are sewn on for safety and include buttons. Reins can easily be shortened or removed by you, but must be used with parental supervision. These are well-constructed for rough play and are intended to be loved and worn. They greatly improve with the "tough love" kids are likely to provide. Children should NOT be permitted to pull on the mane of the horse as this may result in tearing the (very strong) threads through the fabric and a clump of yarn will fall from the mane. All horses are approximately 2ft tall (give or take a couple of inches). The stick protruding from the bottom is about a foot tall. Each is handmade and totally unique. Makes a great birthday, holiday or new baby/nursery gift! Both my 1yr old, my 3yr old and my 5yr old adore theirs. A 7yr old who visits regularly loves them too, and the horses seem to fit all riders. Please see my "sold" items for others I can easily remake (provided I can find these materials 2nd hand). Or be creative and convo me with ideas of your own. Any holiday. Makes a great birthday, Christmas or holiday gift.
Love and Hearts Horse, Inspired by My Little Pony, hobby horse, stick pony, horse puppet
---