A fun, casual, wrapped leather beaded bracelet for balancing the chakras, using 4mm smoky quartz (root), carnelian (sacral), citrine (solar plexus), jade (heart), turquoise (throat), dumortierite (third eye), amethyst (crown). Wear your bracelet with positive intentions and the electromagnetic energies of the stones will assist you in developing strength and manifestation of their properties. A gemstone description card and gift box are included. Choice of Tree of Life button or OM button.

This bracelet is sized for a woman's standard wrist size. This bracelet measures 7-1/2" long with 2 button openings for sizing adjustment. For a different size, just convo me with requests. Button styles may vary depending on availability. Currently I am featuring a Tree of Life button.
Also available in metallic bronze, black or tan leather under Options. Photos show brown leather.

CARE NOTE: While great care and research has gone in to finding the strongest cord possible that will fit through small gemstone bead holes, I recommend wearing leather wrapped bracelets lightly. Leather and cord are degradable, especially when exposed to skin oils, water and constant wear. Gemstones have rough edges and small holes that can fray the thread in bracelets. To help your bracelet to last as long as possible, it is recommended that you not exercise or do any heavy work in your jewelry. Sweat and skin oils will deteriorate leather and thread. If you must have it on, place it in your pocket instead.
Do not swim or shower in your bracelet. Some crystals cannot tolerate salt and none of them like chlorine. Water deteriorates leather, so treat it like a leather coat – don't get it wet.
Do not sleep in your jewelry. If you want the energies while sleeping, place the jewelry under your pillow to prevent rubbing and crushing of the beads on the threads.

GEMSTONE PROPERTIES:
SMOKY QUARTZ (ROOT)
Grounding and stabilizing stone while raising vibrations during meditation; stone of transmutation of negative energies, practicality, organization, manifestation of one's dreams and inspirations. One of the premier grounding stones. Absorbs unlimited negativity by grounding it in the Earth. Needs to be cleansed regularly. Brings calm and centering, lifts depression, enhances practicality, and generally removes negative energies, bringing happiness. A good luck stone. Most powerful grounding and clearing stone for aura and energies. Enhances practicality, organization and wisdom. Can draw entities into one's auric field and down to one's level of perception, so you are more likely to see ghosts and guides. A protective stone, particularly for physical protection, protection from negativity, and psychic protection. Protects from electromagnetic fields, such as electronics, computers. Relieves fear, depression, brings calmness. Increases our tolerance for stress. Can assist in bearing sorrow and help one cope with hard times. Has a relaxing effect and makes us more resistant to stress factors around us. Encourages us to have realistic considerations. Encourages concentration. Associated with the root chakra.
Helpful countering negative effects of radioactive materials, medical radiation therapy and chemo-related illness, electromagnetic fields, as it gets its smoky color from exposure to natural radiation. Helps abdomen, hips and legs; relieves pain, helpful for back problems and sciatica, carpal tunnel, headaches. Relieves menstrual cramps. Fortifies the nerves.

CARNELIAN (SACRAL)
Cut from an A-grade agate supposedly named after the Latin word carnis ("flesh"). Builds confidence, courage, passion and power within self. Stone of creativity, individuality and lifts emotions. Helps one look on the bright side. Assists in solving problems, as it's optimism helps with decision-making. Helps to bring projects to proper conclusion. Motivates for success in business and other matters. Overcomes negative conditioning. It can assist one in finding the right mate. It is also a stone of protection in general and from anger, jealousy and fear. It can help with manifestation of one's desires and the courage to "take the leap" to a new path. Encourages one to stop waiting for dreams to appear and take action toward achieving them. Helps overcome fears of doing the wrong thing. Strengthens and fortifies the physical body. Encourages a spirit of community. Associated with the root and sacral chakras.
Used to detoxifying from alcohol or drugs, breaking negative habits, improving overall health, balancing and healing ovaries/testes, fertility, lower back problems. Helps absorb nutrients for blood improvement. Helps arthritis. Stimulates metabolism.

CITRINE (SOLAR PLEXUS)
Stone of mental clarity, will and creative imagination. Powerful cleanser and regenerator. Stone of physical & material power but ONLY for the highest good. An abundance stone, happy and generous, and encourages sharing what you have while holding onto your wealth. Raises self-esteem and self-confidence. Brings Light Force around and within the physical body so that the creative power can be directed and consciously used. Helps bring the energy of our dreams and wishes into physical form. Enhances mental clarity, confidence, courage, happiness, optimism, creative imagination, concentration and will power. Purported to bring good fortune, sometimes in very unexpected ways. Helps powers of will and manifestation. Promote success and abundance, especially in business and commerce. Said to alleviate depression and self-doubt, and diminish irrational mood swings due to the effect of mental clarity it has. Reduces anxiety, fear and phobias. Brings in the joy of life. Helps keep one sharp and focused. Never needs cleansing. Citrine is composed of quartz, and much citrine on the market today is actually heat-treated amethyst. Citrine components are easily scratched, and should be kept away from prolonged exposure to strong light or heat. Most effective on the Sacral/Sexual/Navel Chakra, the Solar plexus Chakra and Crown Chakra.
Aids the digestion, metabolism, weight loss and increase energy during exercise (common, heat-treated only). Supports endocrine system, kidneys, bladder. Helps diabetes in its early stages.

JADE (HEART)
The classic abundance stone and heart-healing stone. Jade is considered the health, wealth and longevity stone. Symbol of purity and serenity. Represents harmony and happiness in business and family. Harmonizes dysfunctional relationships. Assists in learning to enjoy the physical life; love and nurturing, wisdom gathered in tranquility. Attracts good luck and friendship. Releases negative thoughts and soothes the mind. Brings insightful dreams, aids irritability release. Helps dissolve blockages. Prevents one from becoming immersed in greed and teaching one to enjoy abundance and share it with others. Assists in steady growth of one's life force energies (chi) and draws upon the Earth's life force when hiking, gardening or relaxing outdoors. Is a great provider of balance; can bring calm when irritable, energy when feeling lazy.
Harmonizes and balances the heart chakra.
Strengthens energy systems, powerful physical heart healer. Strengthens and soothes nervous system. Helps kidneys by balancing metabolism of water, salts, etc.

TURQUOISE (THROAT)
Stone of wholeness and truth, intuition, and spiritual expansion. Aids in communication and manifestation of those qualities. Represents the wisdom that comes from all life's experiences. Efficient healer, providing solace for the spirit and well-being for the body. Stone for self-forgiveness, self-acceptance and release of useless regrets. Teaches wisdom, passion and forgiveness. Purification stone. Dispels negative energy, clears electromagnetic smog. Unites sky energy to earth. Can help promote honest and clear communication from the heart. Enhances intuition and meditation. Purification stone, dispelling negative energy and clearing electromagnetic smog. Said to protect against pollution in the environment, and to bring abundance. It is very powerful for grounding and protection. Calms the nerves during public speaking. Aids creative expression. Helps mood swings, brings calm. Good for artists and teachers. Provides soothing energy and a 'healing of the spirit'. Can refresh us when tired or exhausted. Relates to the throat chakra.
Can also help speed the healing process, and is known as a master healer stone; has anti-inflammatory and detoxifying effects. Oxygenates the blood and increases 'prana' in the physical body. Helps exhaustion, depression, immune system, eyes, cataracts, anti-inflammatory, cramps, pain.

DUMORTIERITE (THIRD EYE)
Used to open or enhance one's psychic connection and intuitive abilities, clairvoyance, clairaudience, clairsentience, vision, psychokinesis, mental discipline, will power, memory retention, divination. Clears blockages, both psychic and mental. Helps concentration, patience, courage, self-confidence, shyness, fear, insomnia, organization, self-discipline, clarity. Assists one in receiving Divine guidance, helps one see beyond obstacles, opens prophetic dreams. Associated with the throat chakra.
Helps with general mental balance and concentration.

AMETHYST (CROWN)
Most highly-prized variety of quartz. Stone of spiritual protection and purification. Clears energy field of negativity and creates energy shield. Balances energies of the intellectual, emotional and physical bodies. Most recommended for stress. Can help open communication with angels, telepathy and other psychic abilities. Considered the Stone of Meditation or dream work, past life work, and can help you see your path. Place on the 3rd eye to help bring on a meditative state. Stills the mind. Has a calming mental effect. This stone can show us how to let go and trust; surrender so that you may see beyond the cycle that consumes your attention; give it all up, so that you can receive more. Amethyst is considered a Master Healing stone. Can help identify root causes behind behaviors and patterns which create imbalance and disease; helps curve overindulgence and giving up bad habits. Brings stability, strength and honesty; also perfect peace. Balances high energy. Used for overworked, stressed and overwhelmed mental states. Helps anger and cools tempers and keeps one grounded. Inititates wisdom, patience and greater understanding. Useful for grief over loss. Also used as protection for travelers. Assists in assimilation of new ideas and helps business affairs to prosper. Helps inspiration, intuition, awareness and clarity. Recommended for dancers, gardeners and professors. Keep Amethyst away from direct sun exposure to maintain rich purple color.
Stimulates the third eye, crown and etheric chakras.
Heals the withdrawal symptoms of any sort of addiction, helps with tension & migraine headaches, insomnia, nightmares, nervous system, brain, tinnitus, supports oxygenation in the blood, endocrine, diabetes, lungs; boosts hormone production. Heals skin conditions and cellular disorders. Helpful for arthritis as an elixir.



NOTE: Crystal Healing is not meant to replace conventional medicine, but rather to compliment and enhance it. It is not to be used as a prescription, diagnosis or treatment. The information given is purely metaphysical in nature and is by no means medical. Crystal Healing is not an independent therapy, but one that is part of a holistic healing approach. By using this site and associated materials, you acknowledge and agree that you personally assume responsibility for your use or misuse of this information.
Learn more about the shop and process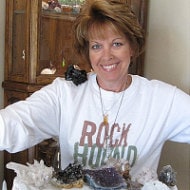 Lynn Leaderbrand
Frequently asked questions about WalelabyLynn
Chakra Balancing Leather Wrapped Bracelet
---
Overview
Handmade item
Materials:

leather cord, dumortierite, amethyst, turquoise, citrine, carnelian, smoky quartz

Made to order
Ships worldwide from

United States

Feedback: 790 reviews
Favorited by: 184 people
Listed on Feb 16, 2017
2337 views