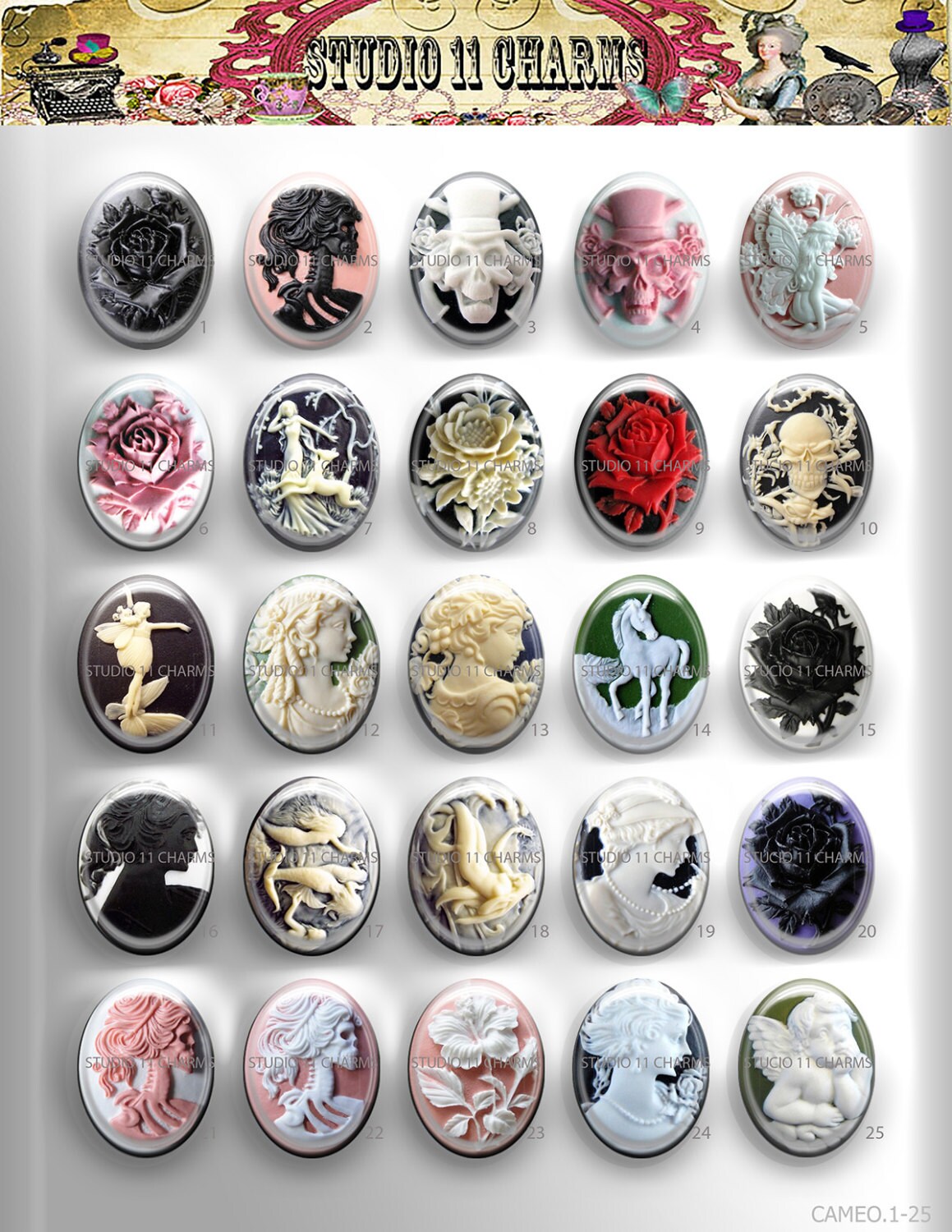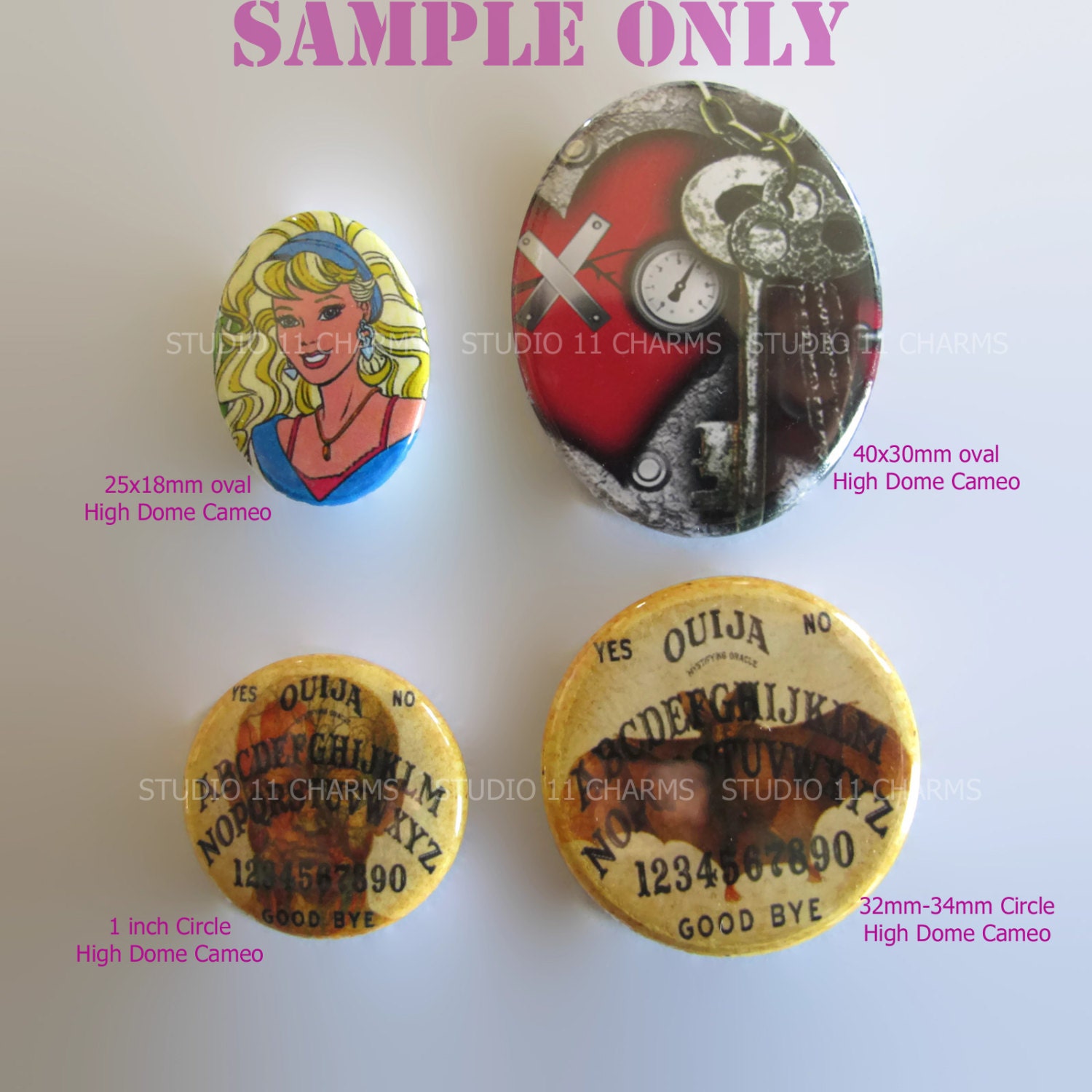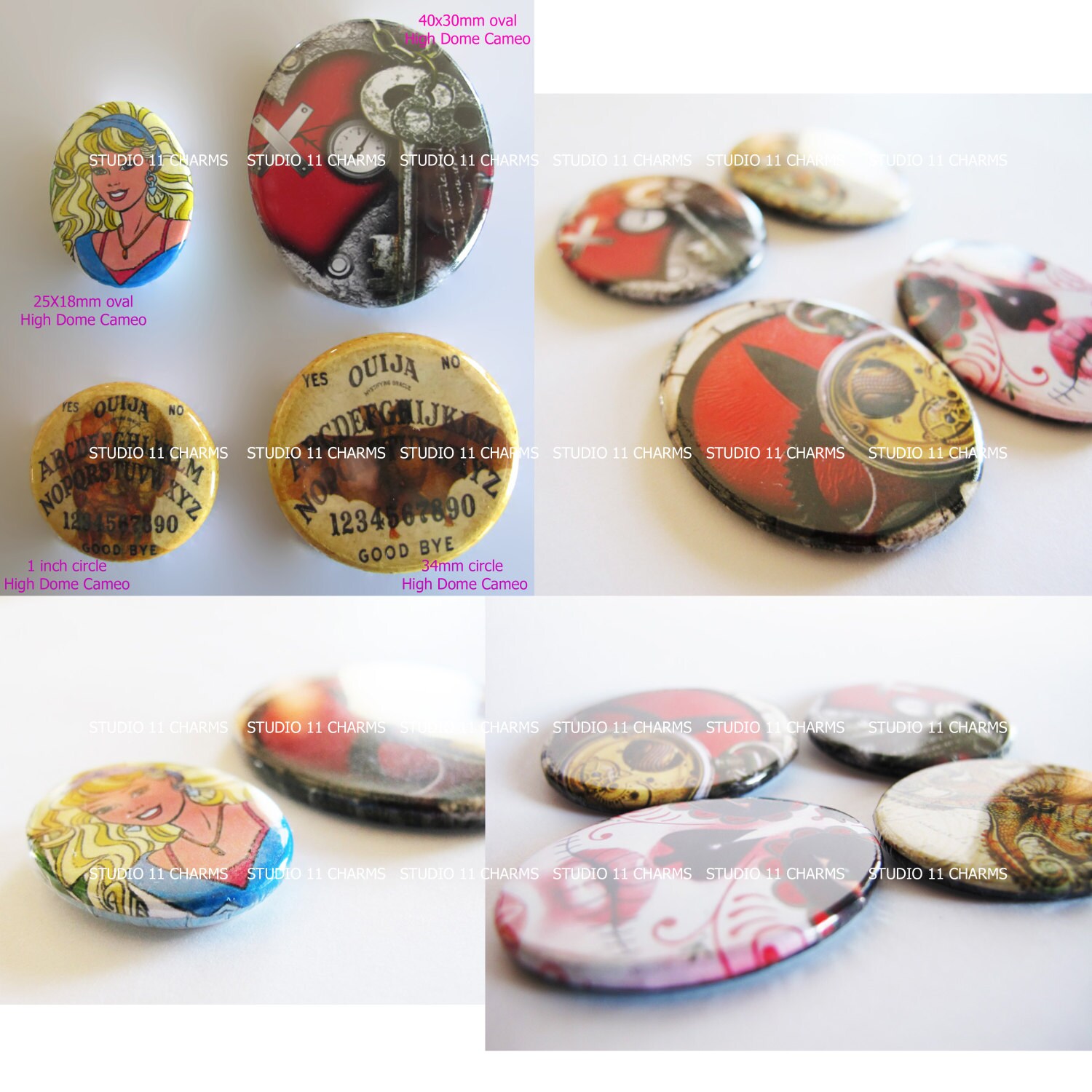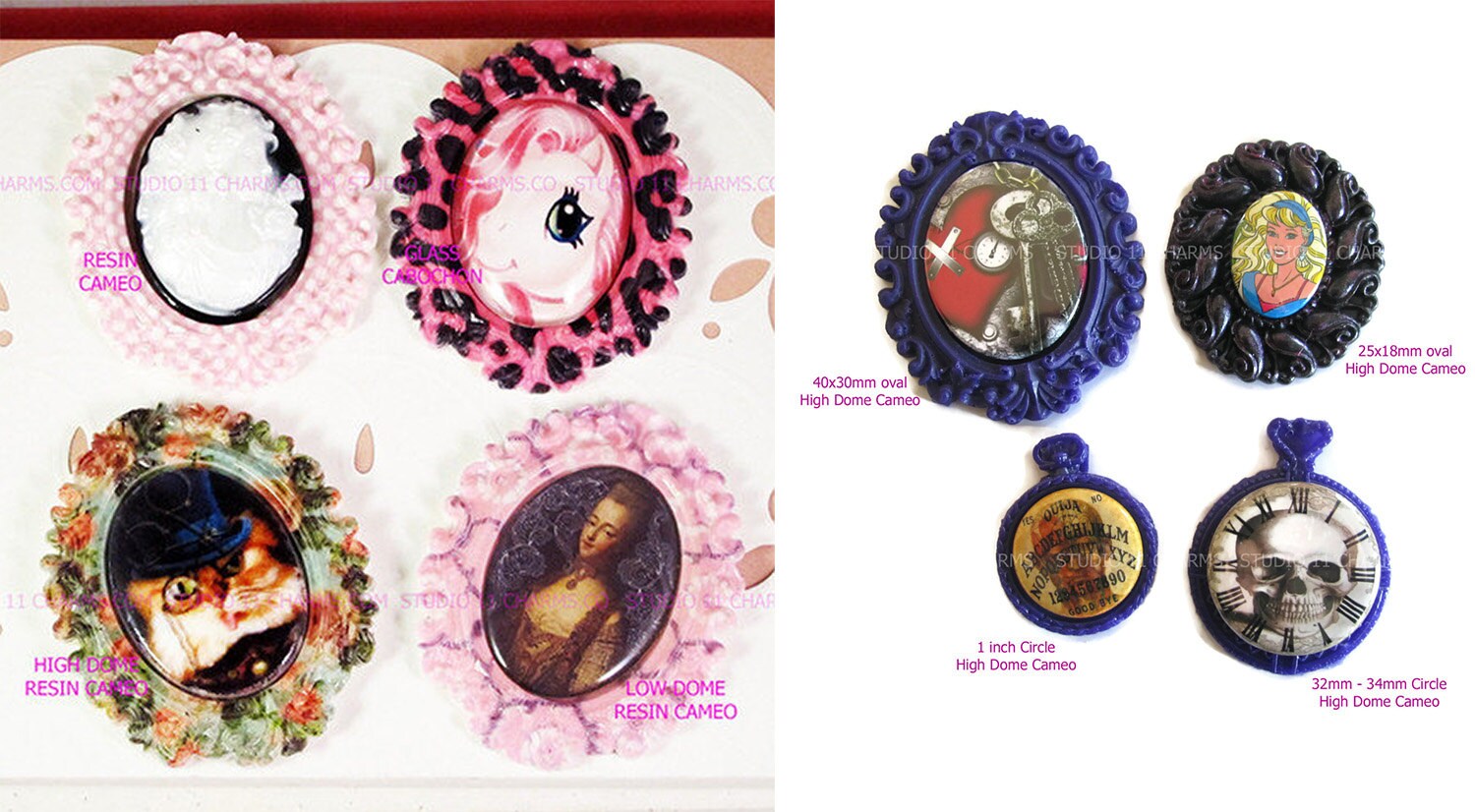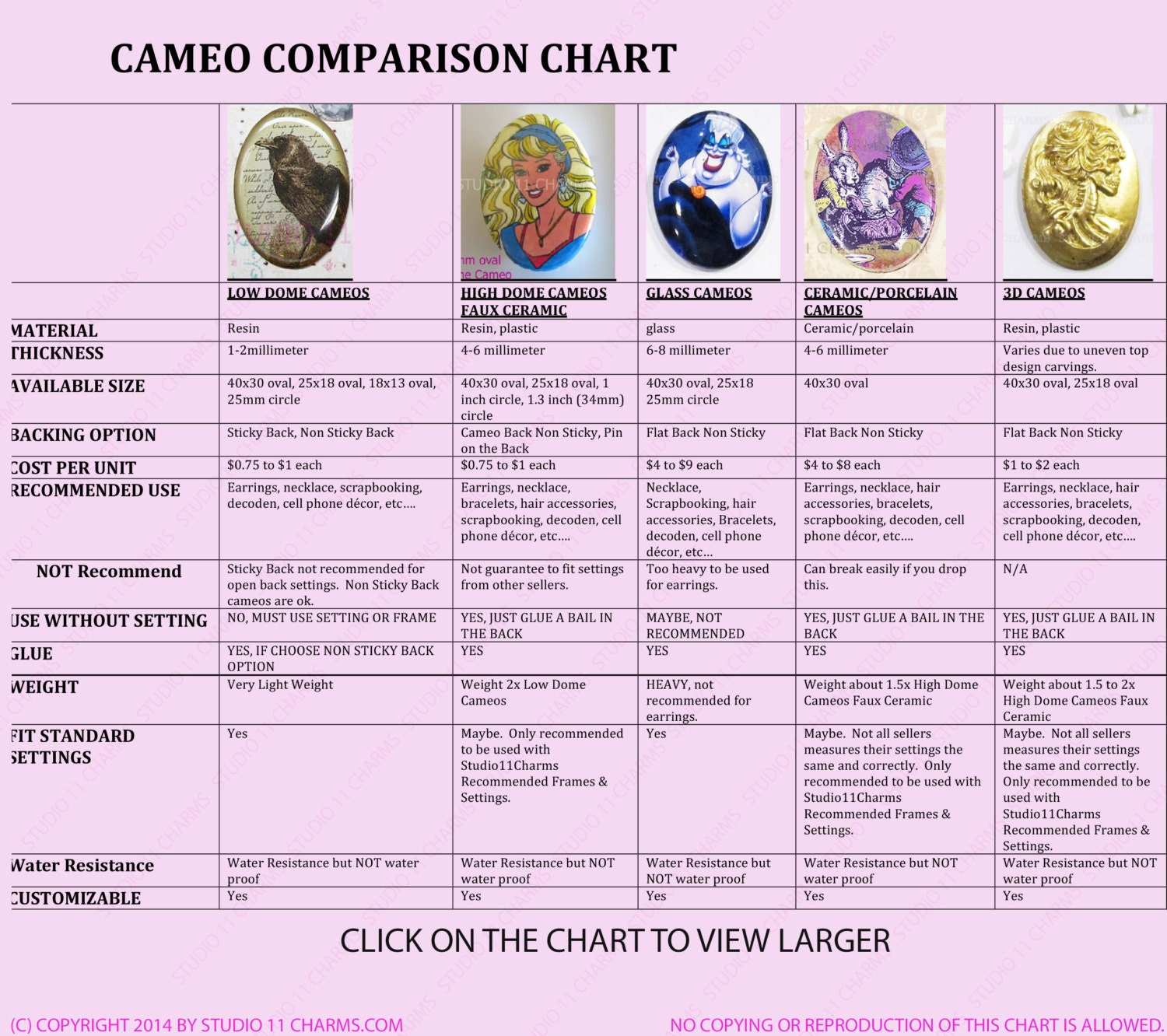 SALE INFORMATION:
https://www.etsy.com/listing/183075223/sale-info-coupon-codes
CLEARANCE SECTION:
https://www.etsy.com/shop/Studio11Charms?section_id=10325386
SHOP ANNOUNCEMENTS & SHOP POLICY & product processing time & shipping option:
*rush shipping and insurance available upon requests at the added cost per the post office*
https://www.etsy.com/shop/Studio11Charms/policy
FOR MORE INSPIRATION AND PRODUCT GALLERY, SEE http://WWW.STUDIO11CHARMS.COM
CUSTOM ORDERS:
https://www.etsy.com/shop/Studio11Charms/search?search_query=CUSTOM+ORDER&order
SIGN UP TO OUR MAILING LIST TO RECEIVE EXCLUSIVE DEALS AND COUPONS that only our mailing list customers receive. http://studio11charms.blogspot.com or http://www.studio11charms.com
WE ALSO HAVE CHAINS, FRAMES, AND SETTINGS TO BE USED WITH THESE CAMEOS:
https://www.etsy.com/shop/Studio11Charms?section_id=12616892
**********************************************************
CLICK ON THE SMALL IMAGE TO ENLARGE (to see more details).
PLEASE READ ALL DESCRIPTIONS AND VIEW ALL PICTURES. Shop cannot be responsible if you do not read information provided and order the wrong cameo options.
HIGH DOME FAUX CERAMIC CAMEOS. Faux Ceramic means not real ceramic. Made to look like real ceramic.
High Dome Cameos are THICKER than Low Dome Cameos. These are most similar to Porcelain & Ceramic cameos but they are much lighter in weight and a lot more affordable than glass, ceramic, porcelain, etc... And they are extremely simple to use, just add glue on the back of these high dome cameos and adhere them to any flat surfaces that you want. Recommended glue is E-6000 or other permanent craft glue. The back of these cameos are made of durable resin so you don't have to worry about the chemicals in the glue damaging the cameos.
See Comparison chart in the picture section to view the comparisons between different types of cameos that my shop carries. Any questions please ask before purchase.
Quantities: YOU CHOOSE THE LOT SIZE.
Choose from 6 pieces or All 25 pieces lots.
Measurements: CHOOSE YOUR SIZE
Available in Size 40x30mm oval or 25x18mm oval,
or 1 inch circles or 32mm (1 1/4 inch) circles
Thickness: 4-6 millimeters thick
Larger sizes will cost more than smaller sizes.
Larger sizes are thicker than smaller size.
MATERIAL: RESIN, PLASTIC, and/ or METAL
CHOOSE FROM THE OPTION MENU ABOVE:
Choose from Cameo Backing, Pin Backing, or Magnet backing.
Choices subject to availability and may be changed depending on inventory.
See "Extended Information" tab for more details.
HOW TO ORDER:
1. CHOOSE YOUR CAMEO SIZE.
Choose from 40x30mm oval, 25x18mm oval, 1 inch circle, or 32mm (1 1/4inch) circle)
Sizes are listed in millimeters. To convert to inches, take the number of millimeters and divide this number by 25 to get the measurement in inches.
1 inch = 25 millimeters
(example. number of millimeters / 25 mm = number of inches)
2. CHOOSE THE LOT SIZE & IMAGE NUMBERS.
CHOOSE FROM ALL 25 PIECES. (you will receive the first 25 pieces shown in the first image in the listing).
or 6 PIECES: #1-6 (images #1, 2, 3, 4, 5, 6)
or 6 PIECES: #7-12 (images #7, 8, 9, 10, 11, 12)
or 6 PIECES: #13-18 (images #13, 14, 15, 16, 17, 18)
or 6 PIECES: #19-24 (images #19, 20, 21, 22, 23, 24)
3. CHOOSE THE BACKING OPTIONS:
PIN BACKS: works like a brooch. Each piece has a pin on the back. You can use the pin to adhere to fabrics, clothing, paper, felt, backpacks, etc...
MAGNET BACKS: Has a magnet backing so that you use it as a magnet for decorative or functional purposes, or for magnetic interchangeable jewelry.
CAMEO BACK: is mostly flat on the back so that you can use glue to adhere to any flat surface.
All backing is Non Sticky Back and you Must use glue for adhering to other flat surfaces.
Recommended glue to use is E-6000.
********IMPORTANT**********
(I cannot guarantee that cameos from my shop will fit frames and settings purchased from other sellers because I cannot control the quality of items from other sellers. I can only guarantee compatibility of items in my shop because they have been tested and sampled before recommending it for use with compatible items in my shop. I make jewelry too and I have found that NOT all frames sizes are what the the sellers state that they are. There is sometime a 1-2 mm off larger or smaller. So to ensure perfect fit, you should first ask me before purchase for compatibility with my cameos and frames or purchase the frames and cameos both from my shop.
All compatible items are listed in my shop under "recommended use".)
FOR THOSE OF YOU WHO ARE UNFAMILIAR WITH WHAT THESE ARE:
These are most similar to Porcelain Ceramic Cameos but they are NOT the same things.
You do NOT need to purchase separate resin cameos either. Everything have been done for you! Just add glue and stick these to any FLAT and clean surface that you want to adhere to. The sample pictures in the listing show exactly what these items look like. What you will receive will look exactly like the sample pictures, except with your image collection that you have selected according to the listing (of course). Please refer to my blog for more information on how to use.
What you see is what you get (first photo)!
***This listing is for the High Dome Oval Cameos in either Pin Backs, Magnets Backs, or Cameo Backs ONLY*** Frames and settings that are shown in this listing is for sample and demo purposes only. They are NOT for sale with this listing. If you wish to purchase the settings and frames, please let me know and I can set up a listing for you. Check my shop for other frames and settings styles available. This listing does Not include frames, settings, or any other items, except for the cameos themselves.
Simple and easy to use. Just glue cameos onto to any flat surface.
And CAN BE USED ALONE without settings or frames if you want to. Just glue a bail in the back, add a jumpring and a chain and you are done.
GREAT for cellphone cases decorations, decoden crafts, scrapbooking embellishments, hairbows, earrings, necklaces, bracelets, headbands, rings, broaches, pins, and so much more... Unlimited uses. Light weight and high in quality and craftsmanship. Light weight and ideal for earrings and necklace pendants. Use your imagination. 100% handmade from scratch!!! Lots of time, love, and care were put into making these.
These are water resistance but I DO NOT recommend that you wear these while exercising, showering, swimming, or while doing anything that will expose the item to prolong water contact.
All items are handmade with USA made components and Ship out from the USA.
Learn more about the shop and process Studio11Charms.com
HIGH DOME Faux Ceramic 40x30 or 25x18 Vintage Victorian Cameos. Cameo Cabochon. CAMEO1.1-25
---
Overview
Handmade Supply
CAMEO BACKING: CAMEO BACK
Materials:

Resin, Plastic

Made to order
Ships worldwide from

United States

Feedback: 1692 reviews
Favorited by: 19 people