Need to sell more on Etsy? Wondering how to get more sales and traffic to your Etsy shop? Wondering what top sellers are doing to get all of those buyers – every day?
Now's the Time to Cultivate More Etsy Sales for your Handmade Business! DIY Marketing -Etsy Complete - Success Kit
Special Bonus: Party Printable Note Card Set. Printable for your home printer. Cut out and send with all of your etsy orders or offer the whole sheet as a promo item for your customers! (see preview in photo #5)
Want to know the secret to successful selling on Etsy? Why a shop banner is so important? How to advertise your shop for FREE? Or get featured in newspapers and magazines? My #1 best-selling guides provide all of this information and so much more!
Learn to be more RELEVANT and drive traffic to your Etsy shop to get more views/sales. Discover what top-sellers are doing today to encourage sales.
With over 6,000 satisfied clients, I am offering my LIMITED EDITION "Etsy Complete: The Ultimate Seller's Library" to help others achieve their own Etsy Success!
You will receive NINE (9) of my best-selling Etsy marketing guides for SUCCESS!!
I am the original creator of marketing and business tools to help shop owners cultivate success on Etsy. Unfortunately, the copycat sellers were inevitable. Trust 'The Buzz' with your business and not imitators.
The amount of advice about marketing your business is beyond overwhelming. Why waste time, money and resources trying to figure out what works and what doesn't work on your own? I have harnessed all of my years of experience in marketing and countless hours of research to share the secrets of some of the top-selling shops on Etsy. You know, those little golden nuggets of information that no one really shares for fear of damaging their own marketability.
With a Master's Degree in Business Marketing and a BA in Journalism, I have combined the best of two worlds to bring you the ULTIMATE Etsy business guides that have a proven track record for success!
With this collection you receive all NINE of my best-selling business guides for one low price.
Included:
The ORIGINAL Etsy Success Guide
The Ultimate Facebook Success Guide
Etsy Packaging 101 for Success
Gems & Jewels Jewelry Designer Success Guide (optional)
50 Marketing Strategies for Etsy Success
The Phenomenal Flickr Success Guide
Dirty Dozen: Etsy Errors to Avoid for Success
Twitter Success Guide
Blogging For Success
Here's a little peek of what you will find:
• 50 ways to start marketing your business today
• How to create your own press kit
• How to write catchy titles
• How to build a blog and get noticed!
• Daily marketing advice
• Pricing your work for sales and profit
• How to make the most of tags
• Easy ways to drive free traffic to your shop
• The three things you MUST include with every order!
• And much much more....
The time to start paving your way to Etsy Success is TODAY! Don't waste another moment to set your shop up for success!
Best Wishes! Heather
Remember, at only $2.72 per guide this all-in-one kit is only available for a limited time at this price. Take advantage today!
My favorite customer reviews:
★ Invaluable information ! Well done, Well written, A MUST HAVE for Etsy sellers. Thank you so so very much !
★ Great tips! I've already made 2 sales today..Thanks!
★ This is going to be my guiding light as I open my shop in the months to come. Thanks again.
★ Thank you for the informative guides. My shop's success will be driven by your ideas. I am so glad I found you!
★ A true wake up call, I now know what direction I need to go. Thank you so much!
★ I will really enjoy ready this over & over again, there is alot of excellent and very helpful information here. I am certainly glad I made this investment, it will help my brand across the board. Thank you!
★ Thanks for being "The Source for Success on Etsy." I am putting your steps for success in place, one step at a time.
★ Absolutely wonderful!! I just started reading and have already been implementing some changes. I can see how these strategies are helpful to someone so new to etsy like myself. Thank you for sharing your experience and for being a "stand-out" seller!
★ So many helpful tips! i haven't got through it all and I've already made a checklist a page long. I'm sure my shop will benefit greatly. thanks so much. x
★ For all new sellers on Etsy or anyone starting up a new online business this collection is a perfect start. The guides are very well written and informative. Packed full of ideas to give you the push you need. Thank you Heather!
★ Wow! I am just blown away by how much information is in this library. I haven't even finished reading it all yet and my mind is racing with so many new ideas. This is awesome! I have so much to do now - yay! I'm very excited about the future success of my store. Thank you so much!
★ Thank You so much! Absolutely wonderful seller, great communication, fast delivery and A+++++ work. I would recommend The Buzz to everyone. She is very helpful, informative and really knows her stuff. Thanks again for everything!
★ ★ ★ ★ ★ ★ ★ ★ ★★ ★ ★ ★ ★ ★ ★ ★ ★★ ★ ★ ★
★ ★ ★ ★ ★ ★ ★ ★ ★★ ★ ★ ★ ★ ★ ★ ★ ★★ ★ ★ ★
•·.·´`·.·•·.·´`·.·•·.·´`·.·•·.·´`·.·• •·.·´`·.·•·.·´`·.·•·.
All of my Etsy guides will pay for themselves once your sales start rolling in, so purchase this business investment with confidence!
•·.·´`·.·•·.·´`·.·•·.·´`·.·•·.·´`·.·••·.·´`·.·•·.·´`·.·•·.·O Once your payment clears the guides will be emailed to you within 24 hours.
Happy Reading! :-) And most importantly….."Happy Sales!
¸.¤°´¯`´¯`°¤. .¤°´¯`´¯`°¤.¸ ¸.¤°´¯`´¯`°¤. .¤°´¯`´¯`°¤.¸
Some of my past customers have shops featuring the handmade arts of candle or soap making, art, jewelry or pendant design, wool, knit or crochet and some simply deal in supplies, beads, findings, kawaii, cabochon, steam punk, goth, wood working, letterpress card or products like baby goods, maternity wear, hair bows, embroidery, skin care, logo graphic design, etched glass or the amazing world of vintage goods. Some have even stocked their shops with delectable cupcakes, chocolate, cookies, jam, bread and more! So, no matter what you sell the 'Etsy Better Business Guide' will be a perfect fit!
¸.¤°´¯`´¯`°¤. .¤°´¯`´¯`°¤.¸ ¸.¤°´¯`´¯`°¤. .¤°´¯`´¯`°¤.¸
Need a custom banner? Anyone who makes a purchase from 'The Buzz' gets 10% off my 'Etsy Branding Package'.
International buyers are welcome!
-Unaffiliated with Etsy Inc.
★ ★ ★ ★ ★ ★ ★ ★ ★
Enter my shop here:
http://TheBuzz.etsy.com
★ ★ ★ ★ ★ ★ ★ ★ ★
Meet
the

owner

of

TheBuzz Learn more about the shop and process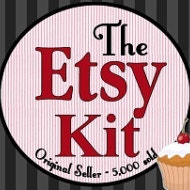 The Buzz
The Etsy Complete Kit Limited sale Over 8,600 sold ORIGINAL SELLER Party Printable Note Cards
---
Overview
Handmade item
Materials:

computer, degree, marketing, publicity, best seller, business

Ships worldwide from

United States

Feedback: 8244 reviews
Favorited by: 499 people