Cool pink and white flowers stand out against a blue background in this jacquard ribbon Houndstown martingale! Available as a 1" unlined buckle collar, in SMALL (10"-14"), MEDIUM (14"-18"), or LARGE (18"-22"), with nickel hardware. Other sizes and styles available-just ask!!

All Houndstown collars feature either heavy polypropylene (lined collar base) or flat nylon (unlined) webbing, cast or welded nickel and brass hardware, and are stitched in an industry standard "Box-X" stitch pattern with bonded nylon thread for maximum safety and peace of mind.

What is a martingale collar?

A martingale collar is made with two loops-one that goes almost all the way around the dog's neck, and a second that connects the sides together. When tightened (either by the pup pulling or by correction from the leash), the D-ring that is on the second loop pulls the two sides together, shrinking the circumference of the collar. There are no chains, prongs, or any other devices that may be harmful to your pet. Martingale collars are sometimes referred to as "humane choke collars".

Can I wash a Houndstown collar?

All of our products are washable. We recommend either hand washing with a product such as Woolite, or simply tossing the collar or leash into a lingerie bag and using the delicate cycle. Lay flat to dry.

Are other sizes, styles, or colors available?

Many of our collars and leashes are available in multiple sizes, widths, colors, hardware choices and styles (buckle or martingale). If other options are available for the particular collar in which you are interested, we will note it in the description.
Learn more about the shop and process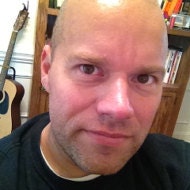 Chris Carpenter
Houndstown 1" Flowers Buckle Collar Size Small, Medium, or Large
---