Handmade Tallit set woven from natural cotton. The Tallit comes with matching tallit bag and yarmulke.
Tallit size - 74"/45" (115cm/190cm)
We tie the Tzitzit in Ashkenazi style. If you prefer different style of tying please mention it in your order.
The design of Tallit Daat is a combination of orange and gold along with cream and white.
The tallit is Hand Woven on traditional looms by Jewish men in Israel.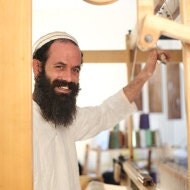 Ori Faran
Tallit Daat - Hand woven prayer shawl, matching bag and Kipa.
Overview
Listed on Apr 11, 2016
134 views