A cooling, blue bracelet made with 4mm Blue Chalcedony, 6mm Blue Lace Agate and 7mm Smoky Quartz. The cooling blues of this bracelet resonate with the upper chakras bringing calm and balance. The brown of smoky quartz resonates with the root chakra for grounding and negativity. Wear your bracelet with positive intentions and the electromagnetic energies of the stones will assist you in developing strength and manifestation of their properties. A gemstone description card and gift box are included.

All bracelets are shipped 7-1/2" long (average size), unless the buyer requests a different size. You have the option of a lobster or toggle clasp shown under Options.

GEMSTONE PROPERTIES:
BLUE CHALCEDONY
Cryptocrystalline quartz (quartz with microscopically small crystals). A nurturing stone that promotes brotherhood and good will and enhances group stability. Assists telepathy. Absorbs negative energy, negative thoughts, bad dreams, then dissipates it to prevent onward transmission. Brings mind, body, spirit into harmony. Brings feelings of generosity. Transforms melancholy into joy. Eases self-doubt and helps constructive inward reflection. Creates an open and enthusiastic persona.
Helpful for stress and restores calm and balance of body, mind and spirit. Soothes emotional body and excellent for those who worry. Stimulates telepathy and all types of communications with Spirit. Assists with past life memories. Helps one to speak from one's deepest knowledge and guidance. Helps one be more clear and positive in communications. Feels like an inner ice cube on wounds in the energy field and can help repair holes in the aura and energetic leaks. Aids one in releasing anger patterns from the energy field and alleviates feelings of desperation, panic and anxiety. Is a creative stone, opening the mind to new ideas and new situations. Stimulates ability to learn new languages and improves memory. Gives the feeling of light-heartedness and optimism. Improves self-perception.
Throat & Third Eye chakras.
Assists with throat health, strengthens vocal cords and helps and heals vocal strain. Excellent for sore throats or throat infections, colds. Traditionally used to clear illnesses relating to weather changes. Aids regeneration of mucus membranes caused by weather sensitivity or pressure. Stimulates flow of lymph and clears edema. Has an anti-inflammatory effect and lowers temperature and blood pressure. Heals the lungs and clears the respiratory system of the effects of smoking. Aids in lactation for nursing mothers. Powerful cleanser for open sores, increase lactation, improves mineral absorption, prevents mineral build-up in veins, lessens the effects of dementia and senility, increases physical energy, heals eyes, gallbladder, spleen, bones, blood, circulatory system.

BLUE LACE AGATE
A variety of chalcedony, agate is composed of quartz layers that can vary greatly and consist of many colors. Typically translucent, agate beads are composed of microscopic "fibers" of crystalline quartz. Soothing and calming, working slowly, but with great strength. Very stabilizing, grounding and strengthens body's connection to the earth, balances body/mind/spirit, perceptiveness, strength and courage, grounds emotions. Improves concentration, perception, analytical abilities; awakens talent and creativity; acceptance of one's self and self-confidence. Stone of harmony; heals anger, bitterness, negativity; fosters love and courage; heals emotional trauma; brings truthfulness. Helps bring awareness. Agates with clear crystals can stimulate memories.
Gentle, calming, centering and grounding stone. Helps overactive mind – calm one's thoughts. Soothes nervous or worried dispositions. Neutralizes anger. Enhances loyalty and trustworthiness. Assists in flight, grace, reaching higher Spiritual planes, communicating with angels, guides and working with inner self. Stone of the diplomat due to its ability to assist one in speaking one's mind and heart in a way others can hear. Can ease harsh communication, enhance public speaking building confidence to stand up and speak, and smooth discussions. Helps overly verbal individuals focus on saying only what needs to be said. Brings hope, optimism. Works slowly to help one stick with dreams while transformation is in progress and magnifies the effects of our efforts. Calms overactive children, children who have difficulty communicating or who may have difficulty sleeping due to excessive fear. Brings protection and good luck, peace and happiness. Aids shyness. Clears the throat chakra, connecting one's communication with a higher guidance. Works on the third eye to soothe an overactive mind and calm one's thoughts.
Used to aid with sore throat, laryngitis, thyroid, hyperactivity, excessive fear, headaches, arthritis, bone deformity, broken bones, fever, infection, inflammation.

SMOKY QUARTZ
Grounding and stabilizing stone while raising vibrations during meditation; stone of transmutation of negative energies, practicality, organization, manifestation of one's dreams and inspirations. One of the premier grounding stones. Absorbs unlimited negativity by grounding it in the Earth. Needs to be cleansed regularly. Brings calm and centering, lifts depression, enhances practicality, and generally removes negative energies, bringing happiness. A good luck stone. Most powerful grounding and clearing stone for aura and energies. Enhances practicality, organization and wisdom. Can draw entities into one's auric field and down to one's level of perception, so you are more likely to see ghosts and guides. A protective stone, particularly for physical protection, protection from negativity, and psychic protection. Protects from electromagnetic fields, such as electronics, computers. Relieves fear, depression, brings calmness. Increases our tolerance for stress. Enhances survival instincts. Helps one reach personal and business goals. Can assist in bearing sorrow and help one cope with hard times. Has a relaxing effect and makes us more resistant to stress factors around us. Encourages us to have realistic considerations. Encourages concentration. Associated with the root chakra.
Helpful countering negative effects of radioactive materials, medical radiation therapy and chemo-related illness, electromagnetic fields, as it gets its smoky color from exposure to natural radiation. Helps abdomen, hips and legs; relieves pain, helpful for back problems and sciatica, carpal tunnel, headaches and arthritis. Relieves menstrual cramps. Fortifies the nerves. Good for dealing with hyperactivity and ADD.

NOTE: Crystal Healing is not meant to replace conventional medicine, but rather to compliment and enhance it. It is not to be used as a prescription, diagnosis or treatment. The information given is purely metaphysical in nature and is by no means medical. Crystal Healing is not an independent therapy, but one that is part of a holistic healing approach. By using this site and associated materials, you acknowledge and agree that you personally assume responsibility for your use or misuse of this information.
Learn more about the shop and process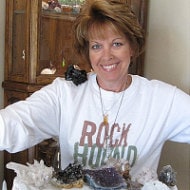 Lynn Leaderbrand
Frequently asked questions about WalelabyLynn
Depression & Anxiety Bracelet with Blue Chalcedony, Blue Lace Agate and Smoky Quartz
Overview
Handmade item
Materials:

blue chalcedony, blue lace agate, smoky quartz, silver plated pewter beads, silver plated pewter charm

Made to order
Ships worldwide from

United States

Feedback: 760 reviews
Favorited by: 179 people
Listed on Aug 9, 2016
1776 views