Lets chat...part of a sweet batch of necklaces I made just for us ladies. Oh no not too feminine or girly girl, Just enough color to make it just for us. Please ladies you can wear these necklaces any length you want no knots to tie and untie you just pull strands to open or close.

The Hamsa (also known as Khamsa) is a hand shaped amulet used for protection by both Jewish and Muslim people. Its name comes from a Semitic root and literally means "five". The Hamsa is usually shaped in the form of a symmetrical hand, with thumbs on both side, and not in the anatomically correct way. Though it is widely used by both Jewish and Muslim people, its origins pre-dates both religions and is attributed to the goddess Tanit who was a Phoenician lunar goddess, worshiped as the patron goddess at Carthage.
Islamic Hamsa
In Islam, the Hamsa is also known as "The hand of Fatima", after the Prophet Mohammad's only daughter, who's also related to many miracles such as rain making. The story tells that one day Fatima was busy stirring a pot when her husband Ali came into the house with a new wife he had just married (Muslim men are allowed to marry 4 wives). Struck by grief and sorrow, Fatima let the ladle slip from her hand and continued stirring with her own hand, not noticing the pain. Her hand has since become a symbol for patience and faith. The Hamsa is also said to symbolize the five pillars or tenets of Islam.
Judaic Hamsa
In Judaism, The Hamsa is also known as "YAD HA'CHAMESH" (The hand of five) or "The hand of Miriam" after the sister of Moses and Aaron. It is also connected to five books of the Torah.
Hamsa for protection
The Hamsa is used to ward of the evil eye and can be found on the entrances of homes, in cars, on charm bracelets and chains and more. It is also common to place other symbols in the middle of the Hamsa that are believed to help against the evil eye such as fish, eyes and the Star of David. The color blue, or more specifically light blue, is also considered protective against the evil eye and we could see many Hamsas in that color or with embedded gemstones in different shades of blue. In Jewish use, Hamsas are often decorated with prayers of a protective fashion such as the Sh'ma Prayer, the Birkat HaBayit (Blessing for the Home), or the Tefilat HaDerech (Traveler's Prayer).
Avalokitesvara is generally seen as a savior, both spiritually and physically. The sutras state that through his saving grace even those who have no chance of being Enlightened can be Enlightened, and those deep in negative karma can still find salvation through his compassion.
Learn more about the shop and process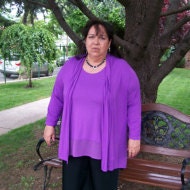 Ryka M Dottavio
Frequently asked questions about rykasbeads
Spiritual Fashion Statement Hamsa YAD HA'CHAMESH The hand of five
Overview
Handmade item
Materials:

Kwan Yin Spiritual Image, boxwood beads, robles wood, barkwood beads, Tibetan spacers, very adjustable, wear it short or long, Brass Gold tones, Fresh Water Pearls, Green Mother Pearl, Cloisonne Beads, Hand of Fatima, Hamsa Hand

Ships worldwide from

United States

Feedback: 1079 reviews
Favorited by: 39 people
Listed on Dec 1, 2016
462 views