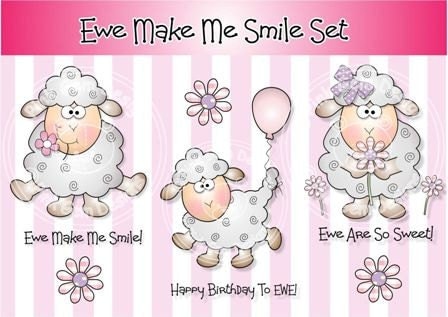 The images shown are low resolution with a watermark added for copyright protection. The images you will recieve by email will be high resolution 300dpi without a watermark.

The set contains the 3 Images shown 'Ewe Make Me Smile', 'Ewe Are So Sweet' and 'Happy Birthday To You'

Each Image will each have :-

1 blackline jpg - Simply print out and colour onto smooth card and colour with Copics, ProMarkers, Prisma Pencils etc
1 blackline png (so you can print onto patterned paper)
1 Coloured jpg

There will be 9 files in the zip file

This artwork has been produced from origional drawings by Janet Roberts of Pink Gem Designs.
You may use our stamps and downloadable digital images for any projects that you wish to sell on or provide as gifts but all artwork must be individually hand stamped or printed

There are no limits to the number of projects that you can make
We would ask that you acknowledge Pink Gem Designs when selling on your creations although this is not essential

You must not use our products to produce images and sell them yourself

You must not reproduce our images by any means including but not limited to mechanical, electronic or photocopying methods as this would be in breach of our copyright

No sharing please!
Digital (Digi stamps) Ewe Make Me Smile Set
---