This item sold on April 28, 2016.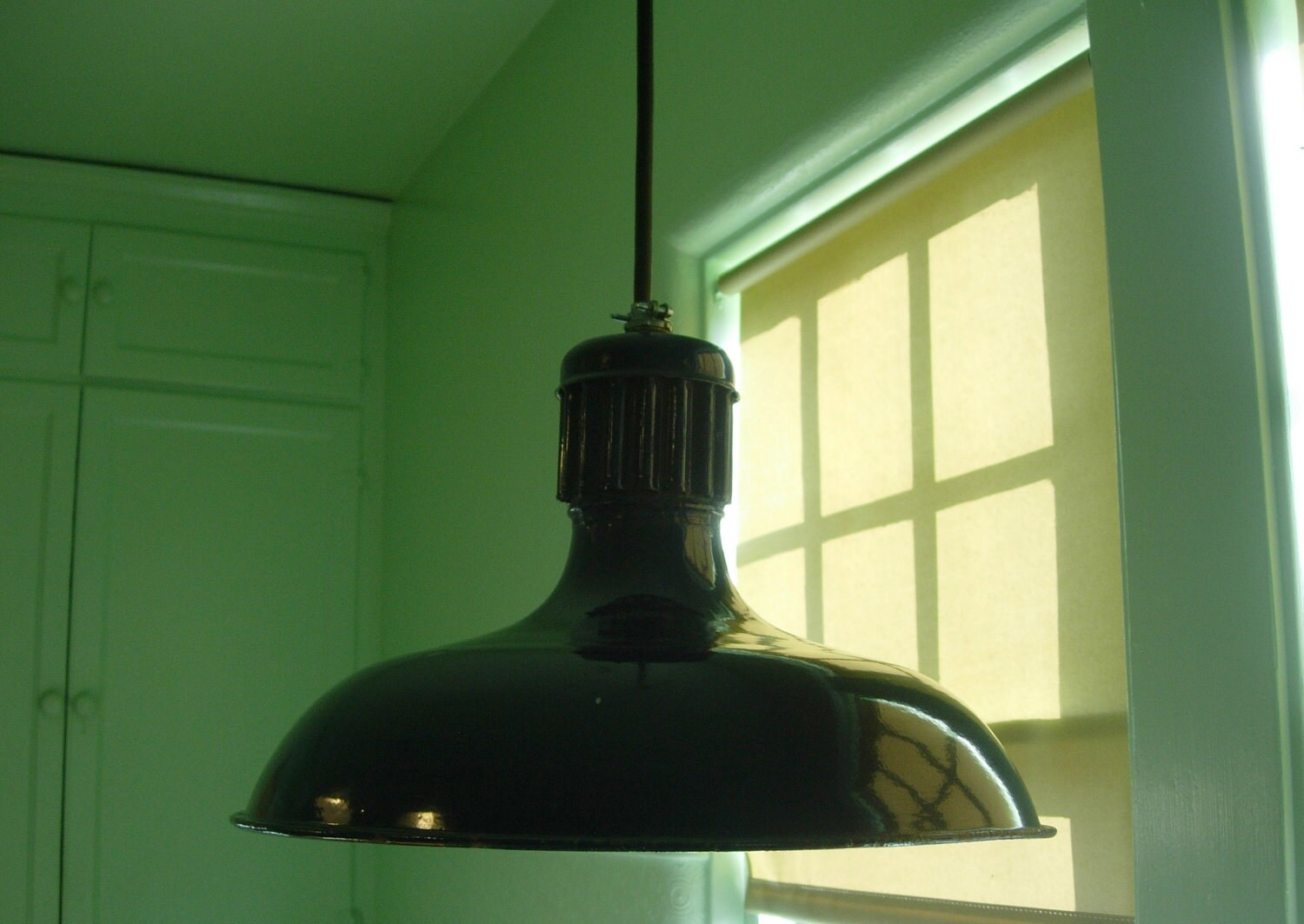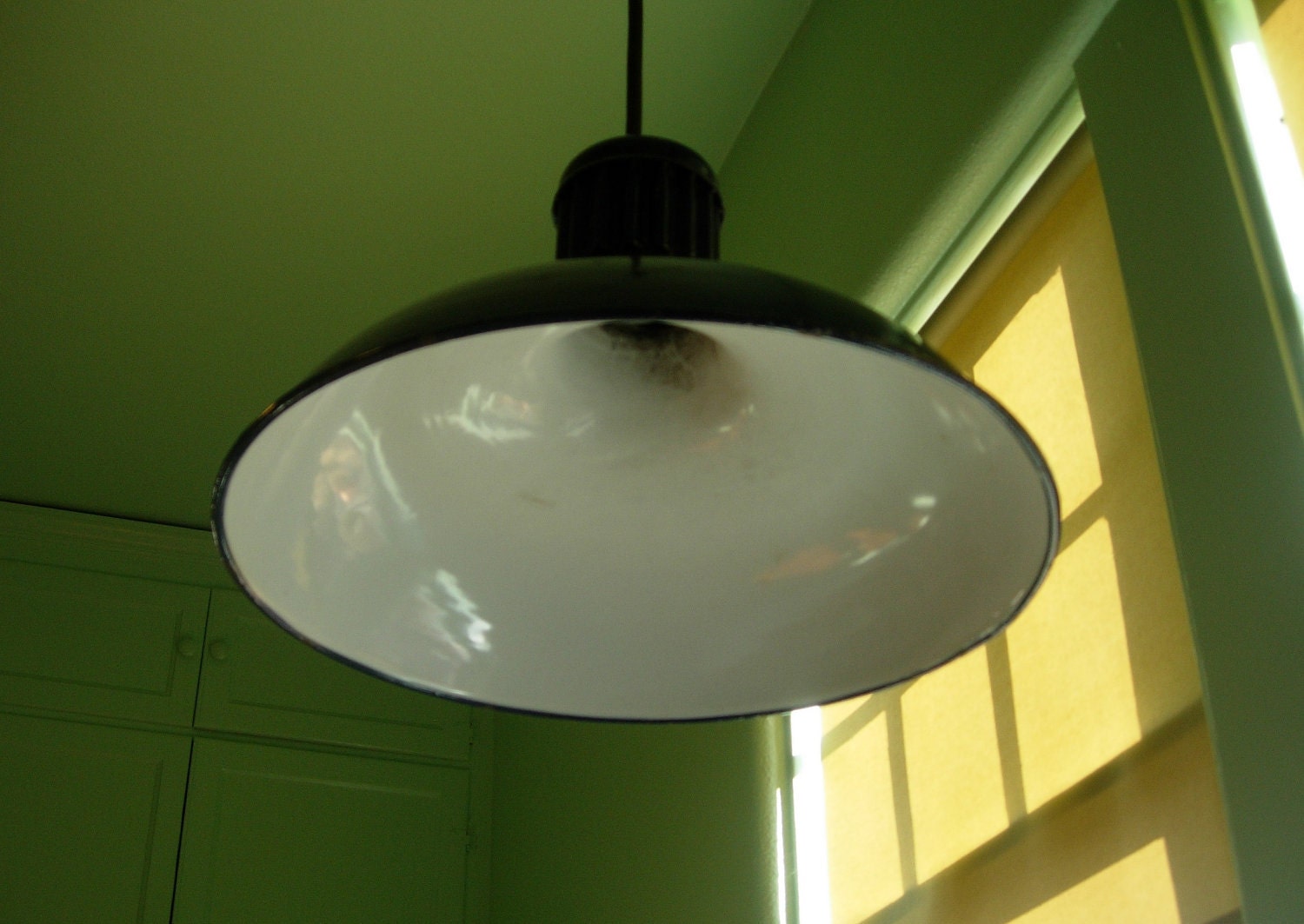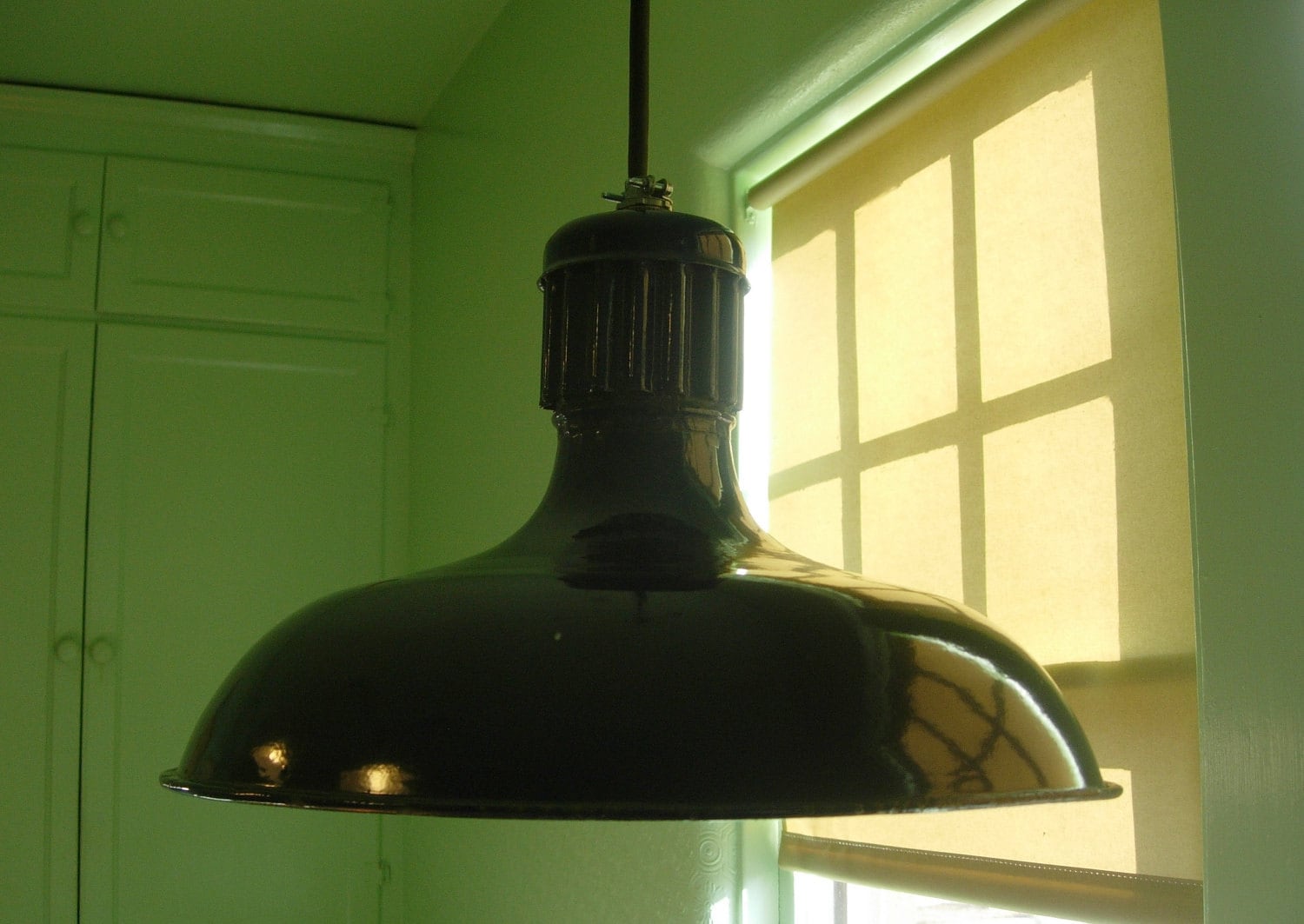 PRESENTING A RARE COLLECTION OF 5 ANTIQUE COBALT BLUE PORCELAIN ENAMEL WAREHOUSE LIGHT FIXTURES MANUFACTURED BY ABOLITE. RECLAIMED FROM USE IN A GAS STATION IN ST. LOUIS, MO. THESE ARE AS FOUND AND ORIGINAL, FEATURING FITTINGS AND A MOGUL SIZE PORCELAIN SOCKET FITTED WITH AN ADAPTER FOR A STANDARD BASE LIGHT BULB. NOTE THE FLUTED HOOD THAT ALLOWS FOR HEAT TO ESCAPE. THE ORIGINAL PORCELAIN IS IN EXCELLENT SHAPE CONSIDERING THE AGE AND NOTHING HAS BEEN DONE OTHER THAN CLEANING THEM. THE PORCELAIN IS RATHER CRUDE, THERE ARE A VERY FEW CHIPS ON BOTH THE BLUE AND THE WHITE, A SLIGHT BIT OF RUST ON THE BOTTOM EDGES, ALL WONDERFUL SIGNS OF A WELL USED LIGHT, TO GUARANTEE THESE ARE ANTIQUE. I HAVE REWIRED THEM USING BLACK INDUSTRIAL CORD AND THEY ARE GROUNDED, FINISHED AT THE CEILING WITH AN INDUSTRIAL PLATE.

THE PORCELAIN ENAMEL PROCESS INVOLVED COMBINING MINERALS WITH GLASS APPLIED TO STEEL AND WHEN HEATED TO VERY HIGH TEMPERATURES PRODUCED AN INDESTRUCTIBLE BOND, IMPERMEABLE TO ALL MANMADE AND NATURAL SUBSTANCES. COBALT BLUE WAS MINED FROM ROCKS AND OF LIMITED SUPPLY...BECAUSE OF THE SCARCITY OF COBALT BLUE, THE VALUE OF THE COLLECTION INCREASES WITH THE QUANITY AQUIRED.

THERE ARE TWO COLLECTIONS OF 5 AVAILABLE......AMAZING FIND .

Thank you for your interest

please visit my website, for details, history and information about vintage warehouse/factory lighting, industrial lighting and barn lights. I have a collection of 900+. reclaimed and preserved for reuse today.

INTERNATIONAL SHIPPING CHARGES ARE CALCULATED TO DESTINATION

NOTE TO CANADIAN BUYERS - YOU PAY NO DUTIES ON 50 YEAR OLD+ LIGHTS MADE IN THE USA

US BUYERS - MAKE SURE TO CHECK YOUR STATE FOR POSSIBLE TAX CREDITS AVAILABLE FOR THE USE OF RECLAIMED LIGHTS.