Want an inexpensive hoop to start your hoop journey? Maybe you're a teacher looking for hoops for class. Or perhaps you want to decorate your hoop yourself! Well, this custom made untaped hoop is perfect for all those things! For extra grip, I can even sand the inside for free upon request! If you would like you decorate your hoop yourself, sanding is not recommended.
Please note that manufacturer's printing may be present on tubing, as shown in 3rd photo.
Want a splash of color on your hoop? Add a strip of grip to the inside! Your choice of color, of course:
www.etsy.com/listing/113796270/add-12-grip-tape-to-the-inside-of-your
As with all Stellar Sunshine Hoops, this hoop is totally custom made for YOU! That means pick the tubing, diameter, and style (collapsible or standard)!
______________________________________________________
✮✮✮TUBING (weight):✮✮✮
3/4" 100PSI PE-Midweight- Best for beginners with average/slender frames, intermediate hoopers, and/or hoopers who want to explore off-the-body tricks. Collapsible at diameters 34"+
3/4" 160PSI PE -Heavyweight - Best for beginners with larger frames (Not recommended for off body hooping) Collapsible at diameters 36"+
1/2" 125PSI PE -Lightest & thinnest- Best for experienced hoopers, children and/or hoopers who want to focus mainly on off body moves. May be suitable for very petite/slender beginner hoopers. Available in diameters 38" and under only. Collapsible at diameters 32"+
*All tubing and connectors are made in the USA!*
✮✮✮DIAMETER (size):✮✮✮
As a general rule of thumb, a beginner's hoop should come to about belly button height or 1-2 inches above your belly button when standing. For beginners, slender hoopers tend to prefer belly button height or below, while curvier hoopers tend prefer a couple inches above. Plus Size hoopers should consider 44"-48"
*Not 100% sure of the size? No problem. Just contact me and after a few simple questions, I will determine the best size hoop for your unique needs*
✮✮✮STYLE:✮✮✮
Standard or Collapsible.. Same great price!
***PLEASE WATCH VIDEO TUTORIAL to learn how to properly collapse a collapsible hoop***
www.youtube.com/watch?v=hdodBsAaSZk
Collapsible hoops are just as sturdy as standard hoops. As long as it is always opened and closed correctly, your collapsible hoop will last you many years! Collapsible hoops also take much less time to ship than standard hoops. Because of all these benefits, I recommend the collapsible style for all applicable hoops. Hoops 40" and larger MUST be made collapsible for shipping purposes. Do not store your hoop in the collapsed position or leave it collapsed in high heat areas, such as a parked car in summer time.
All hoops that can be made collapsible will be made collapsible unless otherwise specified. So if you prefer a standard style hoop, you must let me know in the "note to seller" section upon check out.
______________________________________________________________________
FREE pick-up option* for ~*Local Buyers*~ Just contact me before purchasing.
Most vinyl and electrical tapes are made with harmful chemicals, including lead. Stellar Sunshine Hoops with never use vinyl or electrical tape on any hoop
Keep up with new designs, sales, inspirational hoop videos and more!
www.facebook.com/StellarSunshineHoops
@StellarSunshineHoops on instagram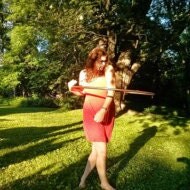 Casey
Naked/Untaped Custom Budget Hula Hoop - Collapsible or Standard - Sanded for grip upon request for FREE - ANY Size Hoola Hoop
---
Listed on Apr 11, 2017
12390 views