I hand stamped this necklace with the longitude and latitude and of the exact location of the place that my wife and I signed our domestic partnership papers. Because although, gay marriage isn't legal yet in California, we are as married as anyone can possibly get!!!

This is a wonderfully romantic necklace that happens to be perfect for people that prefer to keep things a little mysterious or more personal. My wife is NOT a girly girl and it's really hard to find jewelry that she'll actually wear. But this happens to fit the bill. It looks great on butches, bois and of course, femmes can pretty much rock any piece of jewelry. ;)

This particular piece will be hand made by me for you. Send me the location of your special place (wedding location, place you got engaged, first place you laid eyes on each other, first place you made love .....) and I'll find the coordinates for you. (Just send me the REGULAR ADDRESS and I'll take it from there. Or for you control freaks out there, if you insist ;) .... PLEASE only use this website to come up with your coordinates because I ALWAYS use the format that shows the North, South, East, West portion. So go here and plug in your normal address http://www.worldatlas.com/aatlas/latitude_and_longitude_finder.htm)

This necklace is a two piece! It comes with a second charm, a hand stamped "equal" sign. This particular necklace is 1 1/2 inches long and comes on my favorite stainless steel chain. But if you would rather a stainless steel ball chain, just convo me. The last picture is an up close shot of the 2 types of chains I offer. I've noticed a lot of butches and bois prefer the ball chain (think dog tag type chain) and a lot of femmes prefer the link chain. But they both look awesome. Your choice!

I have taken extra care to make sure that EVERY bit of this particular necklace is made from USA steel. Which translates to you, as superb, beautifully crafted pieces.

All of my hand stamped pieces are made by hand, by me. Which means that no two are ever exactly alike. I make each piece as a custom order, so your particular piece will differ slightly from the photos. Any variation only proves to make yours truly unique and special.

Please allow up to two weeks for me to create this special piece for you before shipping it off. :)

(Note about stamping on the back: I can't! So sorry, several people have asked me this question, but I can not stamp on the back of any of the pieces. Why? Because the process of hand hammering each letter into steel, literally shows through slightly to the back side. So if I were to stamp the back, I'd mess up the front. However, you can have it laser engraved at a later date if you wish. :) )


All designs, artwork, text and logos are exclusive copyrighted works of Sasha Lotrian © Card Carrying Lesbian © 2012 ALL RIGHTS RESERVED.
-----------------------------------------------------------------------------------------------------------

Stainless Steel is my new favorite metal for jewelry because:

1. It NEVER tarnishes or changes color.
2. It's strong. I mean, it's actually STEEL. Think about it. ;)
3. It has the look of platinum, without the insane price tag attached.
4. All of my steel is made in the USA: which translates to superior quality.
5. Since it's made in the USA, it has a much smaller carbon footprint, ie, it's actually a more environmentally friendly choice.
6. It's hypoallergenic!!!
Learn more about the shop and process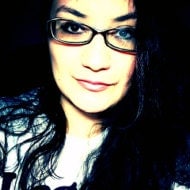 Sasha Lotrian
Longitude Latitude Anniversary Necklace
---
Listed on Jan 16, 2017
4679 views