3250 Sales
|
On Etsy since 2009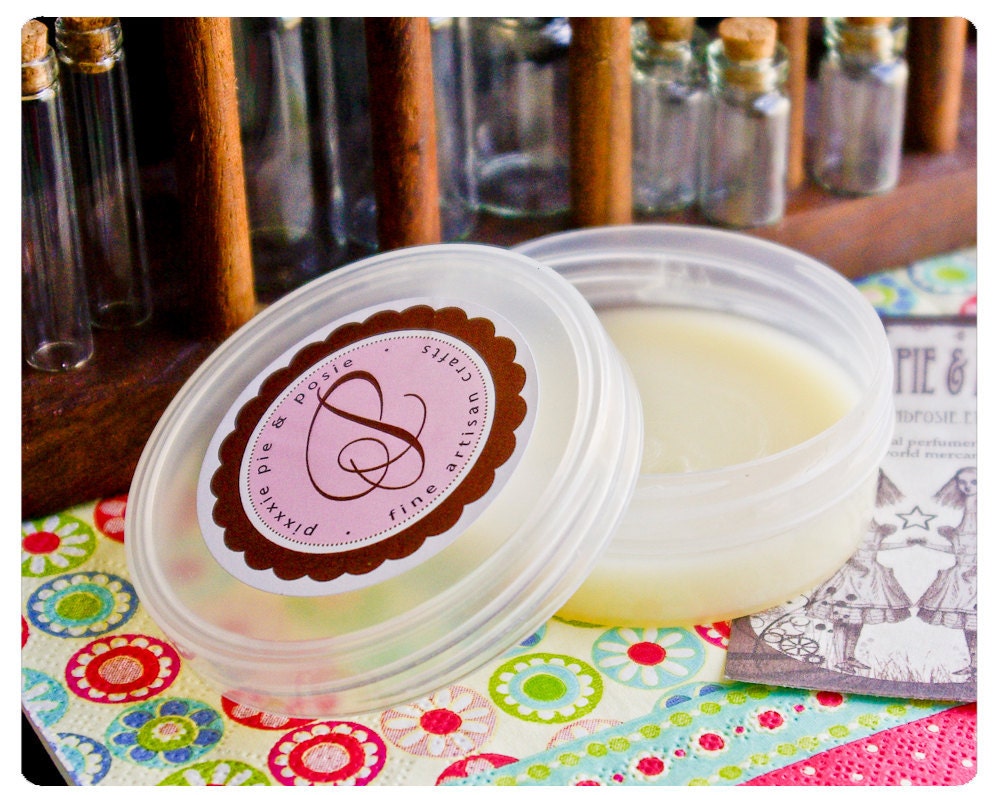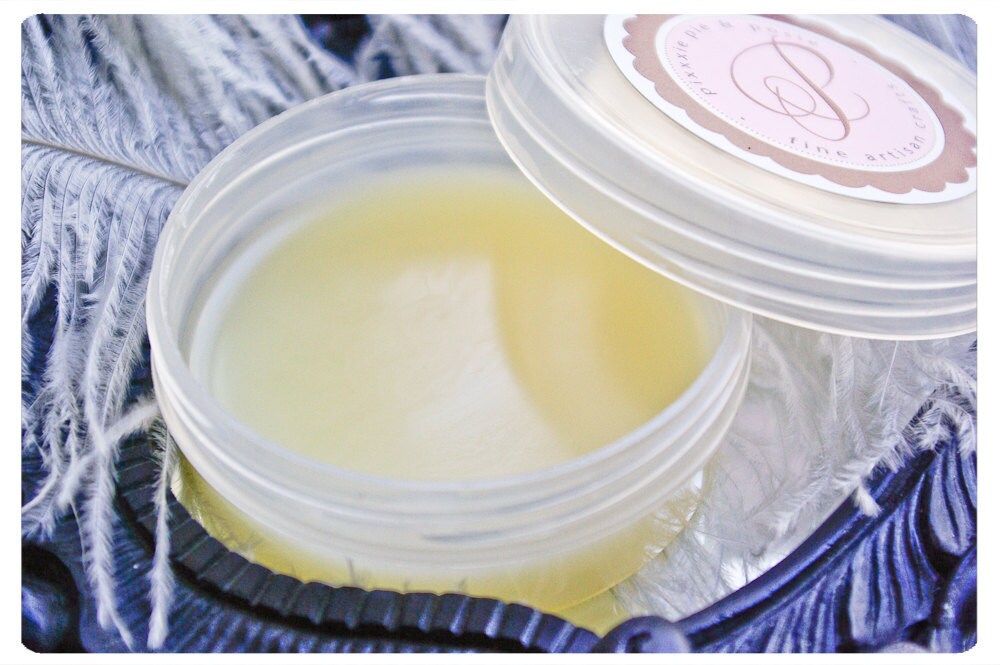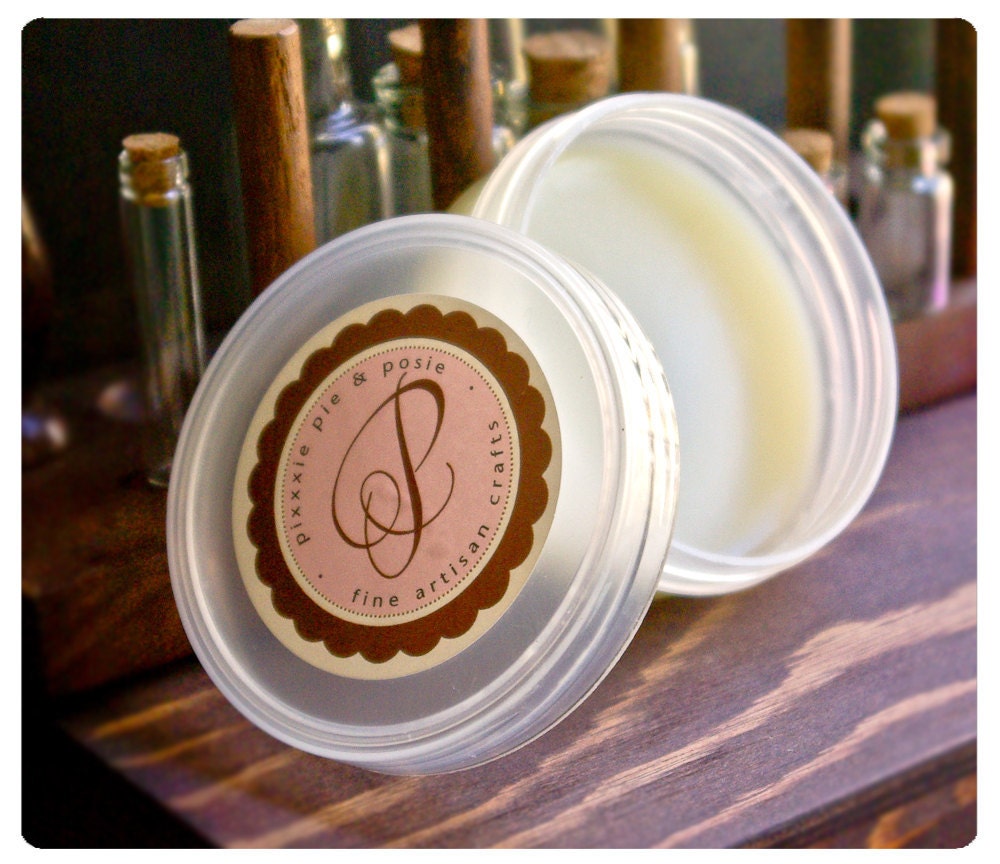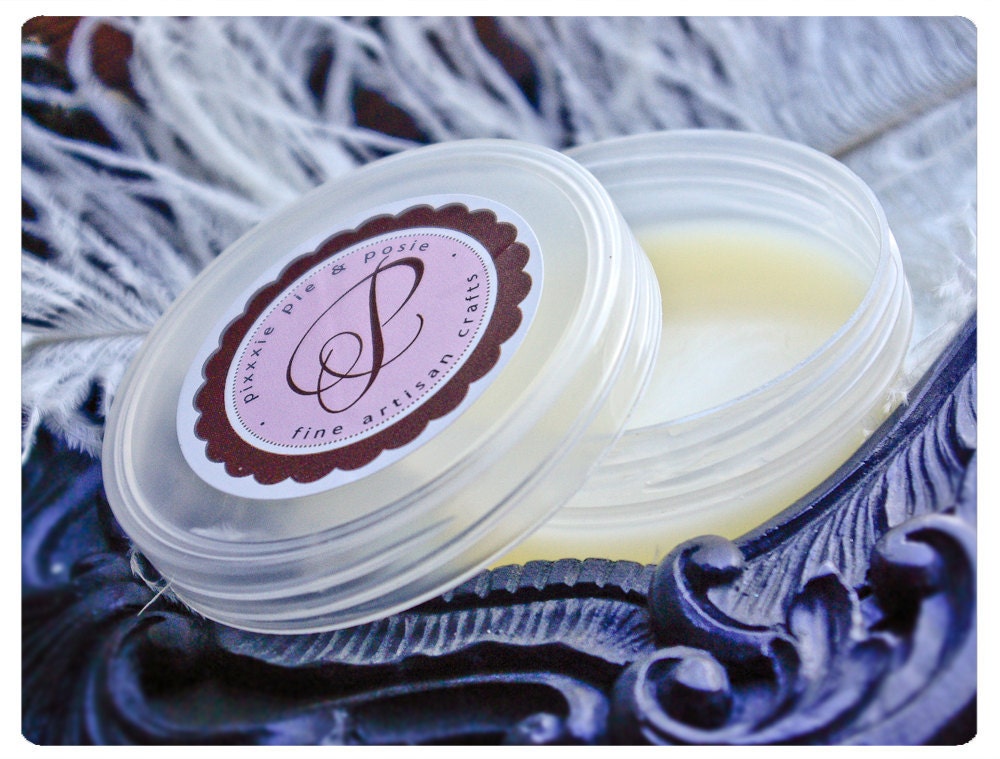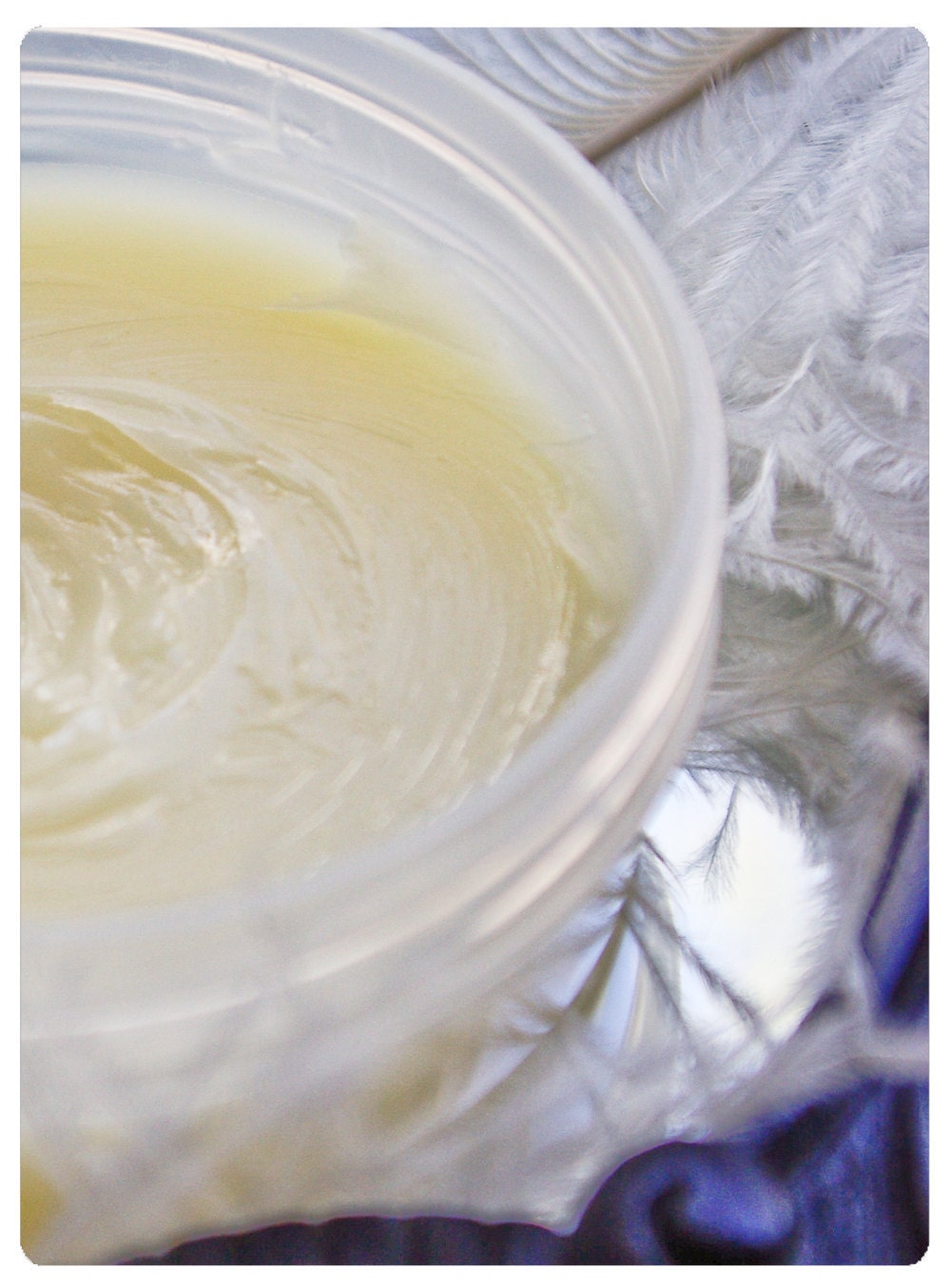 Pixxxie Pie's Genuine Pixxxie Pressed Tattoo & Body Polish is a natural, hand made delight in a 2 oz apothecary jar. Made with the tattooed lady and/or gentleman in mind, this brew is made with extra care. A sumptuous mix of jojoba oil, cocoa butter & beeswax are blended with other natural ingredients & essential oils from around the realm to produce this day-dreamy goodness. It's simply the bee's knees, I say, the perfect salve for rendering one's skin to a soft silkiness within two shakes of a lamb's tail, guaranteed!
Dry, undernourished skin will thank you for this gift of artisan made body polish/salve with every use as you become a new & more supple creature. Just a tiny dollop of this smooth stuff is all it takes. For those of you with tattoos that have healed (well over 30-45 days old), this salve is fabulous, easy-to-carry and just what the witch doctor ordered when it comes to moisturizing that body art without smelling like a medicine chest. You can even request that the product be made "Unscented" or "Lightly Scented": just place a note in your order comments box at check out time.
Remember to pick your aroma choice from the drop down menu and please note that this listing is for a quantity of 1 two ounce jar of hand made body polish unless you manually change the quantity in the appropriate box.
♥---------------------------------AVAILABLE AROMAS-------------------------------------------♥
If you need help choosing the aroma blend that's right for you I'm more than happy to give you an email consultation. Just convo me via Etsy with info regarding the types of aromas you like (and don't like) and I'll get back to you with recommendations within 24-48 business hours =)!!
-----The Ether - (primary notes: ginger, amber, thyme)
persona: playful, uplifting, delicately earthy, warm, subtly green & zesty
-----Dark Willow - (primary notes: patchouli, cedar, amber)
persona: grounding, persistently woody, spicy, exotic, full bodied, darkly sweet, bold & balsamic
-----The Arcana - (primary notes: bergamot, lavender, myrrh)
persona: vibrant green, comforting, softly floral, herbaceous, balsamic, a mild sweet dashed with citrus
-----The Shadow Woods - (primary notes: frasier fir, jasmine, pine)
persona: intensely woody, fresh, leafy, a forest of evergreens & pines with subtle floral undertones
-----Voodoo - (primary notes: neroli, white tea, ginger)
persona: floral, green, captivating, delicate, sweet, intricate, sun-dappled, sensual, relaxing & feminine
-----The Wormwood - (primary notes: anise, sweet pea blossom, mint)
persona: deeply green, heavy pools of licorice with mellow floral tones hemmed in a peppermint lace
-----For Strange Little Girls - (primary notes: cucumber, green tea)
persona: clean, fresh, airy, carefree, bright, flirty, lusciously green & brightly feminine
-----For Lost Boys - (primary notes: chocolate-spiced colombian coffee)
persona: decadent, layered, dark-chocolaty, invigorating, warm & bold as a fresh cup of spiced espresso
-----Ergot - (primary notes: kiwi, coriander, sage, vetivert)
persona: heady, bold and magnificently herbaceous with a lightly kiwi undertone to balance the brew
-----Lichen & Loam - (primary notes: lush clover and aloe)
persona: wondrously green, lush, clean, light, a verdant rainforest shivering with morning mist & dew
-----Swan Bow & Foxglove - (primary notes: currants, peaches, wild woods)
persona: arboreal, bright snow, loamy earth, crushed twigs, currants, evergreens & pepper peach Lambic
-----Arsenic & Old Lace - (primary notes: rosewood and bay)
persona: antique, headstrong & warm like a centuries-old rosewood piano polished with resinous oils
-----Hemlock & Cream - (primary notes: colombian coffee and sweet orange blossom)
persona: vibrant, deep warm tones, an invigorating romance between roasted coffee & blood oranges
-----Devotchka - (primary notes: petitgrain and musk)
persona: fresh, woody, uplifting, a mildly citrus-y undertone is rounded with splashes of green musk
-----The Prim - (primary notes: cypress, clover, lily)
persona: a primordial rainforest, lush, fantastically green, old-growth trees and their clinging vines
-----White Willow - (primary notes: white tea and green woods)
persona: serene, delicate, light, a singular beauty outlined in ribbons of pale chartreuse and white
-----Verbeana - (primary notes: lush lemongrass)
persona: vibrant, herbaceous, mildly woody, brightly lit with notes of lemon & leafy wildling woods.
-----Sackcloth and Ashes- (primary notes: lavender, burned woods)
persona: lavender is the dominant tone, heavily herbal, full-bodied, & flanked by scorched woods
-----Siamese Dream - (primary notes: allspice, coconut, vanilla and tonka)
persona: decked in bells of Allspice and Nutmeg, Coconut and Tonka pad in on velvet feet, purring sweetly, goose-down coats redolent with the woodsy scorch of java laced with chai and vanilla
-----Coconut Cream - (primary notes: just the coconut, lol)
persona: this simple aroma has been created by special request of all those customers that just want plain coconut with no other embellishments! Rich, delightful and helplessly tropical in its leanings, my loves, this is just the coconuts! (this aroma only available with this listing)
-----Vanilla Cream - (primary notes: just the vanilla, lol)
persona: this simple aroma has been created by special request of all those customers that just want plain, true vanilla with no other embellishments! A rich confection in its daydreams, my loves, this is just the vanilla! (this aroma only available with this listing)
-------------------------------------------------♥FORGET-ME-NOTS
♥---------REGARDING PRODUCT CONSISTENCY: This product has a consistency that is super thick just like a fine-made, healing salve should be. Product is natural and extremely nourishing to damaged, dry skin. Once applied and rubbed in, the salve leaves a fine moisturizing residue on your skin that lingers. This is one of the main reasons it works well as a long lasting moisturizer for tattoo work (or for after-bath, deep moisturizing treatments on rough elbows and heals & such). The right amount of moisturizer also makes tattoo colors appear more rich and vibrant. Just dab any access away until you achieve the coverage that's right up your alley.
♥---------RECOMMENDED FOR USE ONLY AFTER TATTOO WORK HAS HEALED: Please note that this product is meant for use only AFTER a Tattoo has COMPLETELY HEALED! Do not use it as an aftercare salve unless you request the completely unscented version. And you can just shoot an email my way if you want the unscented version=). Product ingredients are quite similar to Aquaphor, with a thickness akin to Vaseline, but with a refined, ultra-smooth texture thanks to the Golden Jojoba Oil and Vitamin E Oil. I also personally use this wonderstuff on my own tattoos to great affect.
If you're looking for a moisturizer that's light and fluffy, then check out my whipped body butter product:
http://www.etsy.com/listing/62596566/shea-body-butter-pixxxie-pies-wondrously
♥---------AROMA FAMILIES: Many find it much easier to shop when things are organized into aroma families, so the Pixxxie Pie & Posie aroma pantheon now spreads before you with every aroma nestled conveniently within a family. So whether you're new to Pixxxie Pie or stopping in for your monthly refill, this new organization scheme will help you quickly narrow down which aromas are right up your alley. Check out the top of my shop Policy page:
http://www.etsy.com/shop/pixxxiepieandposie/policy
Note that the "available aromas list" here is short and only shows off Pixxxie Pie's tattoo friendly aroma blends, omitting all others.
♥---------VICTORIAN GIFT WRAPPING IS STANDARD: Order will come to you in gift-style wrappings, packaged with love and care (scroll of ingredients will be included and you can see the full list in my Policy section). Most product labels and such are produced in-house & are completely composed of recyclable parchment paper and the like. High quality jar is made of plastic and is also a re-usable with a stately lid (safe to wash in machine or by hand).
♥-------NEED A LARGER QUANTITY? Send an email if you require multiples of this listing & the quantity available will be updated accordingly (once I check inventory). This product makes great gifts for all sorts of events. Perfect for all manner of odd weddings and showers, they also make great tea party favors to boot!
♥-------SHIPPING: Orders shipped in the USA are sent via USPS Priority Mail for super fast shipping with a handy tracking number that gets emailed to you through Paypal and USPS.com. Orders for international clients also ship via USPS with a customs tracking number. This business is a one-woman-show...so all orders ship out within 3-7 business days of payment receipt. Please send email or leave a note if you need your order shipped out by a specific date for a birthday or similar special occasion and I'll be happy to oblige.
♥--------DETAILED INGREDIENTS: Cocoa Butter, Golden Jojoba Oil, Coconut Oil, Ricinus Communis (Castor) Seed Oil (and) Cetyl Stearyl Alcohol (and) Olea Europaea (Olive) Fruit Oil (and) Beeswax (and) Hydrogenated Castor Oil (and) Glycine Soja (Soybean) Lipids (and) Lauryl Laurate (and) Copernicia Cerifera (Carnauba) Wax (and) Euphorbia Cerifera (Candelilla) Wax (oil), Petrolatum (for healing properties), Mineral Oil (Paraffinum Liquidum), Ceresin, Lanolin Alcohol, Panthenol, Glycerin, Bisabolol (L-Alpha), Vitamine E Oil (GMO Free), Essential Oils, Plant Absolutes, Botanical Oils
Many Pixxxie Pie ingredients are organic or wild crafted, fair trade and all are GMO, phthalate and cruelty-free. So get a little closer to nature and grab yourself a slice of Pixxxie Pie today=)
♥---------CARE AND KEEPING: Store in a cool, dry, dark place. If you leave the jar in a place that gets too warm, you can correct any consistency issues by simply microwaving the uncovered jar for about 10-20 seconds, or until the salve melts into a clear, warm-syrup consistency. Carefully remove the jar from the microwave (hot salve is HOT), cover and allow to sit undisturbed until salve is opaque and completely solid (takes about 15-25 minutes depending on ambient room temperature).
♥---------PATCH TEST: Always perform a patch test on a small area of skin when trying a new product.
♥---------COPYRIGHT JAZZ: Photos, Product Label Design & Such © Pixxxie Pie & Posie
Learn more about the shop and process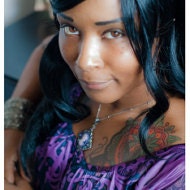 Raquel VanDerZee
pixxxie pie's tattoo and body polish - genuine pixxxie pressed body polish - 2 oz of silky goodness - pick your poison today
---
Overview
Handmade item
Materials:

shea butter, sunflower oil, beeswax, water, old world charm, cocoa butter, essential oils, plant absolutes, vitamin E, botanical oils, botanical resins

Ships from

United States

to select countries.
Feedback: 1720 reviews
Favorited by: 35 people
Shop similar items from sellers around the world