LED hoop customized to your specifications and hand-crafted specially for YOU!
>>>>>>> HOOP OPTIONS <<<<<<<
--TUBING--
MELT style hoops have two options for tubing: white HDPE tubing and iridescent opal polypro tubing. The two tubings are equal in quality, however PolyPro is not recommended for use in extremely cold conditions as it is more likely to crack in low temperatures.
--CONNECTION--
This hoop will turn on and off with a simple push button connection. This design is incredibly durable, and makes switching out batteries a cinch. Perfect for events where you don't have access to electricity! Choose between a standard 'outer' connection, or an upgraded 'inner' connection. The inner connection has a smooth, sleek appearance and is slightly more balanced for the more advanced hooper. Please note that while the outer connector has an 'off' position, the inner connector does not (meaning you will have to remove the battery when you want to turn the hoop off.) Refer to photos for a comparison.
--SIZING--
You may choose from a variety of even-numbered sizes between 28" and 38". If you would prefer an in-between size (31", 33", etc) be sure to include that in the NOTE TO SELLER box at checkout! CitivaCreationz LED hoops are measured by outside diameter, meaning from outside edge to outside edge. Not sure which size you need? Here are my recommendations...
~38" OD (X-Large) : This size is great for beginner hoopers OR curvy body types OR tall body types (over 5'8") OR hoopers who prefer a slower hooping style.
~36" OD (Large) : This size is the second most popular and recommended for anyone who doesn't fit into any of the other size descriptions. Great for intermediate hoopers and children.
~34" OD (Medium) : This size is the most popular and is perfect for those of you who have a smaller body frame, or prefer a faster style of hooping with intermediate skills.
~32" OD (Small) : This size is recommended for intermediate/advanced hoopers or those who have a smaller body type.
~30" OD (X-Small) or 28" OD (XX-Small): These sizes are for advanced and/or off-body hoopers. Also a great size for doubles. Not recommended for anyone who hasn't used these sizes before!
--GRIP--
You may select one of the following grip options for your LED hoop: bare tubing (recommended for those of you who wish to tape your hoop with your own tape), a piece of sandpaper (tubing comes bare so you can sand to your preference), or gaffers grip tape (available for HDPE tubing only).
*Purchase a roll of gaffers grip tape for your PolyPro hoop --->
www.etsy.com/listing/126174992
>>>>> MORE HOOP INFO <<<<<
--PICKUP DISCOUNTS--
Pick this hoop up in person and save money! We vend lots of festivals (Electric Forest, Wakarusa, etc.) and you're always welcome to pick-up in our hometown Kansas City. View the PICK-UP RESERVATIONS page to see if we'll be in your city soon! ---> http://www.citivacreationz.com/reservations/
--TURNAROUND TIMES--
Click the 'shipping' tab on this listing to view current turnaround times. If you would like your hoop to be mailed within two business days, you can purchase the rush order option --->
https://www.etsy.com/listing/101332106
--WORRY-FREE WARRANTY--
This hoop will come with a one year worry-free warranty which covers electrical problems caused by a defect in construction. If your hoop ever needs to be repaired, just send it in and we will have it returned to you within a week's time!
--CUSTOMER SERVICE & SATISFACTION GUARANTEE--
CitivaCreationz has one of the best reputations within the hoop community for providing amazing customer service to over 5,000 hoopers since 2010. We are all hoopers here at CitivaCreationz, so we understand that this is a special purchase and we want to make sure that you are satisfied with your order. If you aren't happy with your CitivaCreationz LED hoop, you have one week from the delivery date to return it for a refund or exchange.
--CONSCIOUSLY CRAFTED--
Every step is taken to ensure that we leave the smallest carbon footprint possible when creating your hoops! Most of our materials are custom made and sourced locally, all packaging we receive with materials is reused, hoop boxes and shipping bags are made from recycled post consumer waste, shipping labels are printed on recycled paper, 100% of the unusable waste created is recycled (torn boxes, ends of tubing rolls, etc), and supplies are ordered in large quantities so that the delivery trucks have to make fewer trips to our shop! We are constantly finding new ways to improve reduce our impact on the environment, and by supporting us you too are supporting that movement!
--NUMBER OF LEDs & LED PATTERN--
This hoop will be made with 25 LEDs and includes five sections of lights spaced apart evenly through the hoop with 9" gaps in between each section of LEDs. The gaps in between the incredibly bright light sections give this hoop a unique optical illusion effect!
--LIGHTWEIGHT DESIGN--
Hoops made with 5/8" tubing will weigh about 6-8 ounces, and hoops made with 3/4" tubing will weigh about 12-14 ounces. If you would like extra weight added to your hoop, just leave a note at checkout and I will add extra weights for free!
--COUNTER-BALANCED & RATTLE-FREE--
Each hoop is counter-balanced for an even flow while hooping. The internal wires are padded so that there is NO RATTLING during use, which also ensures your hoop will have a long, happy life.
--COLLAPSIBLE--
This hoop will collapse down to half its original size making it ideal for road trips, airplane travel, hiking excursions, bike rides and carrying around at festivals/events. You can take this hoop on any airline, and it is not counted as a carry-on! Protect your hoop and transport it easily with a custom handmade hoop bag. Purchase a hoop bag --->
https://www.etsy.com/listing/109482262
--BATTERY & CHARGER--
Each hoop requires only one battery to turn on. You will receive one wall charger and one rechargeable lithium-ion battery with your order. Each battery takes about 2 hours to charge and will give you 1-2 hours of glow time on a full charge. Extra batteries are recommended so that you're never left in the dark! Be sure that you purchase the correct size of battery for your hoop - all 5/8" hoops will require the 'Featherweight (10440)" size and all 3/4" hoops will require the 'Normal (14500)" size. Batteries ship for free when purchased with an LED hoop.
Purchase extra batteries --->
www.etsy.com/listing/76712206
--SHIPPING--
All hoops will be mailed with USPS Priority Service, which takes 2-3 days for delivery. You will receive an email with tracking info as soon as your hoop has been shipped. Please allow up to 48 hours for tracking info to be updated by the postal carrier. PLEASE MAKE SURE YOU ENTER THE CORRECT SHIPPING ADDRESS AT CHECKOUT, AND INCLUDE ANY APARTMENT/UNIT NUMBERS. YOU MAY NOT MAKE CHANGES TO YOUR ADDRESS ONCE THE ORDER HAS BEEN PLACED!
--PRACTICE HOOPS--
We have an array of beautiful PolyPro colors to choose from so you can have a practice hoop to use when you're not playing with your LED hoop! View all the colors here --->
www.etsy.com/shop/CitivaCreationz?section_id=7118652&ref=shopsection_leftnav_5
--WHOLESALE DISCOUNTS--
Purchasing more than one LED hoop or pair of minis? Awesome! Visit the coupon code page to see what deals we have for you!---> www.citivacreationz.com/coupon-codes/
--WWW.INDIKACREATIONZ.ETSY.COM--
I have an apparel shop here on etsy, too! Lots of hoop-friendly and organic cotton clothing including pixie dresses, cropped hoodies, hoods, and patchwork. If you want to order something from both shops at once, send us a message and we will give you a coupon code to sweeten the deal!
--FOLLOW US!--
Stay updated on the latest sales, products and coupon codes!
www.Facebook.com/CitivaCreationz
www.Facebook.com/IndikaCreationz
www.instagram.com/citivacreationz
www.citivahoopers.tumblr.com
www.youtube.com/channel/UCBqI7AowSIEh0t6GGmEHF_w/feed
HANDCRAFTED with LOVE in the USA
Learn more about the shop and process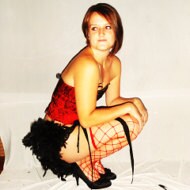 Miss Jess
Rainbow Melt LED Hula Hoop
Listed on Sep 6, 2016
18083 views