[Radical] Facial Serum Original Formula 1 oz size


* 100% Natural with powerful plant extracts, emollients & numerous essential fatty acids
* VEGAN. For ALL skin types
* NO dangerous chemicals, drying alcohol or acids, or synthetic colors &/or fragrance
* Formulated with 100% active ingredients, with 0% pointless fillers
* Your "everything" serum... your toner, moisturizer, and anti-aging treatment in one!


*************************************************************************************
REVIEWS:

* 'I love Radical! At 36 my skin has started to show "age lines." This serum smooths out the fine lines and lessens the dark circles caused by two toddlers who don't sleep! I ran out of serum and went back to my old routine for a few weeks. My skin turned dull and dry. Also, I'm prone to once a month breakouts on my chin/jaw area. Radical has reduced my breakouts to almost zero!Radical...great skin at a great price!'- Autumn F.

"This serum is incredible. I've been fighting adult acne, especially cystic acne, and do not want to go back on all of the drugs (oral or topical). I started using "nanocleanse" wash and it helped at first. Then, after about 2 weeks, no further improvement. Then I found Radical and, WOW, this was just what my face needed! It's moisturizing and within about 2 days, the regular blemishes were gone. It "pulled up" the cystic acne and turned it into 3 smaller "regular" blemishes. After about 1 week, they're gone. But now I'm almost out (I ordered the 2-week sample size), and I have to figure out what to do until the shop opens again in 2 months!"

"I always come back to this product! It's my favorite serum I've used on my skin - it not only helps with a nice skin tone, and plumping up fine lines, but it also keeps me acne free!"

"This stuff is amazing! It leaves my skin feeling so soft and i can just feel my skin soaking it up! And it smells great too! Great product!!"

* 'It smells wonderful and moisturizes my skin really good. With time, I'm noticing less blemishes. Thank you for a great customer service and for making wonderful all natural products!' - Thalia F.

* 'smells amazing! great description of each ingredients benefits/uses. i can't wait to see the results after long term use.' -mec808

* ' I love the serum. My face feels softer since I have been using it. I love the way it makes my face feel... I will be ordering more in a couple of weeks.' -Lesley

* 'This stuff is so magical I have already re-ordered a bigger size.' -Jenifer

* 'You might not think a light oil could be so moisturizing, but you'd be wrong! I put this on at night to counteract dryness from winter conditions, and it's perfect. Thanks!' - iamblackbird

* 'For a 64 yr old, my skin doctor says I have relatively few brown age spots. However I have one on my cheek that is probably the size of a dime. For a year I used Clinique's Even Better Dark Spot Corrector. It helped but half of it never did lighten. Once I stopped using it, the entire spot darkened again. After using .5 oz bottle of your Radical serum, I took a good look today and realized that all but a tiny pinpoint had faded!'- Patti

* 'Again, one of my favorites! I love Jenessa's products cause they work! Radical smells amazing, feels amazing, is never greasy, and my face drinks it up! I can feel it healing! Thank you :)' -Sabrina

* 'I have been using Radical for almost 2 months now and I am completely HOOKED! It leaves my face so silky smooth and moisturized all day. I tend to break out around my period and that has stopped! I ran out of Radical (I ordered too late) and used my Clinique lotion while I waited for Radical to arrive.... I HATED IT! I used to swear by that lotion, but now it felt SOO synthetic and fake. About 10 minutes after using Clinique, my face felt just as thirsty as when I started! Thank goodness for Radical. It arrived quickly, was packaged soo cute (and safely!) and I have it to take on my trip! Awesome product, speedy delivery, friendly fun seller! A must-have!' -A.H

* 'It's been a week since I've been using the facial serum, and I love it! I already see a difference in my skin tone. It's much more even and the redness is much more mild! It's also very moisturizing, which is great because I don't have to use very much.' -Brittney T

********************************************************************************
This powerful facial serum is formulated with free-*RADICAL* fighting oils for:

- Wrinkles
- Dark Spots
- Hormone-Related Blemishes
- Dry and Sensitive Skin
- Acne
- Scarring/ Stretch Marks
- Eczema/Psoriasis Patches
- Problem Skin

This high-end serum is perfect for every day use and for ALL skin types! It may help:

- rejuvenate and purify
- tone and evens skin
- supply deep moisture for hours
- balance skin's sebum production and unclog pores by minimizing excess oil
- aid in the treatment of existing blemishes
- fade facial scarring from acne, chicken pox and stretch marks
- tighten the skin, giving a more youthful appearance
- reduce the look of wrinkles and aging skin
- encourage healthy cell-turnover with Omega-6 essential fatty acids
- to prevent premature aging with powerful antioxidants and vitamin A (Retinol)
- work from the inside out with active plant oils to make your skin RADICALLY renewed!

[Radical] supplies moisture to your face all day long, and the powerful plant-based antioxidants will help protect your skin from sun damage and penetrate deep within to treat your skin's needs!

****************************************************************************************************
[Radical] Ingredients:

-Pesticide-Free, Unrefined, Expeller Pressed Jojoba Oil
-Pure, Food-Grade Grapeseed Oil
-100% Pure Rose Hip Seed OIl
-Frankincense, Lavender, Geranium and Tea Tree Essential Oils* see below*

*****************************************************************************************************
I created this facial serum in hopes of helping my own skin problems that developed right after the birth of my third daughter. Not only did I start getting Eczema patches on my hands, but my face was dealt a hard blow with frequent blemishes, uneven skin tone, and dry patches. I was trying EVERYTHING; I felt desperate for blemish-free, radiant skin. After researching and testing different oils for months, I have finally found the solution for my skin!

I recently received a compliment on the brightness of my face.... that's something I've not heard in a long time before using Radical! In fact, I didn't even know that my face was carrying signs of aging until I started using this serum and one day looked in the mirror to see a younger face looking back at me! I've noticed it has brightened my eye area, toned my skin, has almost eliminated any and all whiteheads and has made my skin look youthful! My skin has seriously never felt this soft or smooth before! This serum is truly wonderful for anyone, but I'm proud to also offer it to teens/adults who have problem skin from hormonal changes.

******************************************************************************************************
DESCRIPTION OF INGREDIENTS:

* Pesticide-Free, Unrefined, Expeller Pressed Organic JOJOBA OIL:

This pure and natural plant extract provides deep moisture to your skin without clogging pores! Jojoba is actually a liquid wax and is extremely similar to the sebum your skin produces, making it perfect for the face. Sebum's job is to retain moisture and keep skin smooth and elastic. My Organic Jojoba oil is pesticide-free, naturally extracted and contains NO alcohol, artificial detergents, color or synthetic fragrance.

* Pure, Food-Grade GRAPESEED OIL:

Grapeseed oil is light with a silky texture and is a perfect oil for moisturizing the face. It does NOT clog pores, and contains numerous essential fatty acids including Linoleic, Oleic, Stearic, Palmitic, Myristic and Lauric. Grapeseed Oil protects against premature aging because of its' antioxidants which are called procyanidolic oligomers (PCO's), known for their health giving properties, and are more powerful than vitamin C and vitamin E

* 100% Pure ROSEHIP SEED OIL:

Rose Hip Seed Oil is nature's miracle oil! Studies have shown this oil to regenerate the skin, reduce acne scars and wrinkles, prevent the advancement of wrinkles and aging and help skin regain its natural color and tone.Rosehip seed oil contains Vitamin A, which helps to delay the effects of skin aging, assists with cell regeneration, and promotes collagen and elastin levels to increase. This results in firmer, smoother, and more youthful skin with greater elasticity. Rosehip seed oil also contains a high amount of essential fatty acids and Vitamin E, which further promotes healthy skin. In particular, it is rich in linoleic and linolenic acids, which are important skin nutrients. It is a 'dry' oil, meaning that it soaks into the skin easily and does not leave a greasy residue. Rosehip seed oil has been used for the following skin problems:

•Stretch marks
•UV damage from overexposure to the sun
•Scars from surgery, burns, and acne
•Eczema
•Psoriasis
•Wrinkles and premature skin aging
•Hyper-pigmentation
•Dermatitis
•Burns, including those from radiation and sunburns
•Age spots
•Brittle nails
•Dry and damaged hair
(Taken from http://www.mountainroseherbs.com/learn/oilprofile/rosehiporganic.php)


*FRANKINCENSE Essential Oil (Undilluted,Therapeutic-Grade):

This expensive oil is one of the most sought-after, rare oils in the entire world. One of the most impressive aspects of Frankincense is its ability to prevent and even fade scars. The application of Frankincense essential oil can reduce the appearance of marks from acne, stretch marks, and pox. It helps to prevent the formation of wrinkles, pre-mature aging, and smoothes out the skin.

* LAVENDER Essential Oil (Ultra-Pure, Food-Grade):

Lavender is used to treat skin problems such as acne, wrinkles, psoriasis, and other inflammations. Lavender helps to heals wounds and soothe burns. Please visit my website for further information on Lavender's benefits! http://www.innocencebodycare.com/pure-essential-oils.html

* ROSE GERANIUM Essential Oil:

Has a nice floral aroma and is good for emotional, hormonal balancing. Geranium Oil promotes cell health and also encourages recycling of dead cell and regeneration of new cells. It helps to fade scars and other spots on the skin. Internally, it makes all the systems and functions work properly in the body by influencing endocrinal glands for regulating the secretion of various hormones. Please visit my website for further information on Geranium's benefits! http://www.innocencebodycare.com/pure-essential-oils.html

* TEA TREE Essential Oil (Therapeutic-Grade):

Tea Tree has fantastic healing properties that help fight skin infections. Tea Tree is an effective oil that helps prevent breakouts on the skin! It is used for bug bites, rashes, athlete's foot, etc. Due to Etsy's restrictions on sharing medical findings/studies, I am unable to describe in detail the healing properties of Tea Tree essential oil, so I invite you to visit my secure website below and it will tell you all about the amazing properties of this essential oil! http://www.innocencebodycare.com/pure-essential-oils.html

*****************************************************************************************************

To Use: Apply 3-5 drops in an upward, circular motion to a clean face and neck twice daily for best results. The oil will feel light, not greasy, and will be fully absorbed within 1-2 minutes.

This 1 ounce bottle should last you 8-12 weeks, if used as suggested above.

** [Radical] Skin Suggestions: **

* For extra-sensitive skin that is NOT prone to breakouts, consider omitting the Tea Tree Oil.
* For women who are pregnant and are advised against using Geranium, simply request to have that omitted.
* Please indicate at check-out if you want any of the essential oils omitted and I will be happy to custom create a different blend for you.

**************************************************************************************************
Regular Price: $50.00 ( You SAVE $4.00 when ordering the 1 oz. size versus 2 of the .5 ounce bottles!)

You will receive one 1 oz. glass dropper-style bottle of serum that is shrinkwrapped and beautifully packaged in a black organza bag (see picture 4 & 5). Bottle may be brown or cobalt blue. This serum can also be used as spot-treatment for dry scalp or Eczema. Delivery confirmation is included in the shipping price. The pictures show the difference in the sizes of the 1 oz and .50 oz. sized bottles.

* PLEASE see the important disclaimer in my shop policy section and read carefully before your purchase and do not purchase if you are allergic to any of the ingredients!
I make my products from scratch in a 100% smoke-free kitchen dedicated to my business and we have no pets. Your product is being made with love in a clean, healthy environment.

As promised by my business name, "Innocence Body Care", you can expect all of my ingredients to be all-natural, mostly Organic and extremely hydrating to your skin! Toxic chemicals &/or irritating ingredients such as: mineral oil, parabens, petrolatum, propylene glycol, & synthetic waxes will NEVER be found in any of my Innocence Body Care products. It is my goal to nuture your skin and to bring healing.... innocently. Isn't it time your skin is innocent of toxins?
Learn more about the shop and process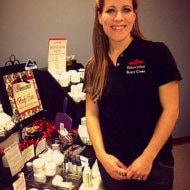 Jenessa
Face Serum For: Wrinkles, Fine Lines, Anti-Aging, Toner, Moisturizer, Acne, Spot Fader.Original/ All Skin Types/Vegan/Organic "Radical" 1 oz
Overview
Handmade item
Made to order
Ships worldwide from

United States

Feedback: 888 reviews
Favorited by: 86 people
Listed on May 12, 2016
1854 views