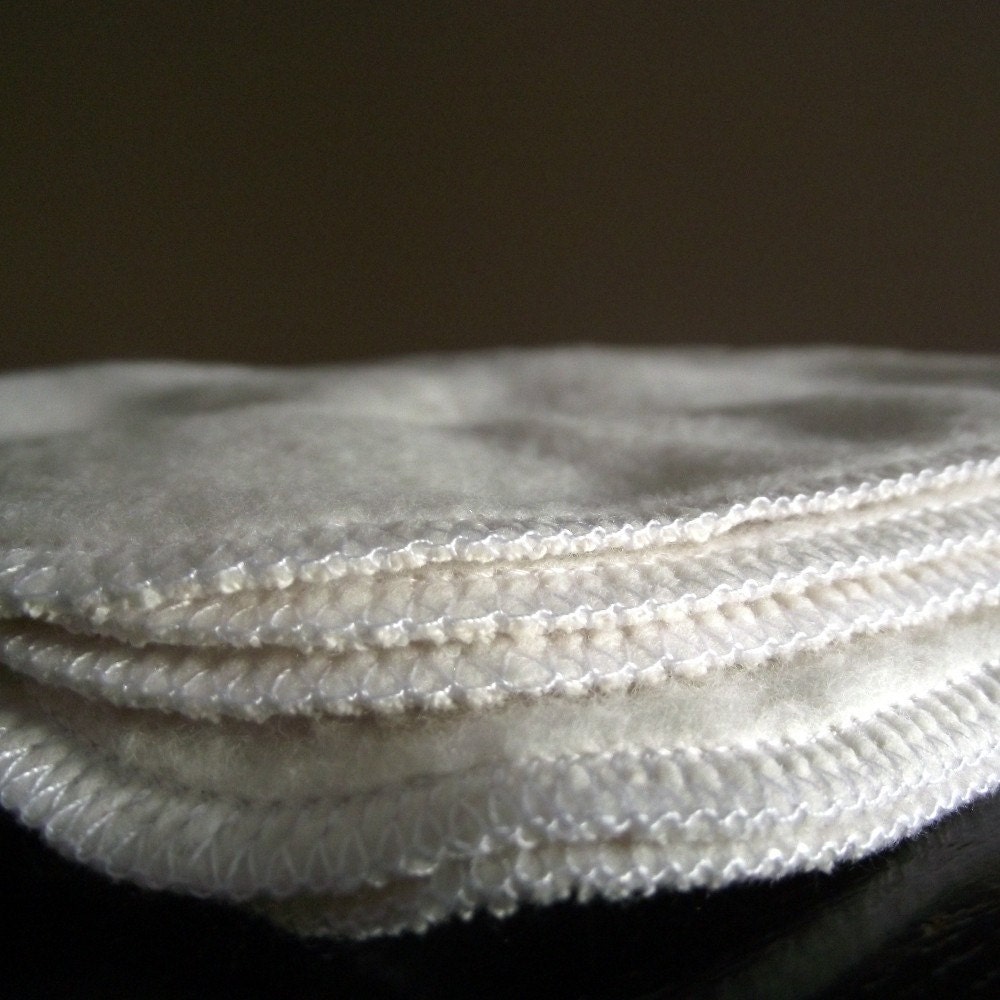 Surround your loved ones in organic goodness. This is a heavy weight organic bamboo fleece ( 70 percent bamboo- 30 percent organic cotton). Non dyed- natural color. Milled right here in North America and serged with North American made thread. The wipe is a single layer wipe as the fleece is quite thick.

This is the same bamboo fabric that is used for all of MaMaJo's products (diaper inserts, prefolds, menstrual pads and nursing pads). As always, the bamboo fleece is extensively prewashed (3X) so you can start using them right away. No extra laundry for my MaMas!


Here is a set of generous 8 X 8 (approx) prewashed wipes. They have rounded corners and have been serged around the edges to prevent fraying. These are a soft, single layer wipe. The bamboo flleece side is soft, and the other is not but is perfect for picking up the messiest of sticky messes. This is a natural color material that has been minimally processed.


The wipes are super soft, great for baby's tender bottom (or for faces too)! Once you wash baby's bottom with cloth and water, you will never use harsh disposable wipes again. You will no longer be exposing your child to the chemicals in throw away wipes (just read the label)! You will also be saving lots of money and you will be doing your part to save our planet.

Just keep them in a baggie in a diaper bag, or a wipes container on the go. I love to keep mine in a wipe warmer at home- they get beautifully warm, making diaper changes a much happier time for baby.
If you would like some wipe solution recipes or ideas, LOOK HERE:

I like mixing my solutuion weekly and then putting a little in a wipes warmer- changing it every few days. Don't store solution or wet wipes for a long time because they can become musty and the wet wipes may even grow mildew.


To keep things very simple:
Just add a little tea tree oil to your wipes container and/or
Just add a little lavendar oil
+ Some people like to also add one drop of baby wash ( i personally dont- i prefer relying on the essential oil to clense versus soap- i keep soap only for the daily bath).

If you need more of a recipe :
This recipe relies on the EO to cleanse, instead of using soap.
1-2 drops tea tree oil
1-2 drops lavender oil
1 cup water

or a more complex variation is

Lavender 'n' Tea Tree:
Lavender and Tea Tree are popular EO choices for wipe solutions.
1/8 cup olive oil
1 tablespoon baby shampoo
4 drops tea tree oil
8 drops lavender oil
3 cups water


Very Basic Solution:
Just three simple ingredients...
2 tablespoons oil
2 tablespoons baby wash
1 1/2 cups water

Basic Wipe Solution:
This basic recipe can be adapted by changing the type of soap or oil.
1/2 cup baby oil
1/2 cup baby wash
2 cups water
Castile Solution

Chamomile & Honey:
Brew the tea, add the honey, and drink any leftovers!
1 chamomile tea bag
1 teaspoon honey
1 cup boiling water

A great natural wipes solution:
1/4 cup olive oil (extra virgin not necessary)
1/8 cup gentle baby bath
A few drops tea tree oil
4 cups water

Anti-Fungal:
Omit vinegar if baby has a raw rash.
1 teaspoon white vinegar
1 tablespoon calendula oil
A few drops lavender oil
A few drops tea tree oil
1/4 cup 100% aloe vera gel
1/2 cup water



I make all of my products with lots of care in my green home. Absolutely no harsh chemicals are used, and we are a smoke free, pet free environment. My creations are all made with thread made in North America, and whenever possible, from fabric made in Canada too. I buy my cotton fleece from a little store around the corner, to encourage local business and to minimize transport. We are a very ecologically conscious family and work hard to minimize our carbon footprint. For other products, see www.mamajo.ca

Thank you for your purchase. It enables me to stay home with my two GERDlings (children with reflux), and it makes me feel good about doing my part for our planet, and for your little one.

I can ship world wide- please contact me for a quote.
New Product: 30 X MaMaJo's Premium Soft & Large Organic Bamboo Baby or Family WIpes
---