I was in the bead store one day a few weeks ago when a bowl of red stones, glinting in the light cast from a window, caught my eye. On closer examination, I saw that they were lovely polished pieces of Dragon's Blood Jasper. I picked up a few and turned them over in my hand, and one in particular piqued my interest. I carried it to the window to get a better look, and right away I knew I would use it to make something very special.

Dragon's Blood Jasper is a mulberry red jasper that has inclusions of olive green, silver, gold and sometimes white. It is a gemstone of protection, especially at night, and is said to be lucky for those in the acting profession. It is a gem of stability, and helps the wearer in finding personal independence. It increases courage and personal strength and helps to ground spiritual energy.

Dragons have been worshiped as gods in the East for centuries. They are believed to be the kindly bringers of good fortune, and their blood is believed to have magical properties. They are the keepers of raindrops and pearls and the guardians of great wisdom. They form the clouds with their silvery breath. Every dragon has a pearl, and their pearls have healing powers.

This talisman is worked with the beautiful focal stone flanked vertically by two pieces of faceted red jasper. It is liberally embellished with Swarovski crystals, and other seed and glass beads and a few tumbled garnet stones. It measures approximately 3.5 inches, and is suspended from an antiqued metal slide which encloses a double strand of earth-toned metallic beads. The closure is a simple but lovely embellished bead and loop closure. The piece is backed in dark gold ultrasuede. The look is somewhat Victorian.

When I look at this stone, I see a network of golden clouds, and in the clouds, I discern a red dragon. He stands as a dragon of heraldry might: rampant and guardant, horns displayed on a shield of gold. But that is just me. My daughter looks at the same image and imagines she sees Kokopelli, the Hopi god of snakes, lizards and agriculture...the trickster god. What will you see in the Dragon's stone?
Learn more about their shop and process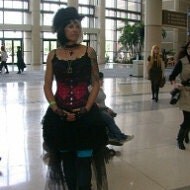 Regina Roper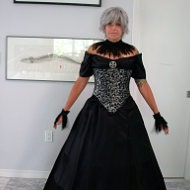 Regina