DOG ANXIETY TREATMENT RELAX DOG AROMATHERAPY ROLL-ON

Is your dog terrified of thunderstorms? Frightened by 4th of July fireworks? Afraid of trips to the vet?

RELAX! was created to help stressed, tense, frightened or anxious dogs work through their fears. Thunderstorms frighten a lot of dogs and 4th of July fireworks can be a big stress factor. Dogs that have come into rescue or are being transported to a foster home can benefit greatly by Relax! Many dogs are upset by loud noises, training classes or may suffer from separation anxiety. Relax! is a gentle anxiety treatment you can use easily in your home or on the go.

Relax! is a soothing blend of therapeutic quality aromatherapy oils in organic golden jojoba oil and organic grape seed oil

Our Great Pyrenees, Zoe, is one fearless dog. She has actually chased bears off our property and was very blasé about it! She knows NO FEAR…except for gunshots and fireworks. Thunder, no problem, but man-made noises terrify her. Of course, a gunsmith lives at the other end of Balm Lake and tests his guns on occasion and hunting season is not Zoe's best time of the year.

At the first crack of gunshot, I grab a bottle of Relax! and meet her down in the basement. She goes downstairs to the exact center of the basement and hides. I reassure her that she is not going to be shot and roll some Relax! on her belly. Since she has coat like a Polar Bear, there would be no way to apply it anywhere else!

Within moments she goes from drooling and trembling from head to tail to a bit calmer dog. I do not want to give the impression Relax! is like a doggie Valium, it will not knock them out. It will help take the edge off and make a scary time be more tolerable for all.

This listing features the Staffordshire Bull Terrier, often called the Pit Bull, on the label in a .45 ounce roll-on plastic bottle, packaged in a delightful gift bag (may vary from picture) with complete directions, tips and hints included.

HOW TO USE RELAX TO CREATE A SAFE PLACE FOR YOUR DOG

First step is to create a connection between the scent of Relax! and the feeling of safety for your dog.

What does your dog do when they hear the potato chip bag crackle? Yep, they run to you for a chip or two! That noise = snack. We will use that same concept to help them equate Relax! with SAFETY.

When RELAX! arrives pick a time when you feel calm and a spot that is safe for your dog. Then sit with your dog and just pet him and enjoy the time together (cellphone off, no tv, just quiet).

Allow both you and your dog to relax and get settled into the moment. Roll a bit of Relax! onto your palms and allow them to sniff it, if they seem interested. Then gently pet them, stroking them with your lightly scented hands.

Next apply a bit to their groin area or inside their ears. Sit with your dog and enjoy being with them. Set the mood of security and safety during this first time they smell RELAX! and it will create an association for them.

Remember smelling grandma's gingerbread cookies baking? Or the smell of fresh-cut grass as a kid? Same thing, you want them to make a connection between this smell and a feeling of safety, security and contentment.

APPLY RELAX! PRIOR TO THUNDERSTORMS, TRIPS TO VET, YOUR DOG'S STRESS TRIGGER

[highlight]If possible, apply Relax! prior to your dog's stress trigger event happening[/highlight]

For example, apply when the first rumblings of a thunderstorm begin. Take a couple of deep, grounding breaths to calm your nerves and THEN roll the Relax! on them, as before. Speak in a calm, reassuring voice and gently tell your dog all is good in their world.

Now here comes the hard part. Try not rush to that energy of "Oh, you poor pitiful dog, scared by the thunderstorm." Be strong and reassure your dog without frantically buying into their moment of panic. This is hard, I know, but we have to set the tone of the calm moment for our dogs.

By the way, feel free to enjoy the benefits of relaxing aromatherapy for yourself. Roll Relax! on your wrist and/or neck (pulse points), to get the maximum effect. Relax! dog anxiety treatment can be of immense help to you also!

This product is not intended for usage on cats. Cats are known to have sensitivities to some aromatherapy oils, so do not use on cats.

A French chemist and perfumer named Rene Maurice Gattefosse discovered lavender oil's ability to assist in the healing of burns after immersing his burned hand into a vat of lavender oil. During the the second World War, another pioneer named Jean Valet used oils in the treatment of wounded soldiers. To this day, scientists have continued their research into the usage of nature's bounty as essential oils.

Of course, people have shared the benefits of aromatherapy oils with their companion animals, with great success. Recently, at the University of South Dakota, a student received her doctoral degree for pioneering work in ethnobotany, which examined veterinary essential oil use.

Oils have been shown to reduce anxiety and inflammation, fight infections by inhibiting bacteria, fungi and viruses from growing and soothe muscular aches and pains. Aromatherapy oils are also used to affect emotional changes, lessen stress, activate memory and much more…in people and their pets. Aromatherapy oils are powerful and must be used with caution. Dogs especially, have such heightened senses of smell, we must use discretion when using oils with them. On a side note, I have seen dog collar attachments that emit aromatherapy oils, but I do not recommend them. I feel our dogs need to be able to move away from the oils when they have had enough. One whiff may be enough for them! Imagine sitting next to someone with overpowering perfume on a packed flight and not being able to move! Oy! A little bit can go a long way for our dogs.


OFFICIAL DISCLAIMER: The safe and proper use of essential oils and aromatherapy formulas is the sole responsibility of the user. The Blissful Dog and Kathy Dannel Vitcak assume no responsibility or liability for any persons' misuse, carelessness, allergic reaction, or any other conditions arising directly or indirectly from use or from any information contained herein. WHEW! That sounded ever so official, didn't it???
Learn more about the shop and process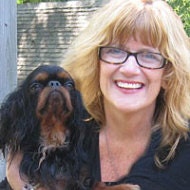 Kathy Dannel Vitcak
Pit Bull RELAX Dog Aromatherapy Roll-On All Natural Support for Anxiety, Stress, Fearfulness, Thunderstorm Stress in Your Dog
Overview
Handmade item
Materials:

organic golden jojoba oil, love, organic grapeseed oil, calming blend essential oils

Made to order
Ships worldwide from

United States

Feedback: 2986 reviews
Favorited by: 349 people
Listed on Jun 10, 2016
3194 views