Straight from the sass stash, a complete set of hard-to-find adorable squee-worthy Pyrex New Dot mixing bowls!! Now you know why you've just gotta ♥ Pyrex :)
Vintage 1960's, these captivating polka dot pretties are real retro beauties in orange, yellow, green and blue. The dots are sweetly designed in a band of three rows with graduated sized dots. There are two sets of rows, each on one side of the bowl.
Keep in mind that the color condition is given as held up to a very strong bright light and I practice 'i spy with my critical eye and my trusty magnifying loupe' when I look these little dots over :) If sitting on a countertop (or as in the photos), most finish issues aren't visible.
The set consists of four bowls with every finish spot on the dots disclosed :)
#401 (1 1/2 pint) Orange dots
•1 small scratch spot on one dot, second from right on top row - minor interior gray markings•
#402 (1 1/2 quart) Yellow dots
•21 dots on one side show tiny scratch markings and pinhead paint loss spots in dots or on edges, 22 dots on the other side show the same - minor interior wear•
#403 (2 1/2 quart) Blue dots
•22 dots on one side show pinhead paint loss on dot edges and/or centers with a partial gray line through 4 of the dots on the bottom row, 23 dots on the opposite side show pinhead paint loss spots on edges and dot interiors, towards the base of the bowl there are several gray markings - interior has very minor wear•
#404 (4 quart) Green dots
•1 dot on one side has a tiny scratch marking, 1 dot on the other side has a smudge mark with lighter green paint that looks like a manufacturing mark - interior looks super glossy and unused•
Overall, the dots are thick and glossy, and the finish is in very good vintage condition in this unique & lovely collectible set. The interiors are glossy and show very minimal wear. In exquisite condition, the four quart bowl really stands out...a rarity to find one of these big bowls with so little wear.
Pyrex bowls are heavy! Packaged, this set weighs over nine pounds, so in an effort to keep shipping costs to a minimum they'll be sent by either USPS Priority or Parcel Post Mail. Insurance is included.
Never a handling or packaging fee at sassboxclassics, and shipping overages of more than $1 are always refunded to your paypal account :)
••Visit the rest of my shop for more vintage fun••
http://www.etsy.com/shop/sassboxclassics?ref=seller_info
Learn more about the shop and process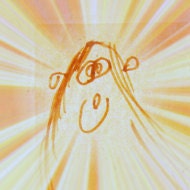 stacey
Vintage Pyrex New Dot Polka Dot Mixing Bowls
---