This is a lovely bracelet containing pink/red 4mm Tourmaline stones, 6mm Green Kyanite and Jade, all powerful physical help stones. Wear your bracelet with positive intentions and the electromagnetic energies of the stones will assist you in developing strength and manifestation of their properties. A gemstone description card and gift box are included.

This bracelet includes a sterling silver lobster clasp and measures a standard 7-1/2" long.
GEMSTONE PROPERTIES:
GREEN KYANITE
Stone of channeling, altered states, vivid dreams, dream recall, and visualizations. Has a high vibration and can create very rapid transfers of energy. Can make telepathy easier. Does not retain negative energy and never needs energetic cleansing. It does align and balance all chakras, often very suddenly. Can remove energy blockages. Is a boost to meditation when held. Beneficial on the throat chakra. Can take one back to past lives and forward to probable futures. All Kyanite is useful in energetic healing and crystal-based healing. Can assist in negotiations and communication between disharmonious people. Promotes communication with higher beings and can open the third eye chakra. Builds strong bridges between our inner and outer selves. Protects the auric field from intrusion. Bridges habitual emotional patterns to create new pathways of energy flow. Good for balancing the heart chakra and maintaining heart balance. Can help one detect sincerity. Green Kyanite can bridge ones-self and Nature; helps one connect with the truth of the heart. May be used for manifestations of abundance. Brings calming effect to the whole being. Believed to bring loyalty, honesty and tranquility to the wearer; diminishes anger and confusion.
Associated with all chakras, especially third eye and heart.
Bridges energy gaps from broken bones, surgery, other intrusive trauma, assisting nerves, tendons and tissues to reestablish pathways around the trauma site. Heals the brain from head trauma, seizure attacks, creating new neural pathways. Ideal for healing the brain from the effects of head trauma, seizure or stroke. Helps create new neural pathways around damaged areas. Helpful for those making the transition through death. Natural pain reliever; helps ovulation pain; helps sciatica. Lowers blood pressure, heals infections; releases excess weight.

RED TOURMALINE (Rubellite)
A complex crystalline silicate containing aluminum, boron and other elements. Vibrates in deep resonance to heart chakra, enabling deep love beyond human relationships. Heals emotional wounds, opens the heart; helps one overcome fears about abundance, survival, stability and safety. Helps one facing difficulty to find inner courage and strength to face fears and change the situation. Helps one receive love from others and from Spirit. Stone of balance and calm. Helps bring emotional balance and helps open up, relax, and detach from personal pain. Brings abundance. Stone of passion, bringing passionate energy and love. Increases creativity on all levels. Associated with heart and root chakras.
Heals the heart, treats digestive system, blood vessels. Balances brain and keeps one's emotions stable; soothes nervous system, MS, in combination with red and green tourmaline (watermelon tourmaline); helps hysteria, depression, obsessiveness; heart ailments, blood pressure. Balances the body's electrochemical system, strengthens immune system, heals backaches, and reproductive system disorders, detoxifies the blood, assists with recovery, and eases the effects of radiation poisoning. Induces tranquil sleep. Regulates hormones. Fights genetic disorders.

JADE
The classic abundance stone and heart-healing stone. Jade is considered the health, wealth and longevity stone. Symbol of purity and serenity. Has a focused, calm balance. Helps with clear judgement and focus. Prepares one for meditation by calming and stilling the mind. Aids in promoting a more effortless discipline of any skill. Represents harmony and happiness in business and family. Harmonizes dysfunctional relationships. Assists in learning to enjoy the physical life; love and nurturing, wisdom gathered in tranquility. Attracts good luck and friendship. Releases negative thoughts and soothes the mind. Brings insightful dreams, aids irritability release. Helps dissolve blockages. Prevents one from becoming immersed in greed and teaching one to enjoy abundance and share it with others. Assists in steady growth of one's life force energies (chi) and draws upon the Earth's life force when hiking, gardening or relaxing outdoors. Is a great provider of balance; can bring calm when irritable, energy when feeling lazy.
Harmonizes and balances the heart chakra.
Nephrite Jade strengthens energy systems, powerful physical heart healer. Strengthens and soothes nervous system. Helps kidneys by balancing metabolism of water, salts, etc.


NOTE: Crystal Healing is not meant to replace conventional medicine, but rather to compliment and enhance it. It is not to be used as a prescription, diagnosis or treatment. The information given is purely metaphysical in nature and is by no means medical. Crystal Healing is not an independent therapy, but one that is part of a holistic healing approach. By using this site and associated materials, you acknowledge and agree that you personally assume responsibility for your use or misuse of this information.
Learn more about the shop and process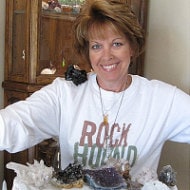 Lynn Leaderbrand
Frequently asked questions about WalelabyLynn
SALE! Recovery & Rejuvenation Bracelet with Tourmaline, Green Kyanite and Jade (2411)
---
Overview
Handmade item
Primary color: Green
Secondary color: Pink
Bracelet length: 7.5 Inches
Materials:

green kyanite, jade, silver plated pewter beads, red tourmaline, rubellite, sterling silver

Made to order
Ships worldwide from

United States

Feedback: 825 reviews
Favorited by: 65 people
Shop similar items from sellers around the world