THE BLISSFUL DOG JUST A NOSE NOSE BUTTER TIN OPTIONS

This listing is for a two ounce tin (2 oz) of NOSE BUTTER® with the JUST A NOSE label. Other sizes available in other listings.

LISTING INCLUDES:

• TWO OUNCE TIN OF NOSE BUTTER
• LIGHTLY SCENTED OR UNSCENTED OPTION
• EACH HAS A NOSE, YES, JUST A NOSE, ON THE LABEL
• COMPLETE TIPS, HINTS & DIRECTIONS INCLUDED
• IN A CUTE GIFT BAG

PRODUCT INFO

NOSE BUTTER® is individually handcrafted by my team and me right here in far northern Minnesota (yes, it is science fiction cold in the winter) using all natural good stuff: shea butter, olive oil, castor oil, castor oil, avocado oil, almond oil, coconut oil, beeswax, cocoa seed butter, unscented or lightly scented with just a dash of essential oils (Cedarwood, Cypress and Ylang Ylang) and love.

FEATURES: NOSE BUTTER® All Natural Good Stuff for Your Dog's Dry, Crusty or Cracked Nose. Rich moisturizers soften and smooth your dog's dry, crusty, cracked nose.

NOSE BUTTER USAGE

* DAB a bit onto your dog's nose 1-3x a day for 2-3 days (until nose improves) and then as needed for maintenance.
* DISTRACT with a treat (keeps them from licking NOSE BUTTER off while it moisturizes)
* DONE!

WHAT ON EARTH IS THAT DRY STUFF ON MY DOG'S NOSE?

Frustrating, isn't it? Rest assured, it is probably not anything you did wrong or didn't do or food, dirt, bad genetics or any of the other things well meaning friends may have suggested. If your dog's nose is dry and a bit rough, then NOSE BUTTER® is just the thing to moisturize and revitalize their nose.

If the dry areas are layers of crust or look like something off Game of Thrones or The Hobbit, then your dog possibly has a very common and not life-threatening condition known as Nasal Hyperkeratosis. It is an idiopathic condition (technical talk for they don't have a clue what causes it) that triggers a nose tissue gone wild scenario or keratin overgrowth (keratin-more jargon).*

The nasal variety is seen on the nose and there is a paw pad type that causes paw pad tissue to grow, sometimes even crippling the poor dog! Check out our PAW BUTTER for info on that. Quite a few dog breeds or breed types (mixed breed dogs get this too) seem to have a genetic predisposition to the condition. Flat faced dogs, bully breeds, toy breeds, the mastiff breeds and anything with a chunky body type seems to be more likely to have this condition. Now you know what it IS, let's learn more about how to get rid of it and what to use to keep it gone, yep, that's…NOSE BUTTER®!

Many dogs, purebred and mixed breeds, have dry or crusty noses. While The Blissful Dog offers over 100 dog breed labels we honor our mixed breed buddies (or homes with multiple breed of dogs) with our Just A Nose label. Of course, NOSE BUTTER® is the same recipe, the labels are just for fun and to share my love of dogs and all their varieties with YOU.


WE ARE DELIGHTED TO HAVE THOUSANDS OF RAVE REVIEWS RIGHT HERE ON ETSY - GO SEE!
Learn more about the shop and process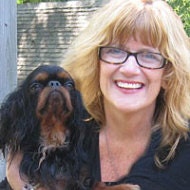 Kathy Dannel Vitcak
The ORIGINAL Dog NOSE BUTTER® Individually Handcrafted Hydrating Salve for Rough, Dry or Crusty Dog Noses 2 oz Tin With Just A Nose Label
---