This item sold on September 13, 2012.

To discover the variety of woodworking I do please visit,
http://www.etsy.com/shop/StudioNorthernLights
To see photos of this wand being made like my Facebook page!
\Wood: (Gabon) Ebony & Lignum Vitae
Length: 14 5/8"
Diameter: 1"
Weight: 2.7 oz
Crafted: March 29, 2012
The beauty of this wand is in the detail of the design and the color of the wood. The Ebony and Lignum Vitae are all natural; no dye or stain has been added. Both woods are hard and dense. Ebony has a tight uniform grain and Lignum Vitae a mildly varied grain pattern. Lignum Vitae is a resinous wood and has a flowery odor when cut or sanded. When exposed to UV light Lignum Vitae will potentially turn dark green. Click on the link to see how the wand will change color
http://www.etsy.com/transaction/64913662
This wand is a unique quality handcrafted work of art. I sanded it silky smooth on the lathe to 1000 grit. Then it was buffed with a finish of shellac and natural waxes. Handle and shaft woods are doweled and glued together with epoxy before turned on the lathe.
Custom orders –
I work in a variety of domestic and exotic woods and would love to do custom work if you wish to create your own design. Email me via Etsy with your wand, turning projects or other wood working ideas.
Magical qualities of wood used in making wand:
Ebony (Gabon)
Wood Origin: Africa, the Gabon region
Gender Association: Masculine and Feminine, equality
Planetary Association: Venus
Elemental Association: All 5 (fire, water, earth, air, spirit)
Other magical properties:
Positive luck, balance of energy, Ebony is well-known as the most powerful magical wood. Scott Cunningham, trusted writer of over 30 books about magic and the occult, writes about ebony, "Ebony wood is protective and so is used in making amulets. Ebony wands give the magician pure, unadulterated power." The power of ebony is non-discriminating. It is useful for any magical practice and with any element. It is especially useful in spells dealing with the home, love, and Venus.
Lignum Vitae
Wood Origin: South America and parts of Europe
Gender Association: Masculine and Feminine
Planetary Association: Sun, Jupiter, Venus
Elemental Association: Earth, Water
Other magical properties:
The hardest, densest wood in the world, Lignum Vitae means "long life" in Latin. This tree is also called the "Tree of Life" as well as "Iron Wood." The wood is so dense and heavy that it will not even float in water. It comes with a long history and legend. This naturally green wood has been used for time untold in construction due to the fact that it is so hard and dense. Because it has a large amount of resin within it as well as its density, it is naturally lubricated and was thus used as ball bearings on ships. The greatest legend about this wood is that Merlin the Wizard carried a staff and/or wand made from Lignum Vitae. This legend appears in both literature and ancient writings about the legend of Camelot. If true, it is hardly surprising. The energy within the wood is perfectly suited to a great man such as Merlin. This wood has a profoundly positive energy. The overall energy of the wood can be summed up as "the power and strength of goodness." Its strong connections with the sun, Jupiter, and luck energy make the wood an ideal tool for any worker of positive magick. The energy about the wood is very healing, in both physical and spiritual matters. The energies within the wood would also be excellent for divining information from far away as well as close to home. This wood represents the end of strife and the beginning of a new, positive, cycle.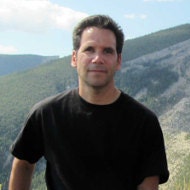 Chuck Cooke
Magic Wand - Harry Potter Inspired - Wood Wand - Ebony & Lignum Vitae
---
Overview
Handmade item
Materials:

lignum vitae wood, Gabon ebony wood, shellac friction polish and natural waxes

Ships worldwide from

United States

Feedback: 128 reviews
Favorited by: 12 people
Listed on Aug 4, 2012
415 views