✮'THE BLACK GALAXY RAINBOW MANTRA'✮
This is BY FAR One of the BriGhTeSt and Sweetest Hoops out there! We've combined the Spectacular 'Black Galaxy Rainbow Sparkle' tape with ALL the colors of the Rainbow~ UV Pink, UV Orange, UV Yellow, UV Green and Teal! The 'Black Galaxy Rainbow Mantra' is incredibly BRIGHT and pictures don't even do it justice!
*The UV Tapes GLOW under Blacklight.
**CHECK OUT the GLOW IN THE DARK Version of this Hoop Here>
www.etsy.com/listing/97269454
✮ChOoSe YoUr SIZE~
XL ~ 43"
LG ~ 41"
MD ~ 39"
SM ~ 37"
Super Pro/Kiddo ~ 35"
*In between Sizes are fine too!
*We recommend that beginners measure from the ground up to about an inch or so above belly button height~this is a great place to start!
✮ChOoSe YoUr TUBING~
~3/4" 100 Psi
Standard Hoop Dance Hoop, Recommended. Collapsible 35" & Over.
~3/4" 160 Psi
Heavier Weight for Beginners or Lg Framed. Collapsible 36" & Over.
~1/2" 125 Psi
Lightweight, Advanced. 28"-38" only please. Collapsible 30" & Over.
~Poly Pro
Expert. Ultra Fast. 28"-38" only please. Push-Button Collapsible.
✮100% Satisfaction Guarantee~BEST Pro Hoops on Etsy!
✮View a simple tutorial on how to collapse your hoop here:
http://www.youtube.com/watch?v=jI0tLpNLQIU
✮Local may use code: FREEPICKUP to eliminate shipping charges; hoops can then be picked up in Lawrence, KS when complete.
✮We use BioDegradeable Tape & Bubble Wrap!
✮Happy Hooping from Hoop Mamas!
All products, images and descriptions Copyright © 2012 Hoop Mamas LLC.
Learn more about the shop and process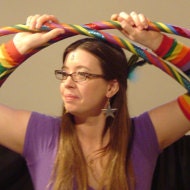 Hoop Mama Ali
BeSt SELLer - Rainbow 'Black Galaxy Mantra' - Fully Travel Hula Hoop - UV Reactive // GLOWS in Blacklight. Pro Hoops with Over 30,000 Sold!
---