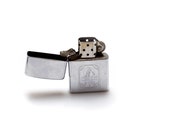 Sorry, this item sold.
Zippo lighter Cricket & Co
Item details

Reviews:

Shipping & Policies
Zippo lighter Cricket & Co

In my younger years this was a must-have. A sturdy Zippo lighter was appropriate in Rocker circles, my uncles liked Zippo's, so you could produce one at family gatherings, and they were chic & shiny enough to lug along to company suit meetings.
Never fail as long as you keep your flints handy and your lighter filled.
Lifetime warranty on the originals. Collector items.

And all of above goes for this one. Engraved with Cricket & Co I believe this was made to order for a cricket club. It has been with me for the last 6 years, and was a gift from a colleague. Since I already had one which was a present from my wife this one spent the last years in a drawer, and needs a new owner.

The lighter is in excellent state, with some minor scratches on the surface.
It comes in the original box, with the instruction booklet still attached.

Size: 6 x 3.8 x 1.2 cm approx. Weight: 55 g empty (approx).