ESSENTIALS Natural Tooth Powder in Citrus Mint - 2 oz.- VEGAN
Handcrafted with minerals and salts to help CLEAN and POLISH teeth! My BEST SELLING tooth powder has natural whitening benefits as well due to the baking soda! Essentials Tooth Powder naturally freshens breath, is completely safe (edible) and is perfect for kids.
My girls LOVE scooping out their own powder (see picture 4) and while my 4 yr.old does her 'tooth brushing dance', my 2 yr. old ends up NOT wanting to spit it out and always ends up swallowing it because she said she loves it! I call this tooth powder 'Essentials' because it contains ONLY the essentials your teeth need to be cleaned and feel fresh WITHOUT toxic chemicals, harmful fillers and synthetic flavors added.
** NEW!! This tooth powder is now also available in an easy-to-pour bottle for mess-free use! My girls spill less now when pouring their own! Check it here:
https://www.etsy.com/listing/175270881/tooth-powder-juicy-tangerine-peppermint?ref=shop_home_active_9
Plus, you won't get any funky aftertaste when using it! Read below for CUSTOMER REVIEWS!
On a personal note, I recently went to the dentist after more than a year of using only this tooth powder and my dental hygienist smiled and told me I had hardly any plaque and basically NO tartar on my enamel! :)
INGREDIENTS:
Baking Soda, Certified- Organic Arrowroot Powder, Xylitol, Food-Grade Bentonite Clay, Stevia, Sea Salt, Food-Grade Essential oils of Peppermint & Organic Tangerine (FDA approved for human consumption).
__________________________________________________________________________
*** NO:
* FLUORIDE:
Shown to be toxic, not safe for children and is more poisonous than lead. Even at dosages of 1 part per million, fluoride can damage the immune system!
* SLS/SLES:
A dangerous foaming agent which is a known irritant. This surfectant is a probable human carcinogen and YET... they put it in our toothpastes!?
* PARABENS:
Parabens can mimic estrogen, disrupt the body's hormone system and can cause early onset of puberty! Parabens have even been found in tumors.
* CHEMICALS/ FILLERS:
Our mouths efficiently absorb whatever we put into them, so why put chemicals in them? We should not have to clean our teeth with something that carries warning labels on the tube!
*FLAVORING/ COLORING:
Why allow potentially toxic synthetic flavors/colors to be absorbed into our bloodstream? Food-grade essential oils benefit body and mind!
* GLYCERIN:
Found in nearly every toothpaste on the market- even natural ones! While glycerin is great for your skin, it's not so great for your teeth as it coats your teeth and prevents the re-mineralization of your enamel.)
__________________________________________________________________________
HISTORY ON TOOTH POWDER:
Toothpowder has been used since ancient times (The Egyptians used it in 5000 B.C). The Romans ground up bones, hoofs, etc. to the clean their teeth with and in 1000 A.D. the Persians recorded recipes for teeth cleaning that included using honey, herbs and minerals.
__________________________________________________________________________
INGREDIENT BENEFITS FOR YOUR TEETH:
Every ingredient I use serves a unique purpose and is designed to help clean teeth, polish teeth and freshen breath. Moms- because this toothpaste powder is made with 100% food-grade ingredients, you do NOT have to worry about your children swallowing a bit of the powder while brushing which is a major bonus! (*Please see note below)
* BAKING SODA- Naturally fights bacteria and whitens, helps to remove plaque from teeth
* ORGANIC ARROWROOT POWDER- A natural, Vegan starch that is non-GMO and was traditionally used to treat wounds and kill poisoned substances. It helps to draw bacteria out.
* XYLITOL- A naturally-derived sugar that does not promote dental cavities but actually helps to prevent decay and gum disease
* BENTONITE CLAY: A powderful clay known to treat both internal and external maladies. Commonly referred to as a 'swelling' clay; when mixed with water it swells open like a sponge and absorbs and draws out toxins and impurities. Bentonite's structure is uniquely composed of electrical and molecular components that, when hydrated, rapidly change and produce a 'electrical charge' which then draws out impurities. It is a natural source of silica, iron, magnesium and calcium- all which are ESSENTIAL minerals and nutrients for your teeth and gums! * NOTE- It's important that tooth powders containing Bentonite Clay are not stored in metal tins or jars as the contact with the metal may decrease the clay's potency!
* STEVIA: A non-caloric sweetener that does not promote decay and is actually anti-bacterial!
* SEA SALT: A bit of sea salt is added to keep bacteria at bay, as well as helping to polish
* PEPPERMINT AND TANGERINE ESSENTIAL OILS: These essential oils are food-grade, approved by the FDA for human consumption and are not laced with artificial flavors. Peppermint has properties that help fight bacteria, cools the mouth and gives you minty fresh breath! Tangerine uplifts with the natural citrus flavor and is a BIG hit with kids and adults alike.
This tooth powder tastes awesome and reminds me of the kind of sweet/salty mix you get when enjoying a sea salt caramel treat :) You'll taste the peppermint pretty quickly, along with a mild salty flavor from the baking soda, and then you'll settle with the Tangerine citrus taste. Yummmm!
__________________________________________________________________________
RECENT REVIEW(S):
*'You can really tell this cleans your teeth well :). love the minty/orange taste, too. my brother also took an interest in it! thank you :)' - Vanessa
* 'I love, love, love this tooth powder! My search for the perfect tooth cleanser, whitener, freshener has finally ended with your tooth miracle powder. I am even using a small scoop in warm water as a mouth rinse & breath freshener...This stuff fights plaque like nobody's business, too...' -Diane
* 'I've been using your tooth powder for about a month now, and about 4 days ago I noticed that my teeth actually SQUEAK when I brush them because they're so clean!!!! I'm a smoker and a coffee drinker and my pearly whites are now the pearliest I've seen them. Ever. Thank you so much. I'll be back for more when I run out!!!!!!! '- Alyssa
.
* 'Wonderful Wonderful! My teeth are really getting scrubbed, and I'm almost excited about brushing them! Lovely, mild flavor, and even my husband, who normally needs fluoride to keep his teeth (which are genetically weak) from hurting, is loving it more than any other toothpaste! Thank you so much!' -Lily
* 'This stuff is great!!! Taste is really refreshing! Best tooth powder I've tried yet!....' -Sapphire
* 'I loved this tooth powder, it works really well. My teeth have never felt so clean and my three year old calls it "magic toothpaste".' -Jamie
* 'purchased a few of these and the refills are worth the money. have even gifted a refill when a friend ran out of their original gift batch' -Divine Essence
* I just tried this product, and wow, I will never, ever go back to fluoride-filled toothpaste again! This is such a relief to my oral health, and I'm so excited to use this tooth powder for life. Totally coming back for more when this 2oz. container is up. This tooth powder has an energetic, sweet citrus-y flavor along with minty, so it's very refreshing. The flavor lingers, too, but not as heavily as commercial toothpaste, which is such a relief to me. There's a long-lasting "clean" feeling as well, unlike regular toothpaste where it goes away and makes my mouth feel all icky again. So, so, so excited about this product, and it's seriously the best thing I've ever bought on Etsy! Thanks so much! Also, it arrived here super fast. :) Can't wait to come back to buy more!' -Luna
* 'Another great and pleasant transaction with this seller! I highly recommend this shop, and more specifically this amazing tooth powder! I'm addicted to it and it makes me want to brush my teeth ALL the time! LOL ;)' -Holly
* 'I love everything about every product I purchased! My favorite is the tooth powder. I had a small yellow stain on the bottom front tooth and after a few weeks of using the tooth powder the stain has just about completely went away! No conventional toothpaste from the store ever did that. I will no longer be using "normal" tooth paste this tooth powder is the way to go!' -Nina
* 'I absolutely LOVE this tooth powder! It tastes delicious, I wish the seller also made it in gum form or mouthwash! :) It does a really good job at freshening breath and teeth feel nice and clean. Very fast shipping as well, thanks!' -Vicky
* 'Fantastic service! This is my second purchase and I am so pleased with the communication and the quick delivery. Love this product, nice taste and it really freshens my breath...' -Christine
* 'nice seller and delightful product. better than the castile soap i've been using for a year...'
- Alexandria
* 'Fantastic! It tastes great and my teeth are cleaner than they ever get with standard toothpaste! Plus, the shop owner is super sweet, and was very communicative. Definitely buying this again!'
* 'I LOVE this!!! I am not sure if I can go back to conventional toothpaste' - Yuka
* 'The Best Tooth Powder I Have Ever Used! Cleans beautifully and tastes great & whitens teeth with fresh breath! You can't get any better than this.. Great Seller! Highest Recommendation 5*****Stars & AAAAAAAAAAAAA++++++++++++++++++++++'
__________________________________________________________________________
TO USE:
Simply wet toothbrush, dip into powder, tap off excess and brush away! To prevent clumping and/or contamination when more than 1 person is using this jar, you can also easily scoop out (or pinch) a pea-sized amount of powder into the palm of your hand and dip your wet toothbrush into the powder. You can even use a 1/8 teaspoon measurement or an empty, clean chapstick lid to scoop out a bit! See picture 3 & 4. If brushing twice a day, this jar will last one person about 4-6 weeks... depending on how much powder you use!
TIP: Need fresh breath in a flash? Simply pinch out a bit and let dissolve on your tongue! Voila!
REGULAR PRICE: $11.00 for one 2 ounce plastic tub of tooth powder. Nicely packaged.
Also available in:
-2 oz. Bottles:
https://www.etsy.com/listing/96662011/tooth-powder-peppermint-juicy-tangerine?ref=listing-shop-header-0
-Refill Bags:
https://www.etsy.com/listing/97642622/tooth-powder-6-oz-peppermint-juicy?ref=related-0
** PLEASE NOTE: These statements have not been evaluated or approved by the FDA and I can not make any legal claims on the healing &/or cleaning potential of this product. Please read my important shop policies before placing your order. This tooth powder should be safe for young children, but please ask your dentist if you have any reservation. If you have extremely sensitive gums or teeth, please consult your dentist before purchasing this product and discontinue use if irritation occurs. *
_______________________________________________________________________
I make my products from scratch in a 100% smoke-free home and we have no pets. Your product is being made with love in a clean, sanitized, healthy environment.
As promised by my business name, "Innocence Body Care", you can expect all of my ingredients to be all-natural, mostly Organic and extremely hydrating to your skin! Toxic chemicals &/or irritating ingredients such as: mineral oil, parabens, petrolatum, propylene glycol, & synthetic waxes will NEVER be found in any of my Innocence Body Care products. It is my goal to nuture your skin and to bring healing.... innocently. Isn't it time your skin is innocent of toxins?
___________________________________________
Learn more about the shop and process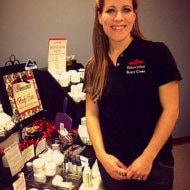 Jenessa
Tooth Powder JUICY Tangerine & Peppermint. Natural- Vegan. Fluoride-Free, Kid-Safe. Freshens Breath, Whitening. BEST Seller! 2 oz
Overview
Handmade item
Materials:

baking soda, Organic Arrowroot powder, Bentonite Clay, Xylitol, Stevia, Sea Salt, Peppermint EO, Tangerine EO, 2 oz plastic jar, vegan, kid safe

Made to order
Ships worldwide from

United States

Feedback: 888 reviews
Favorited by: 1501 people
Listed on Sep 1, 2016
13318 views