Our Amulet Fertility Necklace features a solid nugget of Rose quartz which dangles from a silver plated, and hammered ring. Rose quartz is said to help promote and support a new pregnancy and protect the tender new life from miscarriage. They are also a gentle stone, providing us with love and compassion, balancing our emotions through our often turbulent journey to conceive a much wanted baby.
The silver plated turtle is a powerful symbol of both fertility and protection. A sea turtle lays anywhere from 50-150 eggs at a time, our hope is that she may bestow her fruitfulness on the wearer! In Native American culture the turtle represents strength, patience and the power to endure and persevere. All gifts that we need on our journey, while we wait until the moment we can cradle our miracle babies in our arms.
The moonstone heart aids receptivity, and will help to prepare the mother-to-be to welcome a new life into her body, and the new phase of life that comes with conception. It is an overall promoter of female reproductive health.
Comes on your choice of an 18" silver plated ball chain or a natural knotted adustable soft and supple Greek leather cord. We will include the ball chain, unless specified in the Notes to Seller section of the Etsy cart.
Please see our matching fertility bracelet at (3rd photo):
http://www.etsy.com/listing/86736417/fertility-bracelet-with-fertility
Please see our matching fertility earrings at (4rth photo):
http://www.etsy.com/listing/96031337/fertility-earrings-and-fertility
Each necklace is packaged with a parchment scroll with the gemstone meanings, and a Fertility Blessing card with instructions of how to focus your intentions and charge your piece with energy (so important!). We package every fertility necklace in a sweet organza jewelry bag, because we wish every necklace to be received as a gift - whether it is to yourself, or to another. (last photo)
***************************************************************************************************************
Kimberly is a certified level 2 Reiki practitioner and would be glad to charge any of your pieces for you with Reiki energy before sending them to you - just type in Reiki to the Notes for Seller section of your Etsy cart.
***************************************************************************************************************
This is a perfect gift for a new bride, someone you know who has been trying, or a gift for yourself.
All of fertility necklaces ship within 1-5 business days, often they ship on the same day you order.
Kimberly is an experienced full time jewelry artist, and you can be assured that we get our pieces out in a timely and organized fashion. You will also receive a shipping confirmation from LaBelleDame so that you know your piece is on it's way. :)
We have FedEx 1 day and 2 day shipping options available. Please contact us for more information.
TESTIMONIALS
What our customers are saying about our fertility bracelet:
"Hello, I want to let you know that my daughter has been trying to conceive for almost a year. I gave her one of your moonstone and rose quartz bracelets in July and 2 weeks ago she told us she is pregnant and due in April. Coincidence? I just want to send my thanks and thought you might like to know. I will be ordering your pregnancy bracelet for her. " - Linda (Aug. 31)
"Also FYI the bracelet worked, I am preggie after 3 years of trying!" - Jess
"I just wanted to tell you how thrilled I have been with my Fertility Bracelet...and it worked!!! My husband and I have been trying for 3 years to get pregnant and after multiple fertility treatments, I got this bracelet on our last try and I'm pregnant!! I wear it everyday and put it under my pillow at night....It's a beautiful piece of jewelry and it's magic!!! THANKS SO MUCH!!!" - Tiffany
"I've meant to email you for sometime now, my wife and I became pregnant while I was home on leave from Iraq back in June! I can't say for sure it was due to your bracelet, however, it is definitely quite a COINCIDENCE!! I just wanted to send you a quick email to tell you the great news and to say THANK YOU! " - Jeff
ABOUT THE CREATOR OF FERTILITY BRACELETS: ARTIST AND HEALER
Kimberly McIntyre of LaBelleDame and
FertilityBracelet.etsy.com
has been designing and selling fertility bracelets since 2002, (the first on the internet to do so!) and has become the successful standard that most subsequent fertility bracelets have been modelled after. Her careful research into gemstones and fertility symbols, and her soulful approach to creating talismans of hope and focused intention, has helped thousands of mamas-to-be worldwide through the difficult and heartaching journey to holding their longed for baby in their arms.
****************************************************************************************************************Kimberly's rose quartz and moonstone fertility turtle bracelet has been featured in Conceive magazine, and has received countless responses from our clients who have gone on to have successful pregnancies and healthy babies.
****************************************************************************************************************
Kimberly seeks to include significance and symbolism in her designs to create a piece that holds personal meaning for the wearer. She believes that symbols are a powerful healer, reminding us to look deeper into ourselves to find the answers we need to be whole. Over her years of working with healing gems, creating healing jewelry, and training workshops in Hakomi (body centered psychotherapy) she has learned the importance of touch, and the body, in the healing of the whole person. Combining symbols, both universal and personal, with the powerful sense of a tangible item to wear and touch during the day, she believes can be a powerful tool to help us to heal; by drawing our attention back to what is happening in our body, our mind, our soul at that exact moment - and to what needs our focused energy and compassion to heal.
Certified as a level 2 Reiki practitioner in traditional Usui Reiki (trained with Reiki Master and energy healer Roland Berard in Montreal), much of her current work holds a focus on emotional healing, with a desire to reach out to those in need of comfort and strength, with empathy and compassion for their current experience. She strives to create jewelry that will inspire her clients on their journey.
Kimberly is passionate about working closely with her clientele to create a piece that is exactly what they need to help them through their current experience; to recognize their inherent strength, to lend compassion, and to illuminate hope for the future.
Kimberly's soulful jewelry designs can be seen on well over 15,000 wonderful customers - and growing, worldwide. As well as selling to individual customers, Kimberly's designs have been comissioned by organisations from the Humane Society of the United States to The University of California's School of Midwifery.
Learn more about the shop and process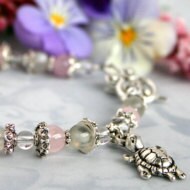 Kimberly McIntyre
Fertility Jewelry, Fertility Amulet Necklace with Blessing Card
---
Overview
Handmade item
Materials:

rose quartz, moonstone, silver plated

Ships worldwide from

Canada

Feedback: 51 reviews
Favorited by: 73 people
Listed on Mar 26, 2017
1448 views