✮Design Your Own 'Leopard Love' Hoop!✮
After so many requests for Leopard-Print Hoops, they are finally a part of the permanent line! The Hoop Mamas 'Leopard Love' is the ONLY Leopard Hoop with an extra grippy grossgrain RIBBON and IS NOT MADE with STICKY DUCT TAPE! (All Hoop Mamas materials are time-tested and Duct Tape is known to become a sticky mess after wear and tear.) Design YOUR perfect Leopard Hoop by choosing One Decorative/Shiny Tape then two Grip Tapes. See examples in the photos~there are endless possibilities!

*Check out the Original 'Leopard Love' Ribbon Hoop Listing here!> http://tinyurl.com/c2nt66c


☆CHOOSE YOUR ONE (1) DECORATIVE TAPE COLOR
from our 'Decorative Tape Selection Guides' pictured above!

☆ CHOOSE YOUR TWO (2) GRIP TAPE COLORS
from our 'Grip Tape Selection Guide' pictured above!


☆ CHOOSE YOUR SIZE~
XL ~ 43"
LG ~ 41"
MD ~ 39"
SM ~ 37"
Super Pro/Kiddo ~ 35"
(In between sizes are fine too! We recommend beginners measure from the ground up to
about an inch or so above belly button height~this is a great place to start!)

✮ChOoSe YoUr TUBING~

~3/4" 100 Psi
(Standard Hoop Dance Hoop, Recommended. Collapsible 35" & Over.)
~3/4" 160 Psi
(Heavier Weight for Beginners or Lg Framed. Collapsible 36" & Over.)
~1/2" 125 Psi
(Lightweight, Advanced. 28"-38" only please. Collapsible 30" & Over.)
~Poly Pro
(Expert. Ultra Fast. 28"-38" only please. Push-Button Collapsible.)

✮If Hoop or Tubing Sizes are not chosen, a 40" 100psi Hoop will be sent.


☆ PLEASE NOTE YOUR COLORS IN 'NOTE TO SELLER SECTION' AT CHECK OUT!



✮100% Satisfaction Guarantee~BEST Selection of Pro Hoops on Etsy!
✮View a simple tutorial on how to collapse your hoop here:
http://www.youtube.com/watch?v=jI0tLpNLQIU
✮We use BioDegradeable Tape & Bubble Wrap!
✮Happy Hooping from Hoop Mamas!

All images, descriptions and products Copyright © 2012 Hoop Mamas, LLC.
Learn more about the shop and process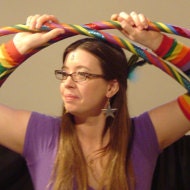 Hoop Mama Ali
Design Your Own 'LEOPARD LoVE' Travel Hula Hoop. ANY COLORS. Choose from The Largest CoLoR Selection on Etsy.
---