✮Thanks for checking out Hoop Mamas! We have the BEST Selection of HIGHEST QUALITY Hula Hoops on Etsy (AND the most sold)!!~Guaranteed! Our Mission? To spread the Hoop Love as Far and Wide as we Can! If you can dream it, we can make it! Let us Help YOU find the right hoop for YOUR Hoop Journey!

✮Limited Edition Hoop 'WOODLAND SHROOM GLOW!'✮

WOW! This Fabric is FaNtAsTiC! The SIXTH Hoop in our ORIGINAL Mushroom Hoop Series, it has an Olive Green base with Natural Colored Woodland Shrooms throughout! We added Photoluminescent Glow In The Dark Tape and stripes of Choclate Grip, Orange & Tan Grip to match. This is one of the most UniQuE hoops around~AND one of our new Favorites! This hoop is definitely a throwback to the 70's but still looks super Mod.....we LOVE it!!! This Hoop also looks great with stripes of Grass Green, Light Green, Yellows or White so feel free to customize it as you wish!

*Glow Tape needs 5 minutes of light to charge then glows 10+ Hours!
**Available in Limited Quantites & while fabric lasts.


✮ChOoSe YoUr SIZE~

XL ~ 43"
LG ~ 41"
MD ~ 39"
SM ~ 37"
Super Pro/Kiddo ~ 35"
(We recommend beginners measure from the ground up to about an inch or two above belly button height~this is a great place to start!)


✮ChOoSe YoUr TUBING~

~3/4" 100 Psi (Standard Hoop Dance Hoop, Recommended. Collapsible 35" & Over.)
~3/4" 160 Psi (Heavier Weight for Beginners or Lg Framed. Collapsible 36" & Over.)
~1/2" 125 Psi (Lightweight, Advanced. 28"-38" only please. Collapsible 30" & Over.)
~Poly Pro (Expert. Ultra Fast. 28"-38" only please. Push-Button Collapsible.)

✮If Hoop or Tubing Sizes are not chosen, a 40" 100psi Hoop will be sent.


✮100% Satisfaction Guarantee AND BeSt Selection of Pro Hoops on Etsy!
✮View a simple tutorial on how to collapse your hoop here:
http://www.youtube.com/watch?v=jI0tLpNLQIU
✮Locals may use code FREEPICKUP to eliminate shipping charges. Hoops may then
be picked up at The Sacred Journey (1103 Mass) when complete.
✮We use BioDegradeable Tape & Bubble Wrap!
✮Happy Hooping from Hoop Mamas!

All images & descriptions Copyright © 2012 Hoop Mamas LLC.
Learn more about the shop and process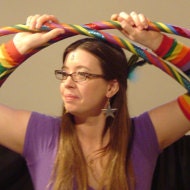 Hoop Mama Ali
NEW - GLoW in The DaRk Travel Hula Hoop 'Woodland Shroom GLoW' - Limited Edition.
---