21/2' x 2 1/2 x 1"
GROW mixed media mosaic
Like all of my mosaics, this one of a kind mosaic was created using kiln fired ceramic pieces that I make myself. I make a variety of objects including roses, hearts stars, words etc.
These ceramic pieces are first hand formed, next they sit until they are thoroughly dry when they can then go into the kiln and be fired overnight. Now they can be painted and given three coats of glaze and fired again. I also use an assortment of vintage china that I spend many enjoyable hours searching for. Rarely do I pass a thrift store without stopping in, I would hate to miss that perfect plate, cup or "found object". Speaking of found objects, they often play a big part in my mosaics, I love the texture they add to a piece. Some other materials I use are, Italian Millefiori, stained glass and Italian smalti .
Upcycled dishes are my main mosaic inspiration. In my early days of mosaic-ing I would buy anything that I thought would work for my mosaics, but over the years I've become extremely selective. I've even donated back many of the plates that I originally collected that no longer make the cut (pun intended!).
Creating a mosaic for me is not about smashing dishes and randomly gluing them onto a surface. Each piece is cut with a special mosaic tool and every placement is a choice in making a beautiful whole.
Once all of the pieces are thoughtfully placed then comes the necessary and not so fun (at all) job of grouting the piece. Grouting though, gives the mosaic the important finished, pulled together look. This process is messy and time consuming, I'm very particular about doing an excellent grouting job so that each china piece is completely exposed and clean.
Finally the backs are nicely finished and hanging hardware is added along with my name label.
Thank you for your interest in my work and I hope you enjoy these mosaics as much as I do!
Please visit my Etsy Jewelry store
Lisabetzoriginals.etsy.com
Learn more about the shop and process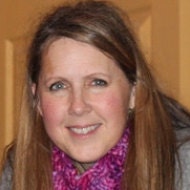 Lisa Betz
Listed on Jul 16, 2013
374 views