Well Aliens fans I saved you the best replica for last! I GIVE YOU The HERO M41A Pulse rifle!!!1/1 1/1 IN SIZE FULLY functional
CUSTOM MADE . My pulse is the first EVER 100 pct screen accurate! The rifle is held together by REAL METAL SCREWS NOT PLASTIC AND GLUE like the kits you have seen !! My pulse is hand painted the correct color!!! The stock is METAL and is FULLY adjustable with a hidden lever !! the magazine is removable!! by the lever on the rifle like on the REAL PULSE RIFLES !!! The barrel vent is screen accurate also metal!!! AND for the first time ever offered on a replica Pulse rifle shrouds CAST off an ORIGINAL USED IN THE FILM !

My CUSTOM DIGITAL SCREEN ACCURATE Counter is FULLY FUNCTIONAL AND PROGRAMMED LIKE THE ORIGINALS !! IT FIRES IN SEMI AND FULLY AUTO!!! THE RATE OF FIRE MATCHES THE HERO IN THE FILM 10 PER SECOND !! GET THIS WHEN YOU HIT 00 YOU TAKE OUT THE MAG INSERT IT AND IT RESETS IN ORDER LIKE THE HERO RIFLE TO 99 TO 95!!!!! ALL DIGITAL!!! THE BOLT ALSO WORKS! PROP WAS BUILT ALL BY HAND AND THE PIECES WERE FABRICATED BY HAND!! IN THE USA!!! THIS IS THE MOST ACCURATE WELL BUILT PULSE EVER CREATED FOR COLLECTORS. ALL HAND MAND BY A INDUSTRY PRO WHO HAD ACCESS TO THE HERO PULSE RIFLE USED IN ALIENS AS A REFERENCE . THE SHOTGUN GRENADE LAUNCHER PUMPS DOES RACK ALSO !!!
This is the ABSOLUTE BEST the world will EVER have to offer . This is the Only custom HAND MADE pulse rifle in the world. BUILT IN THE USA .

Please not this is a Movie prop replica it is NOT a live fire real world weapon. The HERO magazine with bullets is a custom upgrade not included just for photo purposes .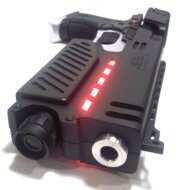 The Kingpin
ALIENS M41-A Pulse Rifle Custom made HERO Functional with working Digital counter Limited Edition Colonial Marines Hand Made
Overview
Handmade item
Feedback: 71 reviews
Ships worldwide from United States
Listed on Mar 7, 2015
66164 views