This is my Favorite Saori clothing design book. These Hand woven cloth sewing patterns that a truly unique and brilliant. Not all will appeal to everyone but many will appeal to some. The book is all in Japanese but the the diagrams are clear and the metric measurements make this easy to follow if you have some knowledge of sewing construction. I call this book the BLACK Saori sewing book.
over 50 patterns, even one is worth the price of this new book . but there are many unique designs.jackets, skirts, pants, tops , dresses all very cool and designed for hand weaving and piecing yardage like in tbe Saori tradition. You will need 16" weaving widths and up but never more than 22" width of handwoven cloth , some less than 16". these are amazing clothing patterns . (The inside books photos are partly hidden or blurred out of respect for the publishers copyright).
The split screen black and green cut in the bias dress photo is a variation of one of the designs from this book i made .
i do not speak Japanese and i love and use this book for sewing hand woven garments easily.
*** PLEASE NOTE I only charge what it costs to ship your item. Beacuse the etsy shipping choices are fixed I CREDIT any shipping overages over one dollar back to you .my shipping rates are very reasonable . Many of the items in my shop are odd sizes so it is impossible to combine many in one box and estimate the costs. that is why i regularly refund and credit shipping overages where applicable.
testimonials
"Wow! Absolutely love this book! It is in Japanese but the drawings are pretty self explanatory. Seller is amazing and shipping super quick! Will buy from again in the future!" L
"Hello Jill, Many thanks for your super prompt shipment of the Saori book I
ordered through Etsy. Looks great and now to the delightful part of
weaving. Best wishes, S"
Jill,
"I'm so glad I found your shop. I've been weaving for ten years. I changed to fiber arts
after being a painter for 20 years prior to that. I lost my love of weaving.I was seriously was thinking about giving it up. What I was doing wasn't me. I heard about Saori weaving when I
first started, but never looked into it. I purchased my first book from you. I'm glad I did. I've woven more in the last couple of months than I have in years. I am enjoying it again. I'm weaving how and what I want. I am
happier with my weaving than I have ever have been! I also shared my experience with my Weaving Guild. I also recommended your shop.
Thank you again from a VERY satified customer " K
And this one
:" Very Quick shipping i don't read Japanese but Pictures and illustrations are simple to follow. Super Happy!"
"There is a lot of information in this book. It is a great reference for the saori sewing library! Super fast shipping! Thanks" D
"Thank you!
The books are wonderful and inspiring. I can't wait to get sewing with my own yardage.J"
"Got my Saori pattern book yesterday. Thank you for such quick delivery.I took a class at Estes park Wool Festival a couple of weeks ago called "Weave a Square, make a garment". The Saori pattern book has perfect ideas for this approach.
Thanks also for all the inspiration you provide on Ravelry!"
"
https://www.etsy.com/shop/saorisantacruz?ref=listing-shop...
nickolena 's (jill's) shop. She is a total doll and the See's caffe au lait lollipop is amazing. Oh, and the book is fantastic!"H
"Hi Jill
The books & goodies arrived - thank you! Never have I opened such a wonderfully scented package; what a beautiful gesture. And the See's candy was an especially nostalgic treat for me. 30+ years ago one on my college roommates, from Santa Barbara, sent them to my family (in Albany, NY) as a thank you for hosting her during Spring Break. Just as yummy as I remember.Again, many thanks and I look forward to purchasing more items form you in the future!Warmest regards M"
"Good Morning Jill,
Thank you so much for your thoughtfulness! I love the way you wrapped the book with the bayleaf, the note and the lollypop! Thank you for sending the book so fast - I couldn't believe it arrived yesterday!
Take care,Hugs,
Simon"
"An inspiring book! Thank you for the nice bookmark and super fast shipping!"A
"This is a very inspiring book, full of cool patterns! Although it is written in Japanese, the diagrams and photos make them easy to follow, all dimensions are in metric, but this is very easy to convert to inches/yards. Thank you Jill, for a very quick shipment and delivery, and more bay laurel to hang from my loom. I will definitely order from saorisantacruz again and again!"Dale
" I placed my order Saturday, I received my book Monday! Fast shipping. The package was well wrapped, when I opened the shipping wrap, the most beautiful package emerged. A lovely surprise. This is my first purchase, I will definitely become a repeat customer. Thank you! Love my Saori pattern book!"
K
"Wonderful book! This is the best site to purchase from, hands down. Nickolina, you are the gold standard for excellent customer service."K
"The book came in pristine condition and faster than I ever imagined!! It was packed with such tender, loving care, it was a total JOY to open......it was like a present within a present. I don't often get purchases sent with such wonderful, thoughtful surprises, and wrapped in such an elegant manner.......this really made my evening, opening this......Christmas in April !!! Wonderful.....Jill is amazing <3" D
USA sales only . No shipments outside the USA all sold items processed in 1-2 business days
Learn more about the shop and process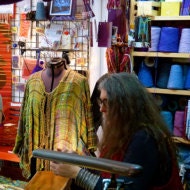 Jill N Sanders
Saori sewing pattern book Shitatenohon unique sewing patterns for hand wovens:saorisantacruz
---
Listed on Mar 20, 2017
2721 views