This item sold on May 30, 2012.
++++ On hold for juleskim ++++

Okay, it's been four months since I last listed an item here on Etsy. I've moved to a new location and I spent a whole bunch of time fixing stuff on the new house and prepping the old house for sale. I hope to be setting up the wood shop soon, the items you see listed today I actually started in the fall.

I made this top a while ago and it's been hanging out in my backpack for about six months. Like anyone who makes stuff sometimes you create things that you want to keep, this is one of those. Made of Pink Ivory, this top is silky smooth and has a beautiful rich deep pinkish red color to it.

This top is really unpredictable. Sometimes it spins flawlessly looking like a hover top, other times it's all over the place. Because of this I suggest this top for someone who is proficient with spinning tops. I ran my usual time test, spinning the top on a piece of fine Japanese china sourced from the local Goodwill, the top averages 40 seconds spin time. A bargin at this price considering the price of Pink Ivory.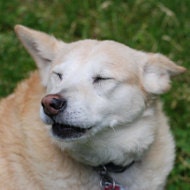 Dustin
Listed on Apr 23, 2012
27 views