This item sold on May 10, 2012.
Okay, it's been four months since I last listed an item here on Etsy. I've moved to a new location and I spent a whole bunch of time fixing stuff on the new house and prepping the old house for sale. I hope to be setting up the wood shop soon, the items you see listed today I actually started in the fall.

I love tall tops, this one is roughly three inches tall. If you make one of these the wrong way they don't spin worth a darn, this one was made right and spins wonderfully. A nice basic shape and made of Cherry, this one will keep you busy for a while. I ran my time test on my special Japanese Goodwill china and clocked this top in at an average of almost 50 seconds.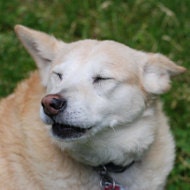 Dustin