This item is available in gift wrap - here -
https://www.etsy.com/listing/115013948
alOha : )
Thank you so much for buzzing by to checkout our beeswax bottles : ) We absolutely LOVE working with beeswax!! When the wax pot melts into a luscious golden brew, our studio smells so MmMmmazing that the local bees fly in to see what's cooking. We greet them with offerings of honey dipped spoons and watch them drink with delight : ) It's magic !!
Check out our etsy featured seller interview here !!
http://www.etsy.com/blog/en/2011/featured-seller-pollenarts/
... and our blog @ http://thewinnebagodiaries.com
Instagram - http://instagram.pollenarts.com/
FaceBook - https://www.facebook.com/pollenarts
Oh !! And we just made a bio video on the Pollen Arts Family - see it here ; )
http://www.youtube.com/watch?v=tBktGr_Derk
--- ITEM DESCRIPTION --
This candle is a reproduction of an antique jar from "INGRAMS", and burns for 20+ hours ! The original piece is over 100 years old, circa 1900. It's such a treat to have the original cap actually intact, and every detail came out beautifully.
The words "INGRAMS MILK WEED CREAM" are embossed all the way around the rim. When lit, the text comes aglow with the flicker of candle light through it's sweet-smelling transparent walls.
Every candle in our collection is constantly reinventing it's look as it slowly melts and transforms. They're cute - but don't be afraid to burn them ; )
APPROXIMATE SIZE - 2 1/2" tall by 2" wide
Our candles are made from 100% raw beeswax and never supplemented with cheap, toxic fillers such as paraffin. (this is a biggie :) Our collection is made up of a diverse array of shapes and sizes: medicine bottles, creams, tinctures, extracts, poison, first aid, old hand-blown inkwells, and much more.
Please check out our other listings to see the whole cast !!
thanks for looking,
LOVE,
p&j
(peter & juwels)
---------------------------------------------------------------------------------------------------------------
---BURN TIPS---
You can see detailed tips on every candle here: http://beeswaxburntips.com
Burning beeswax candles sometimes takes some "tending". One easy trick is to trim your wick every once in a while. If your wick gets too long, you'll notice a tall flame (a flame over 3/4 inch is too tall), so you'll want to trim the wick down to about 1/4 of an inch. A large flame sucks up wax too quickly, so your candle won't last as long ; (
And on the flip side, if you notice that your flame seems to be shrinking or there's a carbon ball or "mushroom" at it's tip, a wick trimming may be in need. Sometimes the top of the wick becomes crispy and nonfunctional, and this inhibits the suction function of the wick, so just nip off the top, and your flame will love you for it. A great time to trim the wick is before you lite it back up : )
Also, be mindful of how long you burn your candles for. Burning for too long at a given time will eventually melt the outer walls and spill the wax pool (your precious fuel). The best-case formula is to try and burn your candles only one hour for every inch thick in diameter, so a three inch candle could go for three hour spans, two inch for two hours and so on.
---------------------------------------------------------------------------------------------------------------
---WAX FACTS---
*Beeswax has been used since the beginning of civilization. It has been found in the pharoah's tombs, amongst sunken Viking shipwrecks and Roman ruins.
*Beeswax candles are naturally scented by the honey and nectar of flowers.
*Beeswax candles naturally emit negative ions , cleaning the air and invigorating the body.
*Beeswax is by far the healthiest wax and burns cleaner and longer than paraffin or soy (99% of conventional candles are paraffin).
*Paraffin is a byproduct of petroleum and burning paraffin candles emits toxins and carcinogens in your sweet home air.
*Although soy is a healthy alternative to paraffin, the truth is that soy has a very dirty carbon footprint. Soy is one of the most heavily sprayed crops with chemical pesticides. It's one of the main causes of deforestation in the amazon, wiping out millions of acres of rain forest and is almost always genetically modified. The more of this we buy, the more our planet will be punished in production. If our Mother Nature had a vote, she'd most definitely choose the wax of our buzzing bee girls : )
*Beeswax is a natural and renewable resource and definitely the best wax for candle making!!!
---------------------------------------------------------------------------------------------------------------
-- SHIPPING --
*** If you're buying a handful of items (w/ shipping over $13 or $16) we may be able to combine shipping and save you some money !! Just message us your list ; )
We'll ship anywhere - if you don't see your specific country listed here, just email us for a quote and to setup a special listing ; )
Also, we may bee able to save you some money by combining your shipping on several items - most of our listed shipping rates are less that we pay with no handling charges, but we may be able to stuff a Flat Rate box for either $11 or $15 where weight is not an issue ; )
Learn more about the shop and process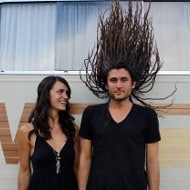 p&j
Beeswax Candle - Sm. Milk Weed Cream Jar - by Pollen Arts -
---
Overview
Handmade item
Materials:

beeswax, bee, bees, wax, cotton, wick

Made to order
Ships worldwide from

United States

Feedback: 1159 reviews
Favorited by: 74 people