alOha : )
We're Peter & Juwels (p&j) - husband & wife, creative partners, and above all, best friends ; ) Thank you so much for buzzing by to checkout our handmade beeswax bottles : ) The inspiration for this original candle concept actually came to us by way of an antique bottle we found washed up in a tide pool. Juwels calls it "our gift from the mermaids", and we feel so lucky to bee the ones to offer this beautiful aesthetic to the world ; )
We delight in working with such a natural & heavenly scented medium such as beeswax! This brilliant wax burns longer, brighter, and cleaner than any other wax on the planet, actually ionizing the atmosphere and pulling dust and allergens from your sweet home air as it burns ; )
Pristine Quality: Each collection is hand-poured to order. When you purchase a collection directly from us, you'll receive a perfect product, packaged with exceptional care and so fresh that it only passes through the hands of the makers (ours) and then directly to yours.
Check out our etsy featured seller interview here !!
http://www.etsy.com/blog/en/2011/featured-seller-pollenarts/
... and our blog @ http://thewinnebagodiaries.com
Instagram - http://instagram.pollenarts.com/
FaceBook - https://www.facebook.com/pollenarts
Oh !! And we just made a bio video on the Pollen Arts Family - see it here ; )
http://www.youtube.com/watch?v=tBktGr_Derk
--------------------------------------------------------------------------------
Details:
Size XL. - 7 3/4 tall
3 1/2 wide at top
2 5/8 wide at bottom
This is a Huge candle with 200 + hours burn time.
From it's gorgeous oblong shape, to the embossed text and large Tree image, everything about this bottle is AMAZING. If only we could magically refill this beeswax bottle with an herbal "Tree of Life Elixir" !!!
Definitely hundreds of wonderful hours of enjoyment ; ) Watching the flicker of the flame glow behind the Tree is mesmerizing. The branches and leaves almost dance for you as they appear to burn. Truly resplendent!
Front reads: "Straubmullers ELIXIR. TREE OF LIFE since 1880"
Back reads: "NECTAR OF THE GOLDEN LIFE OF HEALTH AND VITALITY"
--------------------------------------------------------------------------------
--WAX FACTS---
*Beeswax has been used since the beginning of civilization. It has been found in pharoah's tombs, amongst sunken Viking shipwrecks and Roman ruins.
*When honey bees make their wax, it's actually an off-white color, and the beautiful golden hue and scent in our candles comes from the honey, nectar and pollen which get mixed in during the honey harvest and processing, talk about completely natural scent and color .. MmmMmmmm, take time to smell the flowers ; )
*Beeswax candles naturally emit negative ions. This process binds dust, odor and allergen particles together in the air, making them too heavy to float around and pulling them to the ground where they can be easily swept up and never find their way into your lungs and sinuses. This especially makes beeswax the ultimate burn for anyone with asthma, allergies or sensitive sinuses ; )
*Beeswax burns cleaner and longer than paraffin, soy, palm, or any other wax on the market. (99% of conventional candles are made from chemical paraffin).
*Paraffin is a byproduct of the crude oil industry and burning this wax emits toxins and carcinogens which have been known to cause cancer, birth defects, and diseases such as asthma.
*Although soy is a healthier alternative to paraffin, the truth is that soy has a very dirty carbon footprint. Soy is one of the most heavily sprayed crops with chemical pesticides which ends up in our soil and water system. It's also one of the main causes of deforestation in the amazon, wiping out millions of acres of rain forest and unfortunately is almost always genetically modified. The more soy we buy, the more our planet will be punished in the production. If our Mother Nature had a vote, she'd most definitely choose the wax of our buzzing bee girls : )
*Beeswax production has a zZzERO carbon footprint - in fact - being delivered on the wings of honey bees, the only byproduct of this fuel is colorful pollenated flowers and sweet golden honey ; ) Thank you for helping us keep these hard working girls busy busy bees ; )
On a side note - if you haven't heard about CCD (colony collapse disorder), US based beekeepers have been hit hard by the dying off of hundreds of millions of their sweet pollinating honey bees. By supporting beeswax, you're helping to fund their ongoing efforts to stay afloat in this troubling time and find a solution to the vanishing of the bees (and in due time, the decline of the flowering plants of the food chain which we all love.. by right, the bees do pollinate 1/3 of -all- fruits and vegetables)
--------------------------------------------------------------------------------
--BURN TIPS--
You can see detailed tips on every candle here: http://beeswaxburntips.com
We will email our "art of candle burning" with your order, but to keep it short and sweet here, we'll list a few general tips that apply to all of our candles ; )
Always make sure to burn on a *level* heat resistant surface.
Never burn your candle in the breeze of a fan or a draft - it will blow all the flame's heat to one side of the candle and cause an uneven burn and possibly a wax spill ; (
It's best to keep your wick trimmed to 1/4 inch. Wicks can get crusty and gunked up with cooked honey and carbon. Trimming the wick will help keep a bright and beautiful burn. Also, a longer wick = a bigger flame. The bigger your flame, the quicker it sucks up your wax pool. Trim that wick for a longer burn ; )
The thicker your candle is - the longer spans of time you can leave it burning for. The rule of thumb is 1 hour per inch wide. So our masons go for about 3 hours at a time. (but we've had them burning 5 and 6 hours at a go) Beeswax burns long and bright, just keep an eye on the outer wax walls, if they look like they're going to cave in and spill the wax, blow your candle out, and let is cool for next time ; )
Beeswax candle wicks are designed to curl over when they're getting too long. This is a perfect sign that it's time to trim the wick (just below the bend where the wick is still straight). Also, if your short wick is leaning to one side, you can easily poke at it with the tip of your scissors to straighten it out and get a more symmetrical wax pool ; )
----------------------------------------------------------------------------------------------------------------
-- SHIPPING --
*** If you're buying a handful of items (w/ shipping over $13 or $16) we may be able to combine shipping and save you some money !! Just message us your list ; )
We'll ship anywhere - if you don't see your specific country listed here, just email us for a quote and to setup a special listing ; )
Also, we may bee able to save you some money by combining your shipping on several items - most of our listed shipping rates are less that we pay with no handling charges, but we may be able to stuff a Flat Rate box for either $11 or $15 where weight is not an issue ; )
Learn more about the shop and process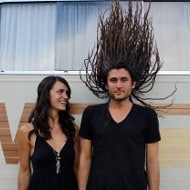 p&j
Beeswax Candle - antique bottle shaped - XXL "Tree of Life" - by Pollen Arts
---
Overview
Handmade item
Material:

beeswax

Made to order
Ships worldwide from

United States

Feedback: 1144 reviews
Favorited by: 197 people
Listed on Feb 8, 2017
2473 views